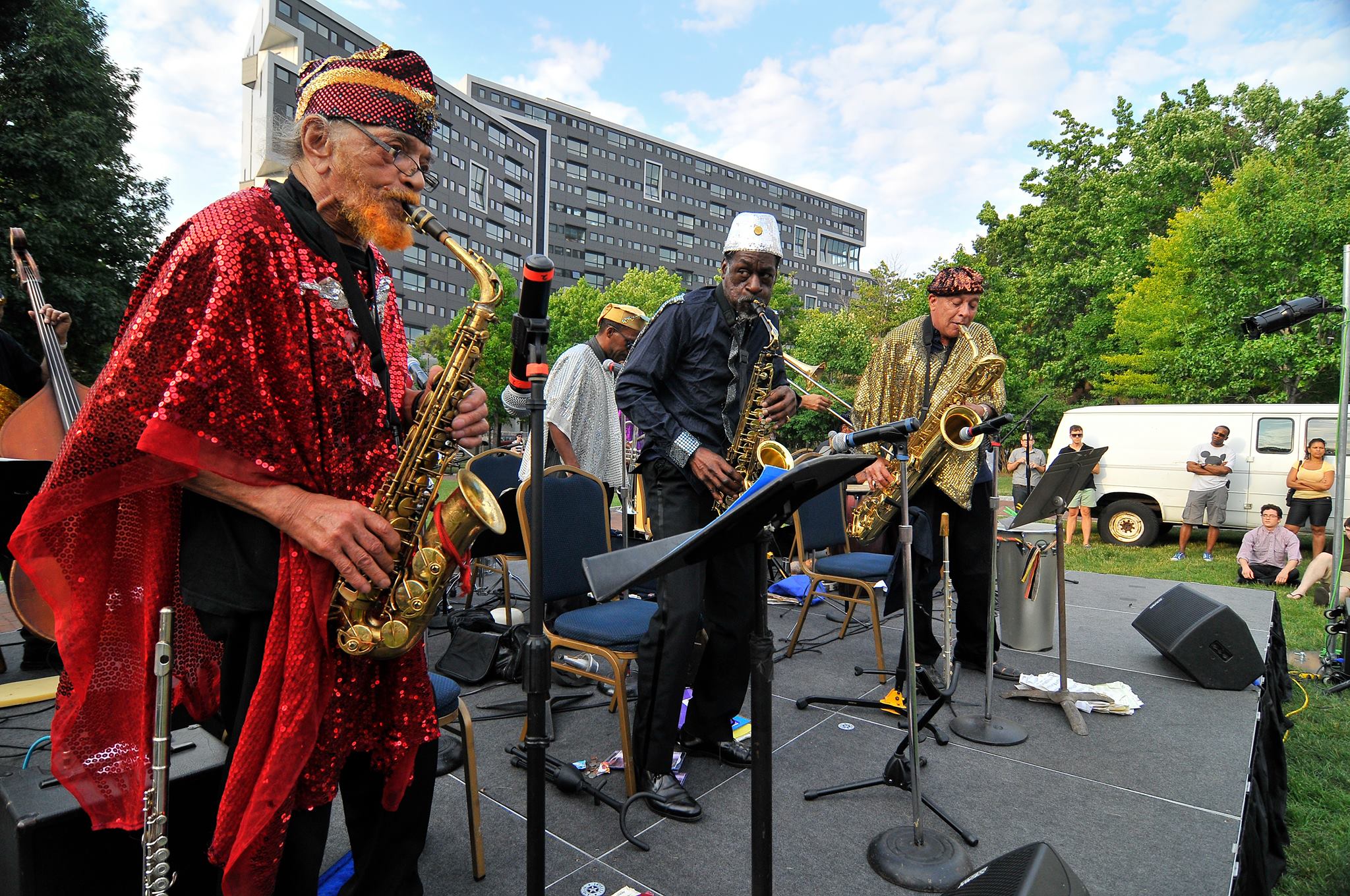 PLEASE NOTE! THIS EVENT IS NOT AT THE ROTUNDA! IT IS OUTDOORS, ONE BLOCK AWAY AT THE 40TH STREET FIELD, 40TH ST BETWEEN WALNUT AND LOCUST!
The 40th Street Summer Series
May 30 • July 25 • August 29 • September 19 (rescheduled from June 27) • October 3 (rescheduled from September 26)
The 40th Street Summer Series—co-produced by University City District, Penn, and The Rotunda—will once again enliven the green area behind the Walnut Street Library at 40th Street with monthly performances and free family events. This year the programming will run from May-October.
In the past the Summer Series has featured internationally-acclaimed acts such as the Millennial Territory Orchestra, Man Man, and the Sun Ra Arkestra— to play free outdoor concerts that capture the soul of the neighborhood. This year, the schedule will expand to include dance, live theater, music, and a few surprises. The Summer Series brings business during the typically slow summer months by increasing patronage at nearby retailers and building upon the existing vibrancy of 40th Street, while providing entertaining, enriching and safe outlets for families, visitors and students. The complete lineup will be announced soon.
SATURDAY, AUGUST 29 at 6pm
Sun Ra Arkestra w/ openers South Pacific Island Dancers
On Saturday, August 29 the Sun Ra Arkestra will return to the 40th Street Summer Series with a very special hometown performance. This acclaimed big band demonstrates the unrivalled expertise, joy and passion that have been the foundation for their musical journeys since Sun Ra founded the Arkestra in the mid-1950s. They will be joined by the South Pacific Island Dancers as openers.
Plus!
Juggling & tight wire with Give and Take Jugglers
Fire dancers
Face Painter
Balloon artist
FREE Ben & Jerry's and Philly Pretzels while supplies last!
- See more at: http://www.universitycity.org/40th-street-summer-series
Admission is FREE • RAIN OR SHINE