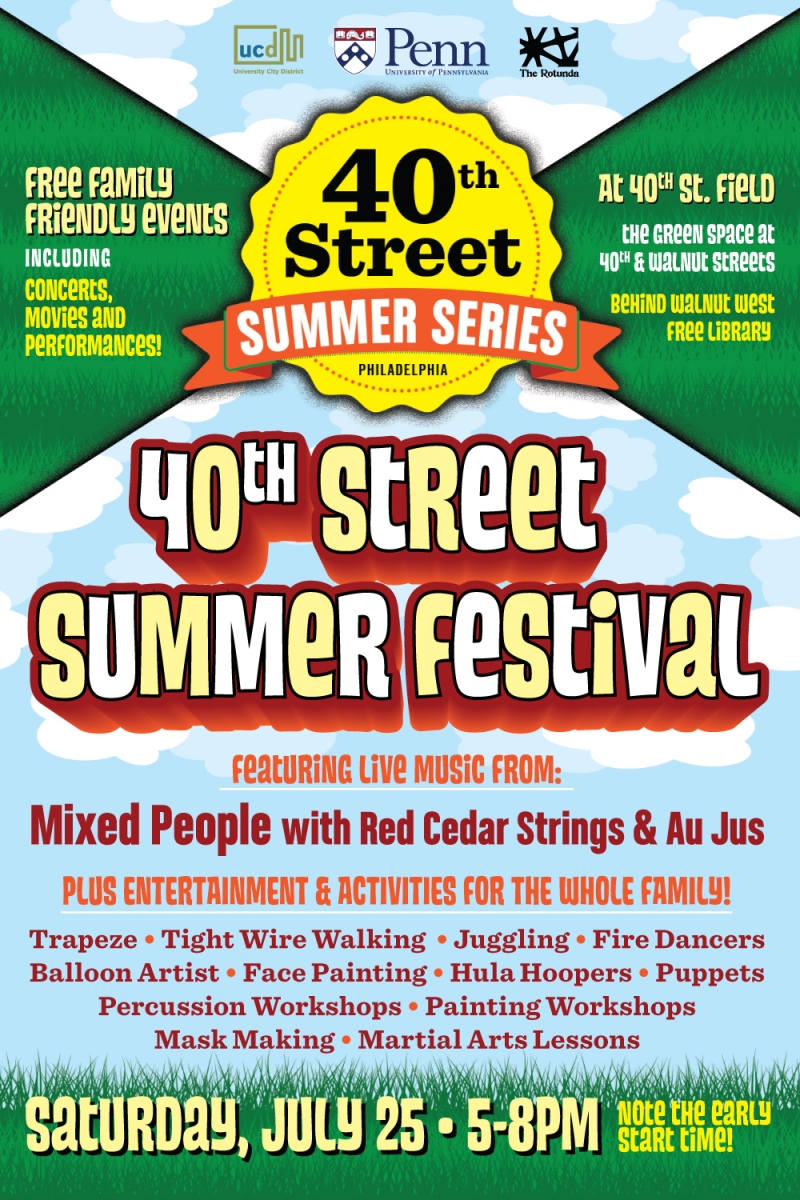 PLEASE NOTE! THIS EVENT IS NOT AT THE ROTUNDA! IT IS OUTDOORS, ONE BLOCK AWAY AT THE 40TH STREET FIELD, 40TH ST BETWEEN WALNUT AND LOCUST!
The 40th Street Summer Series
May 30 • July 25 • August 29 • September 19 (rescheduled from June 27) • October 3 (rescheduled from September 26)
The 40th Street Summer Series—co-produced by University City District, Penn, and The Rotunda—will once again enliven the green area behind the Walnut Street Library at 40th Street with monthly performances and free family events. This year the programming will run from May-October.
In the past the Summer Series has featured internationally-acclaimed acts such as the Millennial Territory Orchestra, Man Man, and the Sun Ra Arkestra— to play free outdoor concerts that capture the soul of the neighborhood. This year, the schedule will expand to include dance, live theater, music, and a few surprises. The Summer Series brings business during the typically slow summer months by increasing patronage at nearby retailers and building upon the existing vibrancy of 40th Street, while providing entertaining, enriching and safe outlets for families, visitors and students. The complete lineup will be announced soon.
SATURDAY, JULY 25 • 5PM - 8PM
40th Street Summer Festival
Bring the whole family for a fun & free evening of entertainment at the 40th Street Summer Festival! For one night, the green space behind the Walnut West Free Library will transform into a lively carnival atmosphere full of live music, interactive arts & crafts, and entertainment. This event is perfect for children and adults alike! The fun starts at 5PM, so get there early and make sure you don't miss any of the excitement!
Featuring live music from (in order of appearance):

AU JUS
Au Jus is a band made up of well-seasoned West Philly musicians who just can't get enough of the sounds of traditional Cajun fiddle and accordion music. Drawing their repertoire from early recordings made by the Balfa Brothers, Wade Fruge, Dennis McGee, and more, Au Jus strives for a balance of opposites: joyous celebration tinged with sadness, relaxed cadences driven by an insistent beat. Au Jus is: Chenda Cope and Liana Moskowitz on twin fiddles, Dorie Byrne on accordion, Corey Mark on triangle, Ian Sigler on guitar, and Kevin James Holland on bass fiddle.


RED CEDAR STRINGS
Red Cedar Strings is a group of Philadelphian musicians who have banded together for the love of friendship and exploring music. Mixing together a potpourri of genres including folk, celtic, swing, singer/songwriter, rock, jazz, and gyspy, along with an astounding amount of stringed instruments and musical chemistry, Red Cedar Strings brews soulful and energetic musical experiences!


MIXED PEOPLE
Mixed People is a funky, soul fusion band with hints of rock and world music. Versatile musicianship, raw lyrics, and creative vocal harmonies create a genuine, mixed musical experience. The name Mixed People derived from colors that bloomed out the whole funk and nothing but the funk. It embraces the love of self and others regardless of our differences and celebrates the uniqueness in us all. Mixed People was founded by guitarist Paulette Branson in August 2012. Paulette Branson is mostly self-taught, but her guitar skills were groomed by legendary guitarist Mike Tyler. Other band members include: Porsha Alexander (vocals), Pierre Nix (percussion and vocals), Bird Williams (keytar and vocals), Terrence Jones (bass), and Harun NaJashi Abdur-Rasheed (drums). Since August 2012, the band is stamping its sound in Philly and is on the move. Mixed People released their EP Album, Shark Attack in April 2014. The Shark Attack EP is a guitar-driven masterpiece. The energy and emotion behind this band will get you dancing on your feet and singing along. Fans have compared Mixed People to P Funk meets N.E.R.D. or Jimi Hendrix meets Prince. Nevertheless, the name "Mixed People" speaks for itself.


Interactive Activities:

Percussion workshops by Styx Latte: Styx Latté is a local West Philly Drummer and Recording Engineer. He will be teaching 30-minute hand percussion clinics on the hour, and hosting free form percussion jam sessions throughout the festival. Instruments provided or bring your own.
Painting & mask making with Brian Bazemore: Painter/muralist/sculptor Brian Bazemore will lead live painting and mask-making activities for all ages. We provide the canvas, paint, brushes, and mask-making materials!
Donna Oblongata: Ever wanted to pose in a paper cornfield while dressed like a Martian? Or have a conversation with a talking fruit bat? What about hiding amongst flowers bigger than you? Grab a puppet! Don a costume! snap pictures and videos of yourself in worlds you didn't even know existed!
Face Painter
Entertainment:

Trapeze, juggling & tight wire with Give and Take Jugglers

Dancing & hula hooping by Bujee Magoo
Fire dancers

Balloon artist
Plus:

FREE Ben & Jerry's and Philly Pretzels while supplies last!
- See more at: http://www.universitycity.org/40th-street-summer-series
Admission is FREE