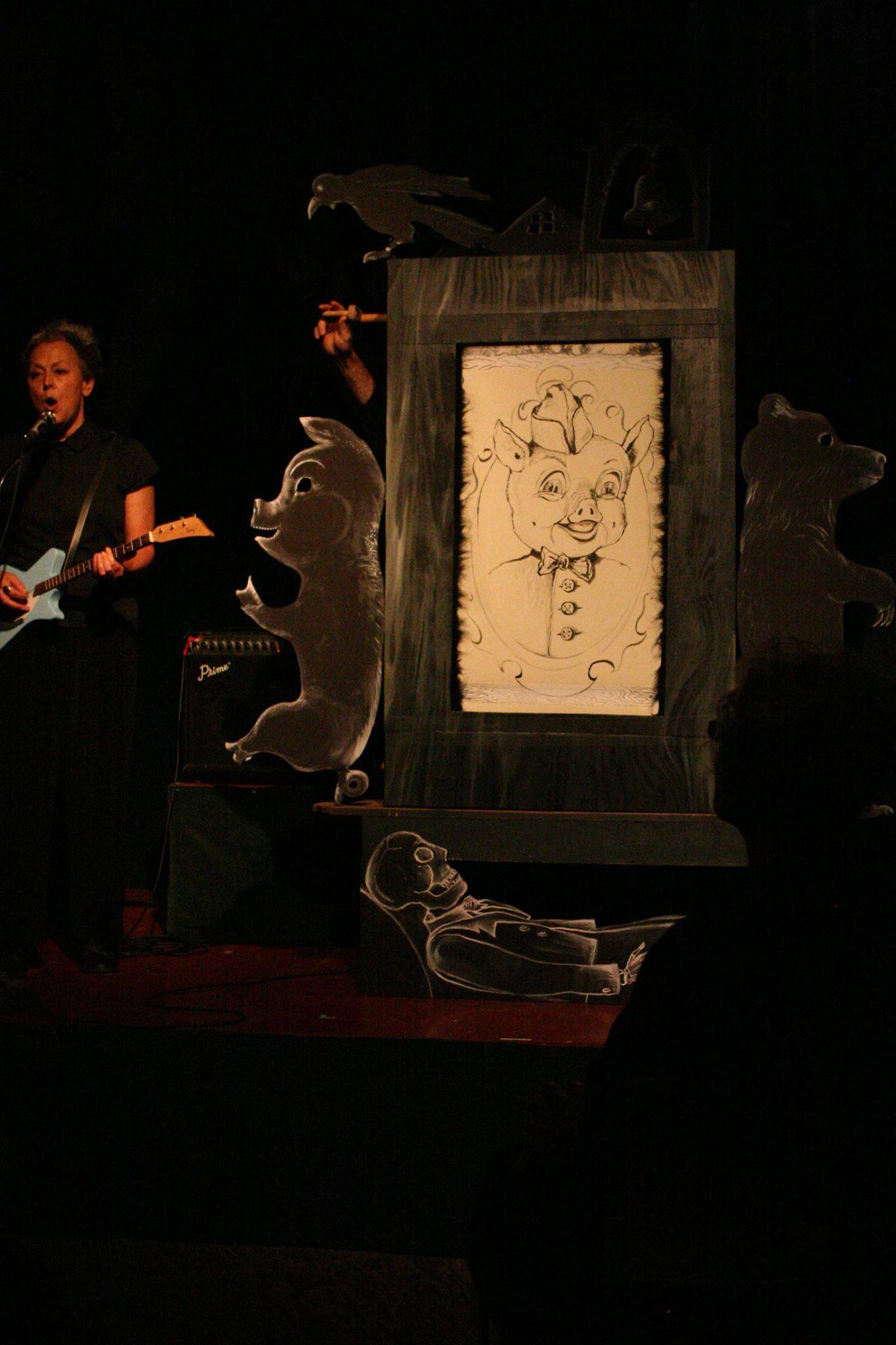 A special evening of crankies (moving panorama puppetshows) & music with traveling friends Liz Downing from Baltimore performing her crankie show "Piggly Wiggly" (a standout from this year's Cranky Fest), her musical duo Lurch & Holler, and Joshua Marcus (from Providence). Joined by local acts Geb the Great Cackler and a triptych of ballad-crankies from the trio of Shaina Kapuleck, Erik Ruin and Julius Masri.
Doors at 7. Sliding scale donation of $5-10 requested.

Liz Downing- Joshua & I were wowed by Liz's crankie "Piggly-Wiggly" at the Crankie Festival last year in Baltimore. Witty narrative, beautiful music and fantastic drawings- one of the finest in the medium!

Lurch & Holler- For more than 20 years, [Baltimore] luminaries Liz Downing and Michael Willis have been making beautiful music together in Lambs Eat Ivy, Radiant Pig, and now, Lurch & Holler. A unique blend of down-home twang and highbrow art song colors their work, and these 10 songs add a bit of lo-fi experimentalism and ambient field recordings to the mix. Bolstered by sturdy banjo and Willis's sonorous baritone, Downing's voice swoops wistfully through scenarios gleaned from kitchenettes, parlors, and motels before soaring into an ether of radio waves, literary ghosts, and prayer. In the Cabin Below channels the gospel of Flannery O'Connor and the maverick meditations of Pauline Oliveros. It feels, at times, like sacred music by sonic adventurers swigging from a Mason jar. "
— John Lewis, Baltimore Magazine
https://soundcloud.com/lurch-and-holler

Joshua Marcus- the prodigal hometown hero returns! Joshua Marcus loves cooking, all things musical, and to both orchestrate & be part of tangibly authentic experiences in the actual world. Joshua's current musical interests are writing and performing our perceived shared truths, as well as syllabic syncopation and off time rhyming à la rap, r&b, hip hop, math rock. JM has been writing & performing for two decades.
http://joshuamarcus.bandcamp.com/

Geb the Great Cackler- is Mandy Katz on fiddle and percussion, and Justin Duerr on guitar and percussion. Both sing, and are visual artists. Their music draws on various strands of folk music and punk rock are woven into their pattern, but the result is something other than the sum of its parts. Their goal is to cultivate and harness their own special garden of music/poem/picture power.https://gebthegreatcackler.bandcamp.com/

Three Ballads from a World Turned Upside Down- sung by Shaina Kapuleck, illustrated by Erik Ruin and accompanied by Julius Masri.

Erik Ruin is a Michigan-raised, Philadelphia-based printmaker, shadow puppeteer, paper-cut artist, etc. His work oscillates between the poles of apocalyptic anxieties and utopian yearnings, with an emphasis on empathy, transcendence and obsessive detail. He frequently works collaboratively with musicians, theater performers, other artists and activist campaigns. He is a founding member of the international Justseeds Artists' Cooperative, and co-author of the book Paths Toward Utopia: Graphic Explorations of Everyday Anarchism (w/ Cindy Milstein, PM Press, 2012). He was recently lauded by the New York Times for his "spell-binding cut-paper animations."

Shaina Kapeluck is a fiddler and vocalist originally from Ashokan, NY who has been collecting ballads from early American, Irish, Scottish and English traditions all her life. Formerly of The New Heaven And The New Earth, Br'er and other bands closely related to the Edible Onion label.

Julius Masri is a Philadelphia based multi instrumentalist, and a performer/composer for the city's dance community at large. Born in Tripoli, Lebanon, he moved to the States in 1990 and picked up drumming a year later. He studied with Philadelphia instructors Carl Mottola and Elaine Hoffman-Watts. As an undergraduate at Bard College, he studied with AACM's Thurman Barker, Richard Teitelbaum, and Joan Tower. Julius plays drums, circuit modified Casio keyboards, Oud, Kamancheh (aka Rabab, Spike Fiddle), and various other instruments. He is currently working with Graffito Works dance collective, as well as countless music situations.
Doors at 7. Sliding scale donation of $5-10 requested.