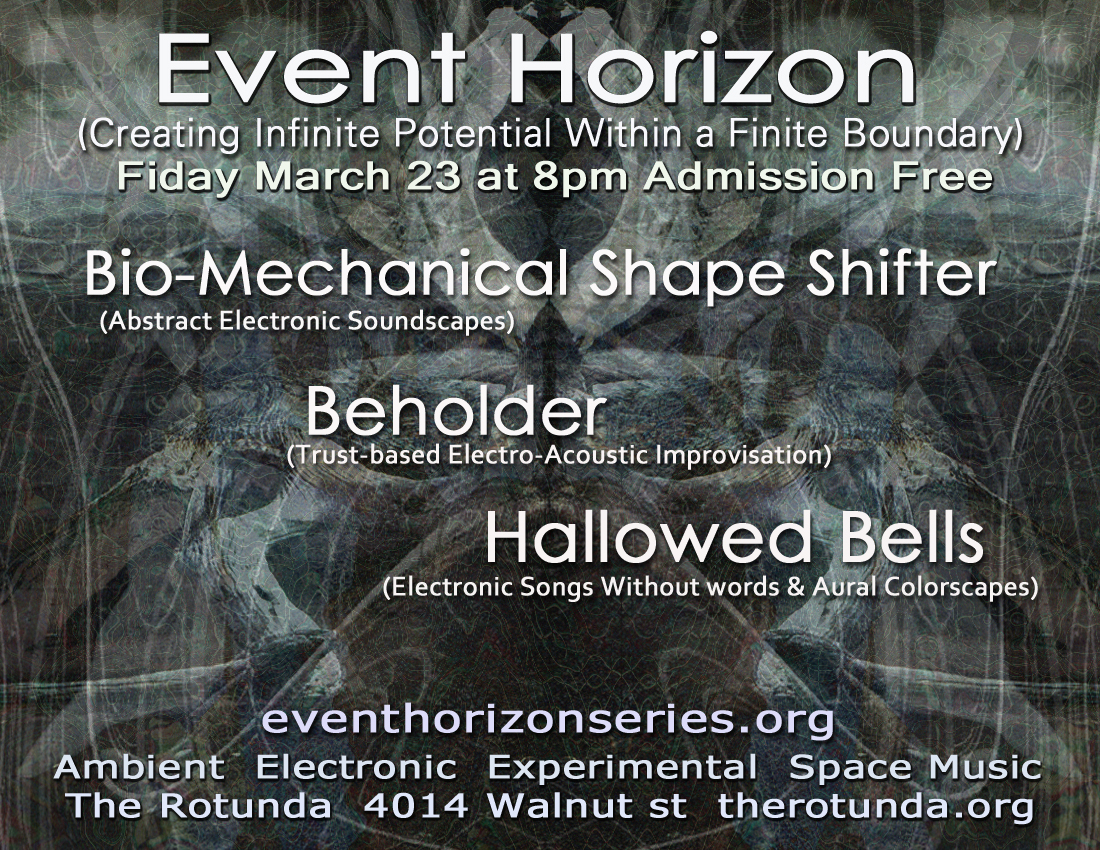 Event Horizon Series
presents
March 23rd - BioMess, Beholder and Hallowed Bells
BioMechanical ShapeShifters (or BioMeSS for short) is the project of Floyd Bledsoe from Trenton, New Jersey. The name has been used for his electronic music experimentations since the early 1990s. The concept is that BioMeSS is not solo but a group consisting of various devices that create the soundwaves. The 2010s saw recordings start to appear on the internet and now there are over 35 albums available on the Bandcamp website with many containing several hours of music each. Styles range from quiet droning atmospherics to chaotic abstract noise and many spaces in between. Floyd is also one third of The Melting Transistor and records and performs with them. 2018 marks the first time that BioMeSS will appear live on stage as a solo act.
Painting landscapes of distant planets, terrain of sub-atomic particles, the space between impulse and action, clouds formations and chase scenes, sonic worlds never before heard are spontaneously composed and served to the listener throughout the improvisational performances of BEHOLDER. One only needs to open to the experience and allow the music to unfold. This trio is based on the dynamic musical relationship of pianist Dan DeChellis and guitarist John Philip Tomasic. Both known for their unique approach to their instruments and the art of improvisation, their recordings and performances of improvised new music in New York and New England reach back to the late 1990s. Having met while at the New England Conservatory, their combined vision, energy and talents have laid the foundation for their latest efforts on "Claim No Native Land" with drummer Zach Martin. Together they chart a path for both themselves and the listener, traversing several vast and different worlds, emotions, declarations, linear time and the eternal present. The music at once travels forward and remains stationary simultaneously. Dedicate the time to listen and you will be rewarded.
"We draw from so many influences, genres, histories – and then combine our experiences…we really 'claim no native (musical) land." D. DeChellis
"When we play, we are not offering the listener an obvious point of reference, rather an opportunity to at once be in the present moment and also follow a sonic storyline." JP Tomasic
Hallowed Bells is the project of Philadelphia-based musicians Alison Stout (synths, beats) and Darian Scatton (synths, processed pedal harp). Creating electronic songs-without-words, the duo weaves together sweet, lyrical melodies, dissonant harmonies, and mesmerizing noisescapes - producing a unique and personal synthesized landscape of sound.
Admission is FREE


and then!
April 13th - Juan Garces, B.E.E.P. and Mikronesia

Juan Garces is an experimental and improvisational musician and electronics and synthesizer enthusiast. He uses vintage and contemporary synthesizers, sequencers, live looping, and a laptop computer to take his listeners on a unique, imaginative journey. He has been playing experimental music since the late 1970s. Juan is a founder and constant in the improvisational music projects The Melting Transistor with Floyd Bledsoe and Karl Fury, The Equinox Project with David Berends and Karl Fury, and Black Thujone with Mike Hunter. He has played solo and group performances at various venues, including Electro Music in New York State and Asheville, NC; Rowan University; Event Horizon in Philadelphia; the Cosmic Crossings Concert Series in Washington Crossing, NJ; and on live radio broadcasts on Music With Space (WPRB, 103.3 FM, Princeton, NJ) and Digital Dreams (WLFR, 91.7FM, Galloway, NJ). Juan has also collaborated with Dr. Brad Garton, head of the Columbia University Computer Music Center, in New York City, on numerous projects, and continues to collaborate with other experimental musicians as often as he can. In his deep past, Juan performed live with Ted Klett and Tom McMillan (PaxElectronic Collective/Area 25), Tommy Buzz Matthews, Ian Kelly and Eli Ward (Sonic Alchemy), and Michael Mironov (Dancing Water Percussion Ensemble).
The Boyer College Electroacoustic Ensemble Project—BEEP—is a group for electroacoustic music creation in a collaborative environment. Founded in 2013 by Dr. Adam Vidiksis at Temple University, BEEP embraces a variety of aesthetics, from EDM to the avant-garde. We function in varied modalities: from a laptop orchestra, to fusion of computers and traditional instruments, to an electronic music band. BEEP uses the laptop orchestra model, "an ensemble of computer-based meta-instruments," as but one of many possible modes of music making using computers and other electronics.
Our main goal as an ensemble is to explore new musical paths and new technologies by uniting people of varying and complementary skill sets in the discovery of new possibilities of creating sound. BEEP also aims to promote expressive music making and musical vocabulary, increase technological literacy among its participants and audience, to encourage a culture of code literacy and computer competency hand-in-hand with critical and independent thinking, and to perform the ever-expanding repertory of electronic music.

Mikronesia (Sonic landscapes + visuals by Willam Fields) - Mikonesia is the ambient music project of composer and sound artist Michael McDermott. He has created works for video, dance, stage, installation, smart phones, multi-speaker arrays, wind sculptures, wishing wells and deep sleep. His practice explores the relationship between present moment awareness, deep time and humanity's personal connection through listening. His work integrates a daily practice of meditation, Deep Listening and textured sound worlds through a process he calls "sonic photography". This process involves site specific recordings of physical spaces re-imagined using photographic development and collage techniques. His aim is to reframe the everyday world as both a grand statement that stretches out in both directions of time and as an ephemeral instant of precious connection.
In 2016 he completed a certification program in Deep Listening studying with Deep Listening pioneer Pauline Oliveros. He was recently Artist in Residence at <fidget>, Composer in Residence for Temple University's BEEP Ensemble and Composer in Residence at Village of the Arts and Humanities. Over the past two years he has been traveling at artists residencies around the world in Brazil, Iceland, Germany, Thailand and India working on a sound design project of extinct animal sounds called Echozoo.
Admission is FREE
Addtional Images