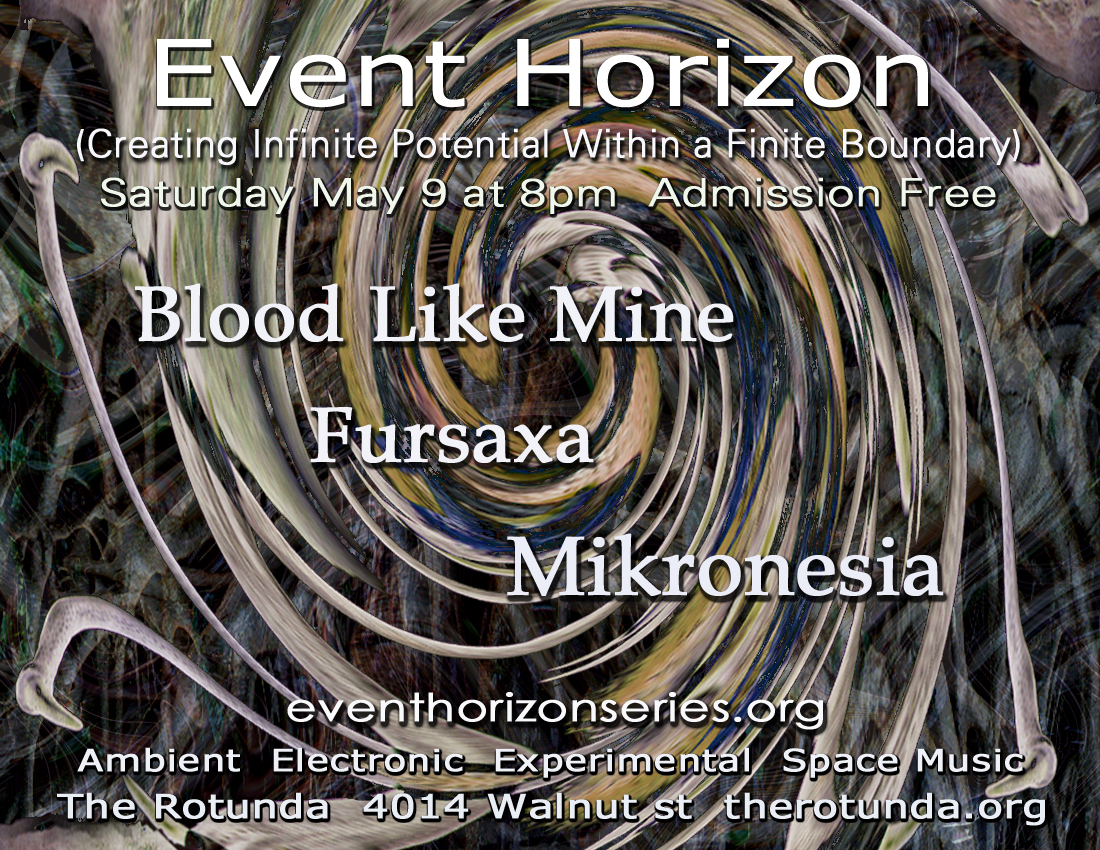 presents
Blood Like MIne, Fursaxa & Mikronesia
Blood Like Mine - Textural, atmospheric, exerimental ambient drone music that would have done well at The Zodiak Free Arts Lab back in 1969 where the original seeds of Kosmisch Musik were sown. The band consists of Rosali Middleman, Geoff Bucknam, Sam Cusamano & Laris Kreslins. They combined elememts of guitar, percussion, voice and more into a psychedelic current in the seas of a dream.
Fursaxa is Tara Burke. Formerly a member of the Silbreeze band UN,B Tara started her Fursaxa project in 1999 after UN disbanded. Since then Fursaxa has released seven full length albums on the Acid Mothers Temple label, Ecstatic Peace, Time Lag, Eclipse, Last Visible Dog, andB ATP. In addition there have been 3 self released CD-Rs and a CD on the her own Sylph recordings. In addition to recording, Fursaxa has played live music at venues in the US, UK, and Europe, touring with Bardo Pond, Black Forest/Black Sea, Christina Carter, Jack Rose, Spires That in The Sunset Rise, and Brightblack Morning Light, to name a few. Over the last couple of years Fursaxa has been collaborating more and more with other musicians as well. Espers member Helena Espvall and Tara have a duo called Anahita, and Sharron Kraus and Tara have the duo Tau Emerald. And in September of 2006 Fursaxa became part of "The Valerie Project", which was a live soundtrack for the 1970 Czech film "Valerie and her Week of Wonders".
Mikronesia - Michael McDermott is a composer and producer working with sonic art since the early 2000s. Michael has worked with choreographers, film makers and other media artists providing original music and sound design. His most recent album was released on NOREMIXES in March 2015.

Admission is FREE