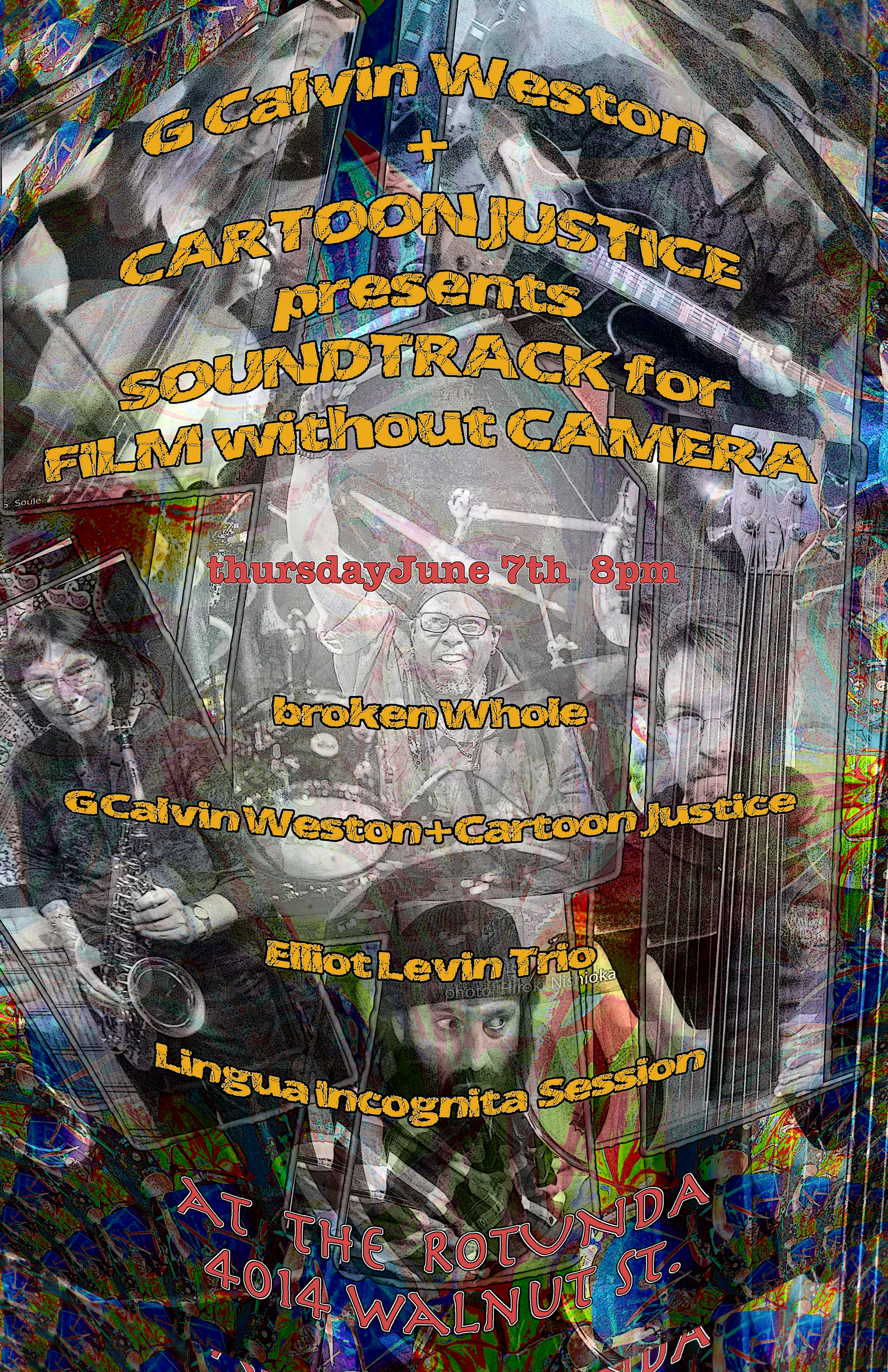 * For Immediate Release *
Contact: Mika Pontecorvo (415) 867-2559, mika.pontecorvo@gmail.com
Philly Drummer G Calvin Weston teams with West Coast electroacoustic band Cartoon Justice to bring a new twist on Jazz Rock Fusion at Live Performance at The Rotunda in Philadelphia.
Following on from their initial long-distance recording collaboration on Terra Lingua (sketches),Calvin Weston (Ornette Coleman's Primetime Band drummer) and Cartoon Justice are planning a series of live performance/recordings at venues in New York City, Providence R.I., and Philadelphia during the first week of June. These Performance are aimed at both the launching of their Terra Lingua(sketches) CD and the capture of new material for the 3 album projects which build upon their collaboration. In Philadelphia, Calvin and Cartoon Justice play a live recorded evening show at The Rotunda with their friends Elliot Levin's Trio and will be including the Lingua Incognita Sessions open improvisation set as a closing set.
THE ROTUNDA in Phildelphia
on Thursday, June 7th, 8pm
Broken Whole, G Calvin Weston + Cartoon Justice, Elliot Levin Trio, Lingua Incognita Session – an open improvisation set
Admission is FREE
BACKGROUND: Calvin's On-line Experiment / Cartoon Justice in Response
It began with Calvin Weston's experiment of sending out sets of drum tracks to select people he'd met online to see what would happen. One of those people was Mika Pontecorvo, a West Coast guitarist/composer/artist. The personal creative processes of both musicians were centered around the energy and immediacy of collective live improvisation. By adding the realtime interactive improvisation element of Mika's band Cartoon Justice, that creative process was preserved. The band played a one-pass live, no over-dub recording session against Calvin's drum tracks to complete the Terra Lingua(sketches) CD.
Have a listen: http://mikapontecorvo.bandcamp.com/album/terra-lingua-sketches
Terra Lingua (sketches) CD (prerelease review) : "Pontecorvo, Weston, and Cartoon Justice sure put out a mighty hot jazz rock (as in fusion done up right!)"
..."what I would have hoped Sonny Sharrock woulda been up to had he lasted this long down the music line. Frantic and cluttered, yet with a clear musical vision..."
BIO
G Calvin Weston has been reenforcing the rhythmic pulse of Ornette Coleman's Primetime Band since its inception in the late 1970s. His drumming has also been a key element to James Blood Ulmer's mid 1980s bands. In 1990's in John Lurie's Lounge Lizards and He has toured and recorded with a range of artists including Billy Martin (of Medeski Martin and Wood), Tricky, Eyvind Kang, Derek Baily, Mark Ribot, and James Carter. He is currently also working in Marc Ribot's Young Philadelphians, Denardo Coleman's Primetime Reunion Band, and with Vernon Reid (Living Colour) fronted trio the Free Form Funk Freqs.
Cartoon Justice (Mika Pontecorvo – guitars/electronics/flute/voice, Kersti Abrams – alto sax/flute/ north-african reeds/mbira, Elijah Pontecorvo - electric bass/piano, Mark Pino – drums/percussion/ electronics, Adriane Pontecorvo – cello/erhu/percussion.), draws it's sound from the intersection of improvisation and more formal abstract systems of computer art and electronic music composition (Mika was a student of electronic/tape music pioneer Vladimir Ussachevsky.) Often they have a strong pull toward indigenous folk musics in melody and rhythm.
Together Calvin and Cartoon Justice reach into a large bag of musical styles from Soul, RnB, Jazz, Rock, Psychedelic Urban Folk, Harmolodic Punk Jazz fusion, Dystopian Sci-Fi Murder Ballad Blues, Electroacoustic Chamber Music, Ambient/Post-Industrial Noise.
More Information at: http://mikapontecorvo.edgebuzz.tv, https://musicians.allaboutjazz.com/calvinweston
CONTACT INFORMATION
Mika Pontecorvo (415) 867 2559, mika.pontecorvo@gmail.com
Admission is FREE