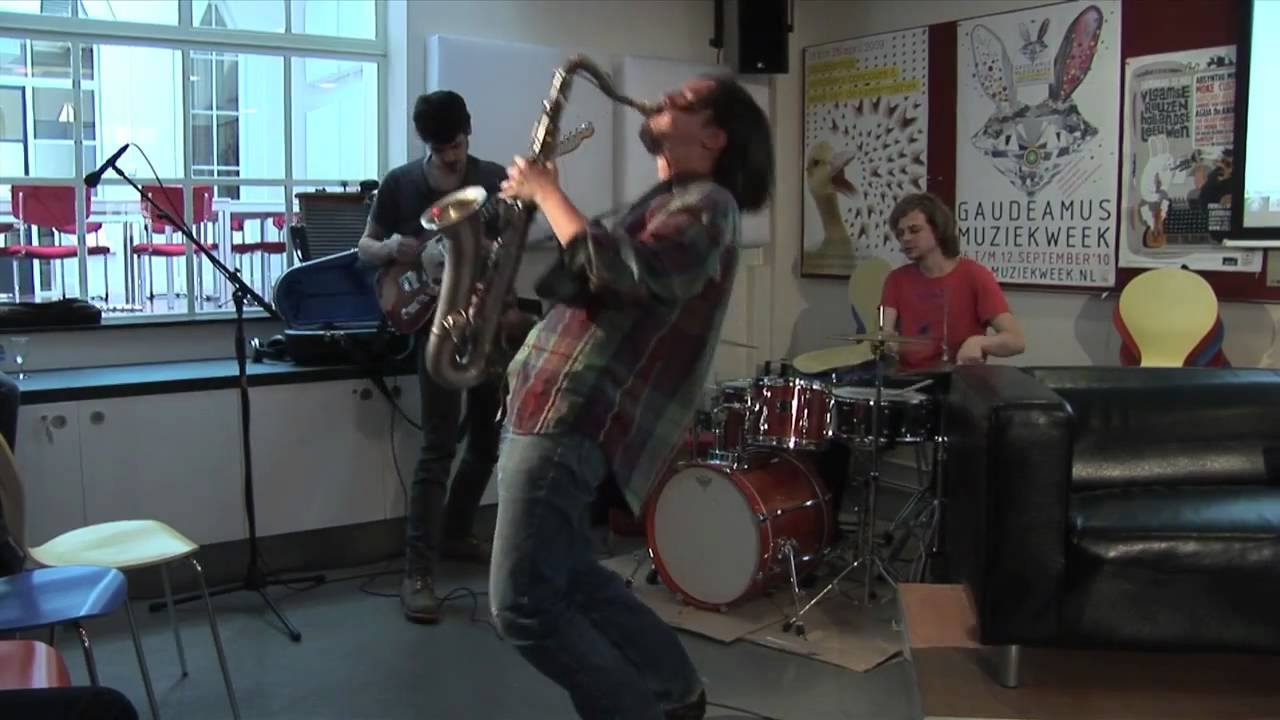 Fire Museum Presents :
Cactus Truck with Brandon Lopez
Matt Hollenberg /Julius Masri
Kevin Diehl/David Hotep
Cactus Truck (Amsterdam) w/ Brandon Lopez (NYC): John Dikeman - saxophone & Onno Govaert - drums will be joined by Brandon Lopez on bass. Cactus Truck creates startlingly intense music, not merely in terms of volume or velocity but through complete physical/psychological surrender. One can find hints of delta blues, early free jazz, Japanese noise, and no wave in the music. The collaborated with Terrie Ex, Colin McLean, Ab Baars, Han Bennink, Dave Rempis, Jeb Bishop, Peter Jacquemyn and many others
Brandon Lopez is a composer and bassist committed to the exploration and cultivation of improvised, not so improvised, and strange musics. Since moving to NYC in 2013, his idiosyncratic approach has become an object of interest for the left of center music world. With past and ongoing collaborations including the likes of Peter Evans, Nate Wooley, Tony Malaby, Joe Morris, Tyshawn Sorey, Jaimie Branch, Brandon Seabrook, Gerald Cleaver, Tatsuya Nakatani, Ben Gerstein, Man Forever, Weasel Walter, Mike Pride, Amirtha Kidambi's Elder Ones, and many others. He currently leads the trio, Xivaros (Carlo Costa and Alejandro Florez)which obliquely draws from his musical and non-musical experiences as a member of the diaspora of Puerto Rico. He is also sought after as a soloist, with his first solo album, Vitriol, to be released in 2016.
Matt Hollenberg /Julius Masri (Philadelphia): A new duo of Matt Hollenberg (Cleric, Simulacrum et al) on bulbul tarang, oud & guitar and drummer/percussionist Julius Masri (Van Sutra, Night Raids etc).
Kevin Diehl/David Hotep (Philadelphia): Kevin Diehl and D.Hotep initially met, during the mid 1990s, as participants in vibraphonist Khan Jamal's avant-garde music project, the Phila. Jazz Composers' Forum. From that point, Kevin has gone on to found and produce several albums of his ongoing Lukumi-percussion/avant-garde jazz hybrid project Sonic Liberation Front, while Hotep co-ran the ensemble JazGuardian, performed & produced music with Rogi Kenyatta's La Tumba, and has toured & recorded with Sun Ra's Arkestra, under the direction of Marshall Allen for 15 years.
links at http://www.museumfire.com/events
$7-10 sliding scale