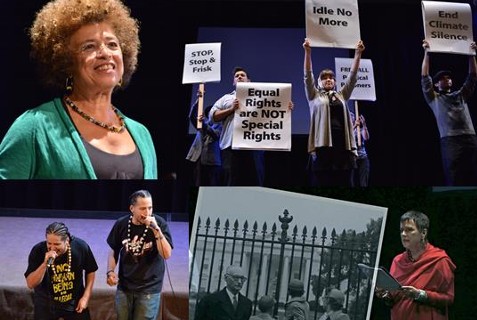 For information:
Amber Black
Rosenberg Fund for Children
(413) 529-0063
amber@rfc.org
Angela Davis, Other Activists and Artists Star In Film Coming to Philly, Dramatizing U.S. Political Prisoners Incl. the Rosenbergs, Russell Maroon Shoatz and Others
For immediate release, 08.27.14
Easthampton, MA- CARRY IT FORWARD: Celebrate the Children of Resistance stops in Philadelphia on September 23, 2014.
This 90-minute film dramatizes the last four days of the lives of Ethel and Julius Rosenberg and celebrates current movements for peace, civil liberties, climate justice, immigrants' rights, and other progressive struggles from Idle No More to efforts to combat police brutality, to the fight to free political prisoners and more. Angela Davis narrates, and Eve Ensler and Cotter Smith star as Ethel and Julius Rosenberg, with readings of the couple's letters from death row. Other cast members bring to life the stories of families engaged in progressive struggles today, including international human rights attorney Lennox Hinds, Shola Lynch (acclaimed director of Free Angela and All Political Prisoners and other films), and Djibril Toure (a NYC-based community organizer active with Communities United for Police Reform, Malcom X Grassroots Movement and Copwatch) who portray political prisoner Russell Maroon Shoatz and members of his family. Radical hip hop group Rebel Diaz and folk duo Mike + Ruthy perform their own brands of protest music, and Robert and Michael Meeropol recount what it was like to grow up as the Rosenbergs' sons.
The one Philadelphia screening of CARRY IT FORWARD will take place at 7:00 pm on September 23, 2014 (doors open at 6:30), at The Rotunda, located at 4014 Walnut St. (www.therotunda.org). The event is a benefit for the Rosenberg Fund for Children (www.rfc.org). Admission is a suggested donation of $10, and additional, tax-deductible donations to the Fund are welcome. The screening is co-sponsored by The Shoatz Family and Free Maroon Philly, with support from Prison Radio.
The Rosenberg Fund for Children (RFC) is a public foundation that awards grants to help with the educational and emotional needs of the children of targeted activists in the U.S., as well as youth who are targeted for their own activism. Grant recipients' parents – or young activists themselves – are struggling to wage peace; preserve civil liberties; safeguard the environment; combat racism, poverty and homophobia; and organize on behalf of immigrants, prisoners, workers and others whose lives are under threat. The RFC was founded by the Rosenbergs' son, Robert Meeropol, and is led today by Robert's daughter, Jenn Meeropol, who will be present at the screening and is available for media interviews in advance of the event.
For more information on this event and the co-sponsoring organizations visit: www.rfc.org/cifphilly , russellmaroonshoats.wordpress.com/ , www.prisonradio.org
###

For information, photos, or to arrange an interview with Jenn Meeropol, contact Amber Black at the Rosenberg Fund for Children at amber@rfc.org or (413) 529-0063, or visit www.rfc.org/pressreleases.