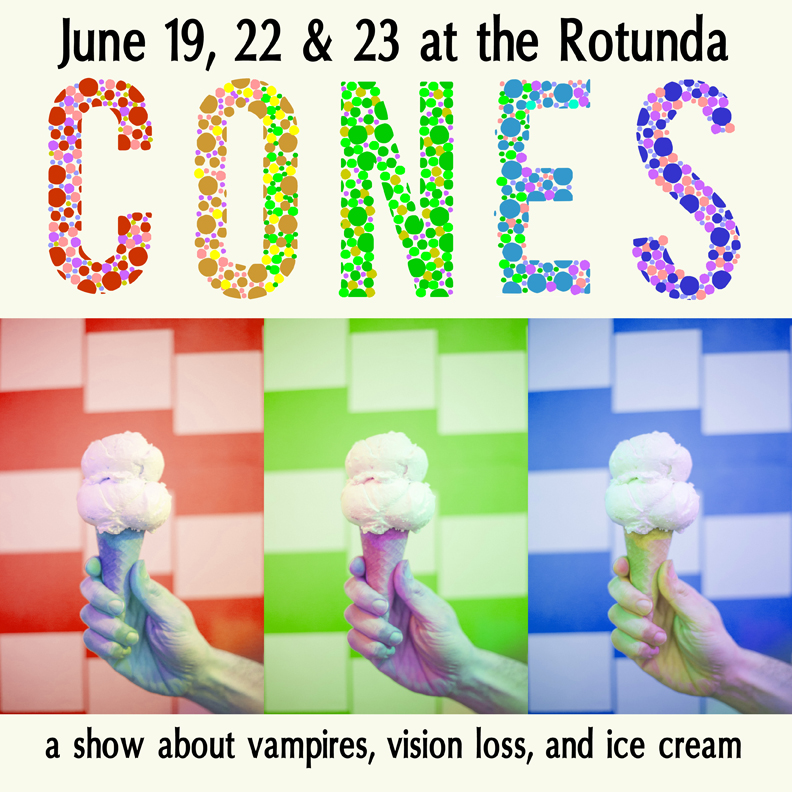 June 19, 22 & 23, 8PM shows. Part of Philly's 2015 SoLow Festival.
The Medium Theatre Company presents CONES, an action-comedy game show about vampires, vision loss and ice cream. A blindfolded boy has stories to share—secrets about eating cereal, wearing capes, avoiding bright lights and learning how to fly. When a team of well-meaning doctors, gym teachers, rock stars and new-age healers try to pry his eyes open, what will he see? The answer may be in the ice cream. And the ice cream will certainly be served in CONES.
CONES is a new solo show written and performed by Morgan FitzPatrick Andrews and directed by Mason Rosenthal, two Philly theatre artists who both happen to be visually impaired. For the past two years they've toured their bedroom play, "Nobody's Home", to more than 50 bedrooms around the U.S. and created five original promenade performances for Rutherfurd Hall, a historic mansion in rural New Jersey. Though Mason and Morgan's works are always shaped by their quirky combo of rare retinal conditions, CONES is this team's first foray into making the line between sightedness and blindness visible (and invisible) onstage.
CONES debuts as part of the 2015 SoLow Festival, 8:00 PM on June 19, 22 and 23 at The Rotunda, 4014 Walnut Street in Philadelphia. Admission is pay-what-you-can, $5-$10 suggested, and includes refreshments. See more at www.themediums.org and www.solowfest.com.