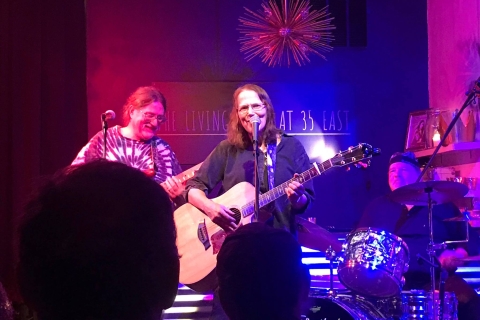 CubiZm is a Philadelphia-based band formed in 1996. Heidi Wolfson, Art Cohen and Steve Lessick bring acoustic and electric guitars, drums and vocal harmonies together in a way that showcases their original songs. Heidi Wolfson's songs are thought-provoking and literate, and she delivers them with intensity. Guitarist Art Cohen, better known in international space-music circles, adds texture and edge which gives the group its Cubist feel. Steve Lessick's tasteful drumming and beautiful vocal harmonies smooth out the sound with polish. Sometimes CubiZm goes beyond the conventional song to the realm of abstract music and spoken words. From a whisper to a roar, the music of CubiZm is always compelling.
CubiZm has recently released their third CD, Grays in the Rain.

Doors open at 7:30pm. Show time is 8pm. There will be two sets.