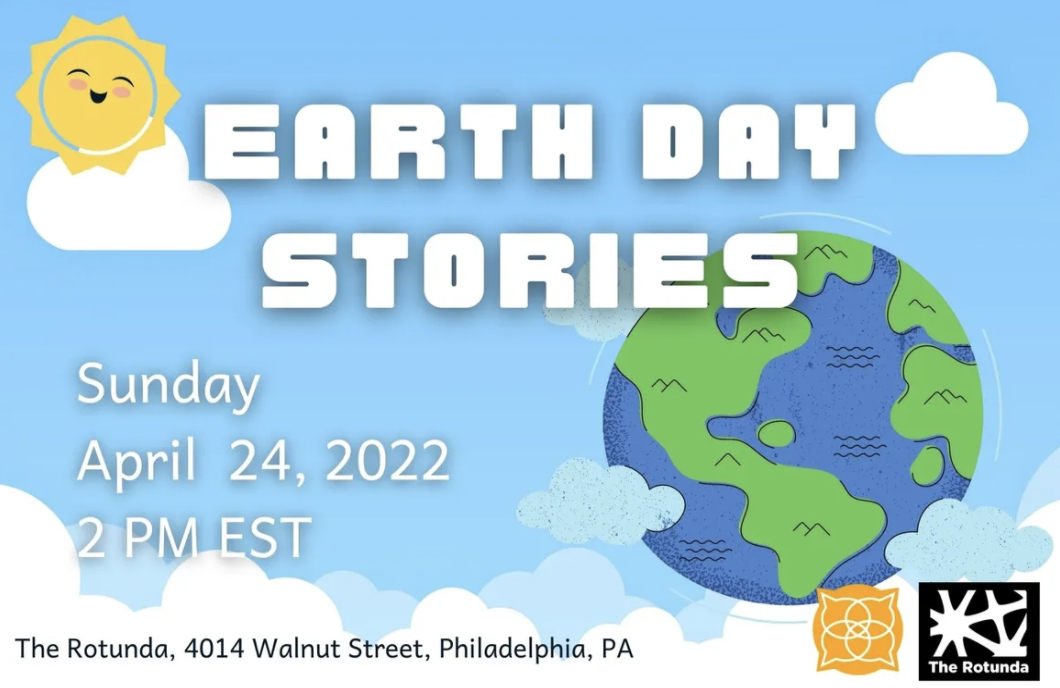 PATCHWORK CELEBRATES EARTH DAY 2022
Patchwork brings Earth Day Stories to family audiences on Sunday, April 24 @2 PM at The Rotunda. This event is pay-what-you-wish or free, and open to the public. (Donations will be accepted.) Seating is limited so advance tickets are recommended. Please snatch them up HERE
Running time: Approx. 95 minutes.
According to Denise McCormack, president of Patchwork and MC: "We are so delighted to bring storytelling to real, live Philadelphian audiences and we couldn't have a better place to do that than The Rotunda. We look at this time as a celebration--a new beginning and appreciation for the world we live in--and have carefully selected stories to engage a multi-generational community of children, parents, grandparents, neighbors, and friends.

In fact, we expect a beautiful day, beautiful faces, and some outstanding storytelling to lead us into new and familiar worlds of the imagination and thought. We really want everyone to go home with things to talk about from the stories we share."

Joining McCormack in the lineup are, in alphabetical order, Michele Belluomini, Ingrid Bohn, and Judy England-McCarthy.
ABOUT THE TELLERS
DENISE MCCORMACK has been telling professionally for more than a decade, presenting programs throughout the tri-state area--to listeners of all ages and in a multitude of venues and is deeply committed to sharing the benefits of storytelling in a broad spectrum of applications from education and community to business, health, and well-being, as well as using a variety of media platforms to do it. McCormack also organizes events, creates audio/visual marketing and promotion, and generally works to promote storytelling by bringing it to whoever has an inclination to share in this world-wide and deeply rooted pastime.

Among her many roles in storytelling, McCormack is liaison to the NSN, past editor of NSL Story Art Magazine, president of the Patchwork Storytelling Guild, board member of the Lehigh Valley Storytelling Guild and creative producer of the Family Storytelling Series, and an active member of various other local and national organizations wherein storytelling plays an integral role.
MICHELE BELLUOMINI has been telling stories to children and adults for the last 15 years. She has performed in schools, libraries, and museums, as well as at universities in the Philadelphia area. Michele presented solo performances on the "Fringe" stage at the 2006 National Storytelling Conference in Pittsburgh and at the 2012 National Storytelling Conference in Cincinnati. She has also performed in a host of Patchwork Tellebration festivals, the New Jersey Storytelling festival, and the Lehigh Valley's Story Fusion.
INGRID BOHN entertains people in story and song and has been active in theater productions for over 30 years. She is an Interactive Theater and Storytelling artist who shares traditional folktales, fairy tales, and literary stories from all over the world and brings to life multifaceted characters whose unique personalities aid in the cultural understanding.
Ingrid encourages role playing and audience participation and is a proud member of the Lehigh Valley and Patchwork Storytelling Guilds.
JUDY ENGLAND-MCCARTHY sprinkles elements of humor, wisdom, and originality in high-energy performances to bring stories to life for audiences of all ages. Judy performs at venues throughout the tri-state area including libraries, schools, and festivals. Now available for virtual online performances and workshops anywhere in the world.
WHAT AGES IS THE PROGRAM FOR ?
If this program were a movie or television show, we'd say it's a very entertaining G.,, like The Lawrence Welk Show but with stories. There are moments of levity with silly interludes between the stories, and a little of this and a little of that—including a ditty or two that may prove nostalgia for some of us. This program is meant to be enjoyable for as many people as possible, of all age ranges.
ABOUT PATCHWORK
Patchwork Storytelling Guild is a member-supported 501c3 non-profit organization serving the needs of the Philadelphia Metro area, Pennsylvania, New Jersey, the Delaware Valley, and beyond. Its mission is to provide a forum for storytellers and to promote the art of storytelling through community outreach related to the practice, performance, and value of storytelling. Patchwork offers: monthly story swaps, coaching sessions, performance opportunities... and more.
COVID GUIDELINES
• Seating is limited.
• Masking is required of everyone over the age of 2, regardless of vaccination status.
• The Rotunda does not require vaccination proof or temperature checks.
Please stay home if you feel unwell or have been in contact with someone diagnosed with Covid up to 14 days before the event.
If you come down with any Covid symptoms up to 10 days after attending an event here, please alert The Rotunda: information@TheRotunda.org. Your name or personal info will always remain confidential.
Addtional Images