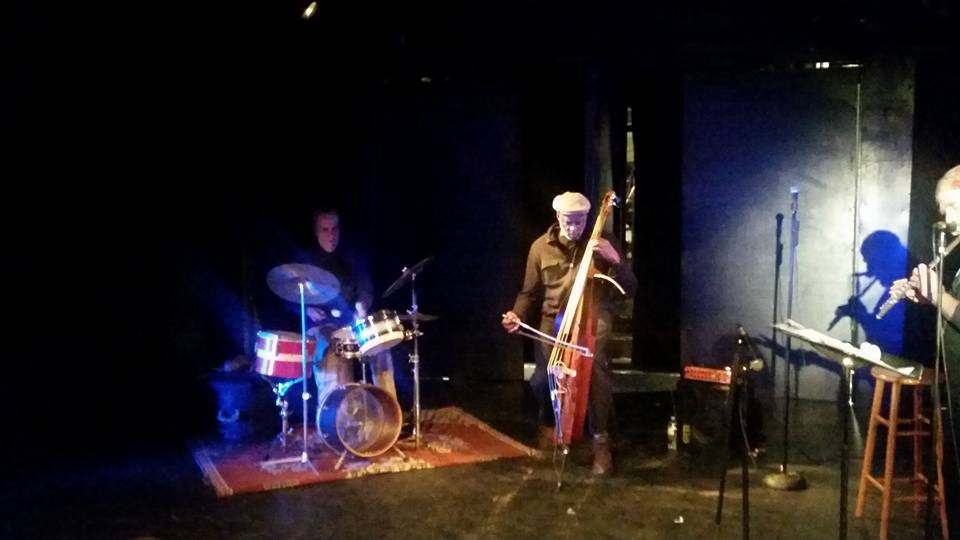 Marshall Allen, now 92, was born in Louisville, Kentucky.
During the Second World War he enlisted in the 92nd Infantry Division and was stationed in France.[3] Allen studied alto saxophone in Paris and played in Europe with Art Simmons and James Moody.
He is best known for his mastery of pyrotechnic effects on the alto - he has said that he "wanted to play on a broader sound basis rather than on chords" (1971 interview with Tam Fiofori cited in[4]). The opportunity came through his long association with Sun Ra, with whom he performed almost exclusively from 1958 to Ra's death in 1993, although he did record outside the Arkestra, notably with Paul Bley's group in 1964 and with Olatunji's group during the mid-1960s. Critic Scott Yanow has described Allen's playing as "Johnny Hodges from another dimension".
Since the departure of Sun Ra and John Gilmore, Allen has led the Arkestra, and has recorded two albums as their bandleader. In May 2004, Allen celebrated his 80th birthday on stage with the Arkestra, as part of their performance at the Ninth Vision Festival in New York City. Allen gave another performance on his birthday in 2008 at Sullivan Hall in New York City.
Allen often appears in NYC-area collaborations with bassist Henry Grimes and has also participated in the "Outerzone Orchestra" together with Francisco Mora Catlett, Carl Craig and others in an appreciation of Sun Ra's music.
EL3
Elliott Levin- reeds, words
Larry Roland- bass, words
Jackson Krall- percussion
Check them out at https://vimeo.com/210612762
"I think the strains of social and political activism, along with the esthetics of the modern art world which developed into the space and atomic age, is what connects these roots to the futuristic expressions of spirit and soul."
Elliott Levin: Peace, Poetry & Music
Elliott Levin is a Philadelphia born and based poet and musician. He studied musical and literary composition at the University of Oregon. He has done further studies with Michael Guerra of the Phila. Orchestra; Cecil Taylor, pianist, composer, poet; Claire Polin, flutist composer; and Odean Pope, saxophonist, composer. Elliott has performed throughout the world with such groups as the Cecil Taylor Ensemble, Harold Melvin & The Bluenotes, New Ghost, Interplay, Talking Free Be-Bop, Odean Pope's Saxophone Choir, Don Preston's Akashic Ensemble, Cee-Knowledge & The Cosmic Funk Orchestra, Alan Silva's Sound Vision Orchestra. He has collaborated in performance with many poets including Miguel Algarin, Bob Holman, Gloria Tropp, Reg. E. Gaines, John Sinclair, Butch Morris' CHORUS OF POETS, Wil Perkins, Frank Messina and David Amram. His original music and poetry can be found on the recordings: OLDUVAI MUSIC ("Or-Om-You'll-Us" 1978), and ILTAR ("Ewe-Doh-Noh-What-Fo'-Kiss" 1979), on TIWA Records. He was the associate producer, composer, and performer for the compilations: POETRY IN PHILADELPHIA (1989), and MUSIC FROM PHILADELPHIA (1990). As producer, composer, performer, in 1990 and 1992, he created two internationally broadcast features for New American Radio.
In 1993 "Whose Myth...?" was used as the title and as the featured work in a multi-disciplinary event sponsored by The Watts Towers Cultural Center in LA. "Huan" is a poetic/musical duet performed and recorded at The Berlin Total Music Meeting with Cecil Taylor in 1996. "A Bleak, Stark Beauty", and "Northern Liberties" were performed and recorded for The Fire In The Valley Festival in Amherst, Mass. with The Jackson Krall Quintet (1996). THE MOTION OF EMOTION CD was released by the Elliott Levin Quartet in 1998 on CIMP, followed by A FINE INTENSITY, SOUL-ETUDE, ON IN ONONDAGA (Opportunities and Advantages). NEW GHOST: LIVE UPSTAIRS AT NICK'S was released by ESP-Disk in 2006. His first book of poetry, "does it swing?" was published in 1996 by Heat Press of LA. Elliott Levin's musical and poetic inspirations are drawn form the roots of American forms of jazz and blues (along with many other international, cultural, folk, and classical forms) to grow into the more expansive techniques of the extended compositional and improvisational directions of modern innovators such as Cecil Taylor, Sun RA, Frank Zappa, and Don Van Vliet, to cite a few sources of inspiration. For the past 25 years, he has been intimately involved in the integral interplay of the language of music, and the music of language.
Admission is FREE