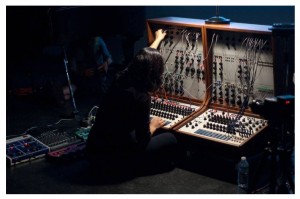 MUSICA PRACTICA / ELETTRONICA VIVA 2017
A series of discussions & concerts focusing on live electronic music performance practices
presents

Sarah Davachi (b. 1987, Calgary, Canada) holds a bachelor's degree in philosophy from the University of Calgary, and a master's degree in electronic music and recording media from Mills College in Oakland, California. As a composer of electronic and electroacoustic music, Davachi's compositional projects are primarily concerned with disclosing the antiquated instruments and forgotten sonics of a bygone era in analog synthesis, with concurrent treatment of acoustic sources – particularly organ, piano, strings, and woodwinds – often involving de-familiarization through processing. Her work considers the experience of enveloped sonic dwelling, utilizing extended durations, psychoacoustic manipulations, and simple harmonic structures that emphasize variations in overtone complexity and natural phasing patterns.

Her work as a music researcher concerns aspects of experimentalism, organology and archival study, and phenomenology and perception, and has been published and presented within Canada, the United States, and the United Kingdom. Since 2007, Davachi has also had the unique opportunity to work for the National Music Centre (formerly Cantos Music Foundation) in Calgary as an interpreter, content developer, and archivist of their collection of acoustic and electronic keyboard instruments. Additionally, she has worked for the Western Front in Vancouver as an assistant in archival audio digitization, and has lectured at Simon Fraser University and Vancouver Film School. She has held artist residencies at The Banff Centre for the Arts (Banff, Canada), STEIM (Amsterdam, Netherlands), WORM (Rotterdam, Netherlands), EMS (Stockholm, Sweden), and OBORO (Montréal, Canada), and is the recipient of grants from the Canada Council for the Arts, the Alberta Foundation for the Arts, and SOCAN. Davachi currently resides between Vancouver, BC, Canada and Montréal, QC, Canada.
Turner Williams Jr. is a Philadelphia-based painter and musician from Birmingham, AL. Ramble Tamble, his recording project and occasional band distills classic rock mantras, field recording, and inverse crunch groove into a greasy miasma. His "live" teeth cut as the "japan banjoist" for NYC's Guardian Alien with Greg Fox (Liturgy/Zs/Ben Frost/Colin Stetson/etc) and Alex Drewchin (Eartheater), recording three records in as many years and jamming however many tours and gigs. Big influence. Hanging with Ladonna Smith and Davey Williams in Alabama too. Turner plays modal fantasias on an Ebay'd electric shahi baaja & fx. Likes: stinging tones, stuttering melodies, elastic rhythm, ecstatic harmonic pileups, sonic seasonings. He is a Libra and devotee of Baba O'Riley.
Admission is FREE