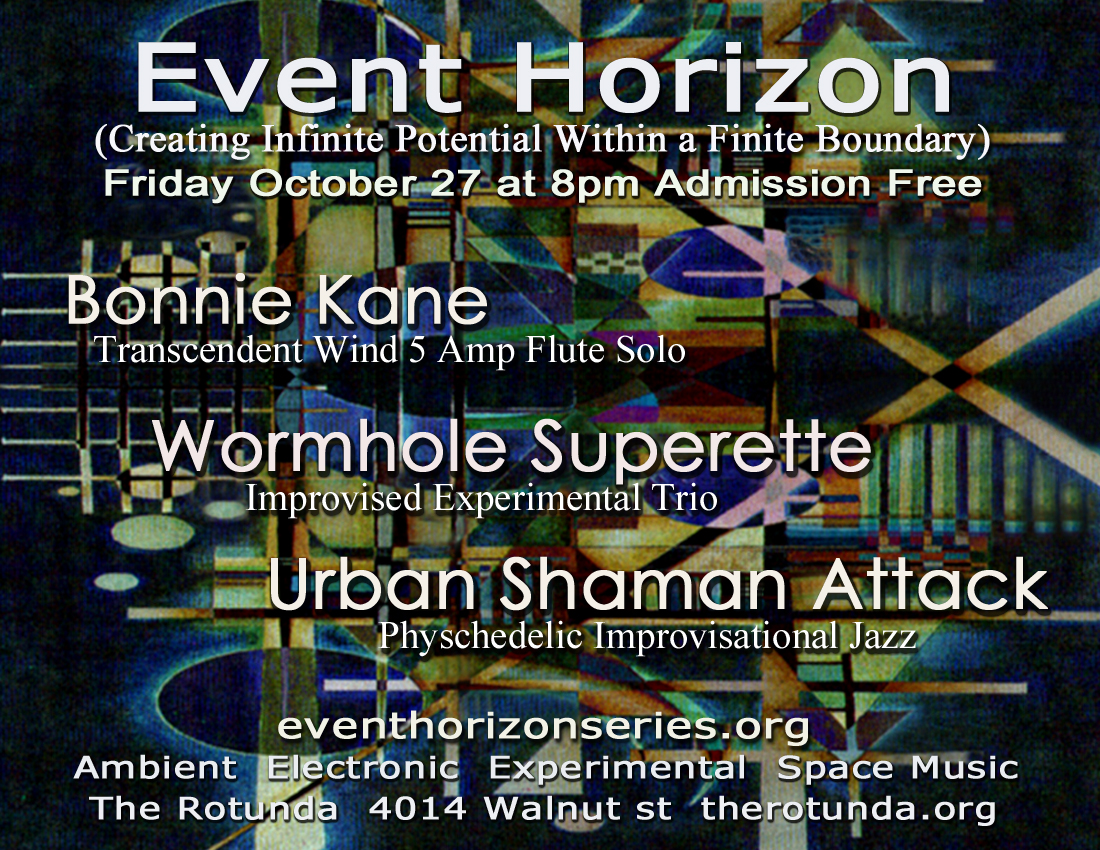 Event Horizon Series
presents
October 27th - Bonnie Kane, Wormhole Superette, Urban Shaman Attack

Integrating saxophone, flute, feedback and electronics, electro acoustic pioneer and dedicated improvisor, Bonnie Kane, terms her work as avant-core: an extreme energy mix of pyschedelic rock, hard core, and avant garde jazz. She was influenced by an unusually early exposure to Sun Ra, studies with Sonny Simmons, Paul McCandless, Glenn Moore, Ralph Towner (Oregon), and Jon Raskin (Rova Saxophone Quartet). A stint in the original Club Foot Orchestra, whose members then included Snakefinger (The Residents) and Eric Drew Feldman (Capt Beefheart), introduced her to electronic processing for horns, and brief study at Mills College under Anthony Braxton solidified her direction. Her bands have been known for "scalp shearing shows", "feats of bravery", and for music that is "...the algebra of heart, brain, and soul." A conductor of energy, her music is not for the timid.
Wormhole Superette is an improvisational experimental trio, consisted of Tracy Lisk, Irman Peck, and Travis Woodson. Tracy Lisk, MFA, exhibiting visual artist, curator (Inside the Moment: Int'l Short Film Festival in Philadelphia, Highwire Gallery). Former artist-in-residence at CESTA, Tábor, Czech Republic where she collaborated with Canadian videographer Dominic Gagnon. Former percussionist with the improvisational outfit: Agnes Warhead, has studied Brazilian percussion in Salvador and Rio, an active member of several percussion ensembles. I (Domino) Peck is a self taught writer, electric bassist, and is a founding member of; The post/art/punk band Los Dominos, Brian Kelly's literary rock band The Suns, and Mike Landau's experimental noise collective, the Granular Cats. "My aim is to communicate a spiritual message through a common and accessible, popular idiom." Travis Woodson is a composer, arranger, improviser, and multi-instrumentalist who has collaborated with various Philadelphia musicians and dancers. He has performed with in Make a Rising, Sonic Liberation Front, Electric Simcha, Split Red, Adult Content, Kohoutek, his own group Live Like a King, and/or Pyramid Minds. During the summer of 2012, he premiered a series of compositions and arrangements for three guitars, as a part of the Archer Spade Performance Series, and has performed at the Improvisational Music event: the Nowhere Festival in 2015.
Urban Shaman Attack, or USA, is a quartet from Wilmington, DE. The band is Carl Bailey on clarinet, Robert McClelland on guitar, Dwayne Todd on Keyboard and kaossilator, and Richard Todd on drum kit and percussion. Playing unscripted, improvisational music , the music is best described as psychedelic jazz. USA draws influences from many artists past and present, including Sun Ra Arkestra, electric Miles Davis, Acid Mother Temple, and MMW. The tenth album "How to Build a Spacekraft", from Urban Shaman Attack, has been in the top 50 of iTunes new jazz releases worldwide for over nine months, reaching #14 in August. Experience these psychedelic sounds for yourself.. Board the Spacekraft that is USA.
The next Event Horizon is here on Friday December 1 at 8pm, featuring Thin Air, The Tangent Project, The Ministry of Inside Things
The Event Horizon concert series is a Philadelphia-based concert series featuring Ambient, Electronic, Experimental and Space Music.
Admission is FREE