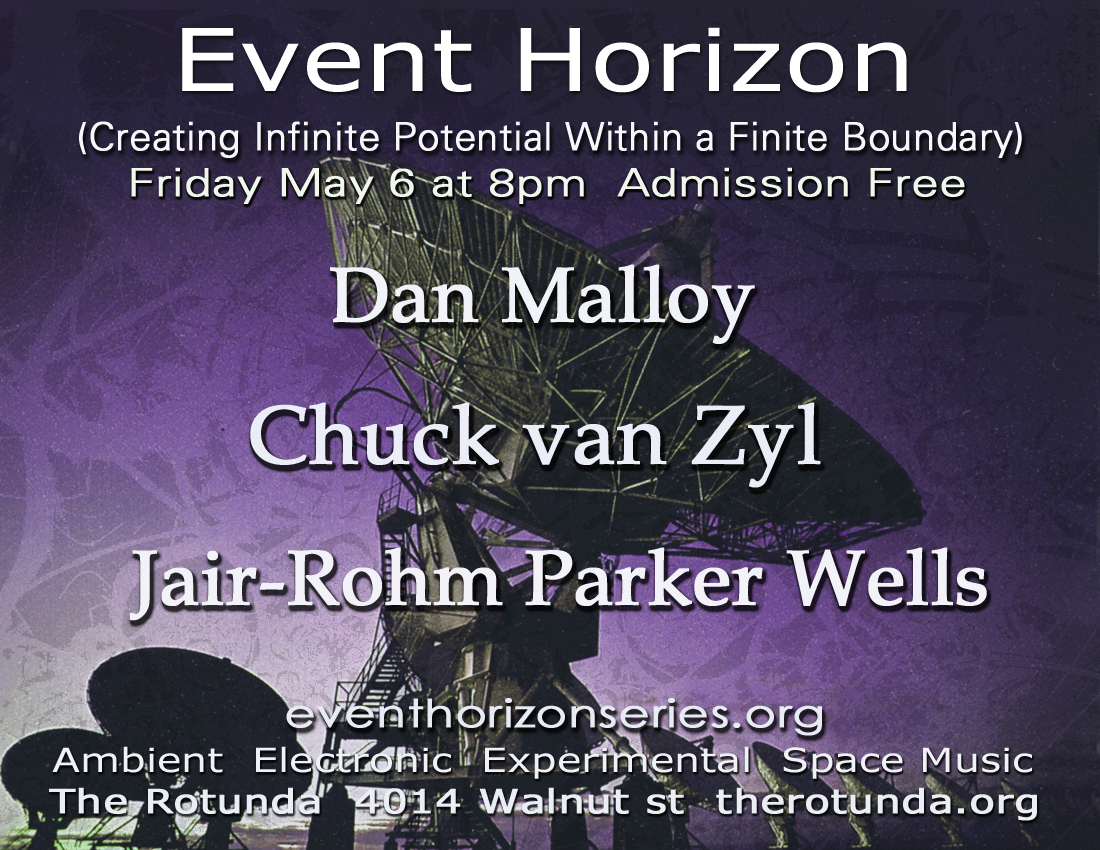 presents
Dan Malloy, Jair-Rohm Parker-Wells, Chuck van Zyl
Dan Malloy - A Philadelphia instrumental guitar player who has played over 100 shows since 2005. He is always looking for ways to expand his sound. Starting out primarily as an acoustic player, he soon started playing electric guitar and added a delay pedal, then another and then another. Nowadays his sound is built on multiple loops with the occasional use of reverse reverb and pitchshifting.
Jair-Rôhm Parker Wells (born October 13, 1958) is an American Free improvisation bassist (bass guitar and electric upright bass), composer and conceptualist. He is one of the founding members of the improvising band Machine Gun which featured Thomas Chapin. He resided in Stockholm, Sweden from 1985 until 2010. Presently residing in Bangkok, Thailand, he has been active internationally as a promoter of improvised and experimental music performing and recording extensively. He has collaborated with Karl Berger, Daniel Carter, Jaron Lanier, John Sinclair and Tony Scott among others. Raised in southern Germany, Jair-Rôhm moved to New York in 1978. After touring the United States for a year with a top forty band he attended Tulane University in New Orleans. While at Tulane, he regularly performed with local jazz and rhythm and blues artists. He also performed as a member of Tulane University's Tulanians, met and studied with Richard Payne (the first person to record with the electric bass) and discovered the music of Harry Partch. He returned to the New York area in the fall of 1980 where he met and started work study under saxophonist/composer Ken Simon. During this period Jair-Rôhm also met Anthony Braxton and became involved in the study of his music. In 1982 Jair-Rôhm founded his own experimental music/theater group GLASS THOUGHT THEATER ENSEMBLE. Between 1982 and 1983 he was composer in residence at the New York Theater Ensemble (New York, N.Y.) where he wrote and produced a trilogy of progressive"operas". He received a MEET THE COMPOSER grant in 1983. From 1984 - 1985 he was resident in New Jersey where he continued composing and playing the bass. He was a founding member of the New Brunswick Jazz Musician's Collective (New Brunswick, N.J.) for which he composed and performed many significant works for various ensembles. (from the Wikipedia article)
Chuck van Zyl - Philadelphia area Spacemusician Chuck van Zyl, best known as host of STAR'S END (WXPN's renowned radio program of spacemusic dreamscapes) and as coordinator of The Gatherings (Philadelphia's premiere concert series of innovative music), Chuck van Zyl has also been making his own unique style of electronic music since 1983.
Over the course of his musical existence Chuck van Zyl has developed a signature exploratory style. By blending the primitive machine beauty of classics like "Ricochet" (1975) by Tangerine Dream with the highly formed values of more recent groups such as Redshift and Arc, his solo studio works are the result of a persistent creativity.
With a solid melodic invention, atmospheric modulations and heroic shifts in tonality, van Zyl masterfully realizes the fascinating patterns, riffs and pulses that dominate his live concerts. As the music forms, climbs and sustains, listeners are pulled into a highly distinctive mindscape. Tone patterns weave and collide as go-for-broke keyboard lead lines dance high above - all the while blissed-out synthetic strings and Mellotron choirs draw long lines across a cool digital plane.
Chuck van Zyl is completely at home in this endlessly inventive genre, offering ample muscle for the adventurous, archaic modulations for the experimentalist and dreamy floating space for the cloudwalker.
Admission is FREE