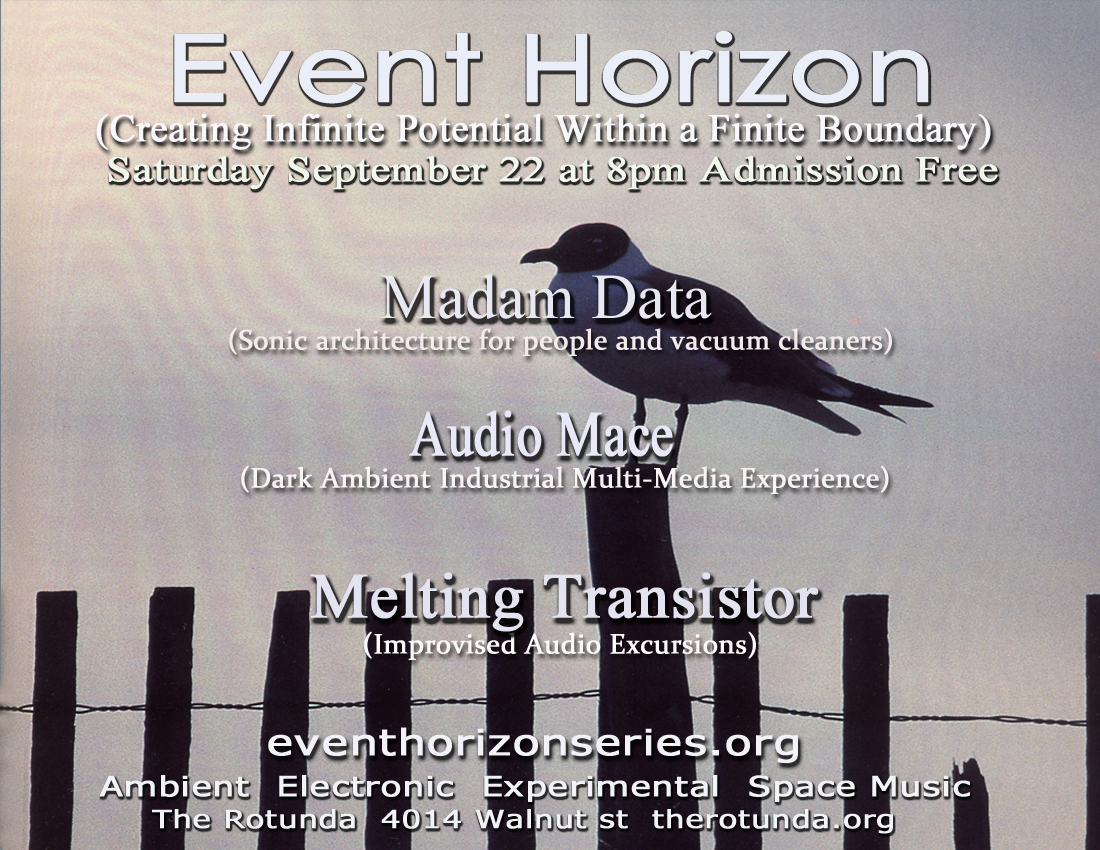 The Event Horizon Series
presents
Madam Data
sonic architecture for people and vacuum cleaners

Audio Mace
dark ambient industrial multimedia experience

Melting Transistors
improvised audio excursions


About the acts!
Madam Data - Performing as Madam Data, Ada Adhiyatma explores machine interfaces and the potential for technology to birth mutable bodies that defy the strictures of liberal humanism. They fantasize that machine-mediated sound can offer ways of re-imagining the still-gendered, still-racialized, still differently-abled body in terms that are freeing, fundamentally strange, and ultimately healing. They also think about buildings a lot.

Audio Mace - Hailing from Maryland, Audio Mace is Chris Wikman and Al Baldwin. Complex, instrumental arrangements, varied musical styles, and evocative soundscapes characterize their offerings, each piece with its own unique mood and style. Their performances are accompanied by multi-media visuals they create for each performance to provide an immersive and often intense experience. Formed to provide a vehicle for exploring music with a more "industrial" and "experimental" style, Audio Mace combines electronic instrumentation with exotic instruments (including several unique and "home-made" ones), sound textures, rhythmic elements, and percussion as it seeks to explore new themes and sonic textures and to create unique and evocative musical journeys.
As you listen to their music, you will note the variety of moods, expressions, and styles. Each piece is unique and defies being placed in a stylistic box, having been individually crafted to express its inspiration, mood, or journey. You will hear a mixture of elements: here some ambient … there some industrial … here some space-rock … and there some electronic. If you need a "label", consider "avant-garde music"… music which is ahead of its time, containing unique or original elements, or unexplored fusions of different genres.

The Melting Transistor - Formed in 2012, The Melting Transistor is a trio from the industrial swampland of central New Jersey/eastern Pennsylvania that creates completely improvised electronic music. The group consists of Juan Garces (synthesizers, electronics), Floyd Bledsoe (synthesizers, electronics) and Karl Fury (stringed instruments, electronics). The music is primarily generated with no prior planning but often sounds intricately composed. Middle eastern melodies mixing alongside of deep space electronics, bluesy slide and soaring rock guitar, exotic grooves, and avant-garde elements all add up to The Melting Transistor.
Admission is FREE

AND NEXT UP....October 27th Laura Woodswalker, The Quantum Erasure Experiment and Ombient
Laura Woodswalker - Laurahas played bluegrass banjo, bass, guitar, mandola and melodica. Her introduction to digital recording was her 'Insect Summer of Love' Nature sounds project featuring the songs of crickets, cicadas, birds and frogs. Her musical influences include psychedelic 60s bands, the Berlin school, Robert Rich, ambient space music, melodic techno, deep trance, prog-rock, Irish, bluegrass, Balkan and Middle Eastern music. For the past 10 years she has been performing at the Electro-Music festival in Huguenot and Homer NY. Her ambient compositions are rhythmic, melodic, sometimes a bit mystical. "The riffs create themselves and I save them as clips, then jam around them. Music is the truest form of prayer and magic."
The Quantum Erasure Experiment aka Dan Hamilton, grew up in a house where his mother and sister played the piano day and night. Without any formal training he began to emulate what he heard. It was due to his lack of musical training that he was forced to learn how to play by ear. In doing so, his ability to pick apart the sounds that he heard grew over time. In the early 2000's he was able to combine his love and knowledge of electronics with his love of sound. With the resurgence of modular synthesizers, he was able to acquire the hardware tools he needed to be able to carve up and manipulate different sounds at will. It was at this point that The Quantum Eraser Experiment was born. Playing under this persona, he eliminated all predefined genre rules and instead plays completely improvisational and reacts to what he is hearing instead of playing something predetermined. This makes every performance unique and completely unexpected to him and the audience. The outcome of playing this way could turn out great or terrible, but it's always interesting. He has played live shows in NYC and is a regular performer on WLFR 91.7 FM Stockton University and WPRB 103.3 FM Princeton, NJ.
Ombient is the moniker under which Mike Hunter performs his ambient/drone/experimental music. His ambient/drone/electronic music, being of a live and improvisational nature, is representative of the feeling of the moment in which it is performed and of the subtle feedback between the audience and the performer. Ombient users various vintage and contemporary analog synthesizers, a large Synthesizers.com Modular, a expansive eurorack modular, and occasionally computers running Ableton Live with various synth plug-in's. Most of the older music of Ombient features 6 string guitar and/or 12 string Warr Touch Guitar which is processed and layered using digital looping equipment. Mike is also the host of the radio show Music With Space on WPRB 103.3 FM out of Princeton, NJ