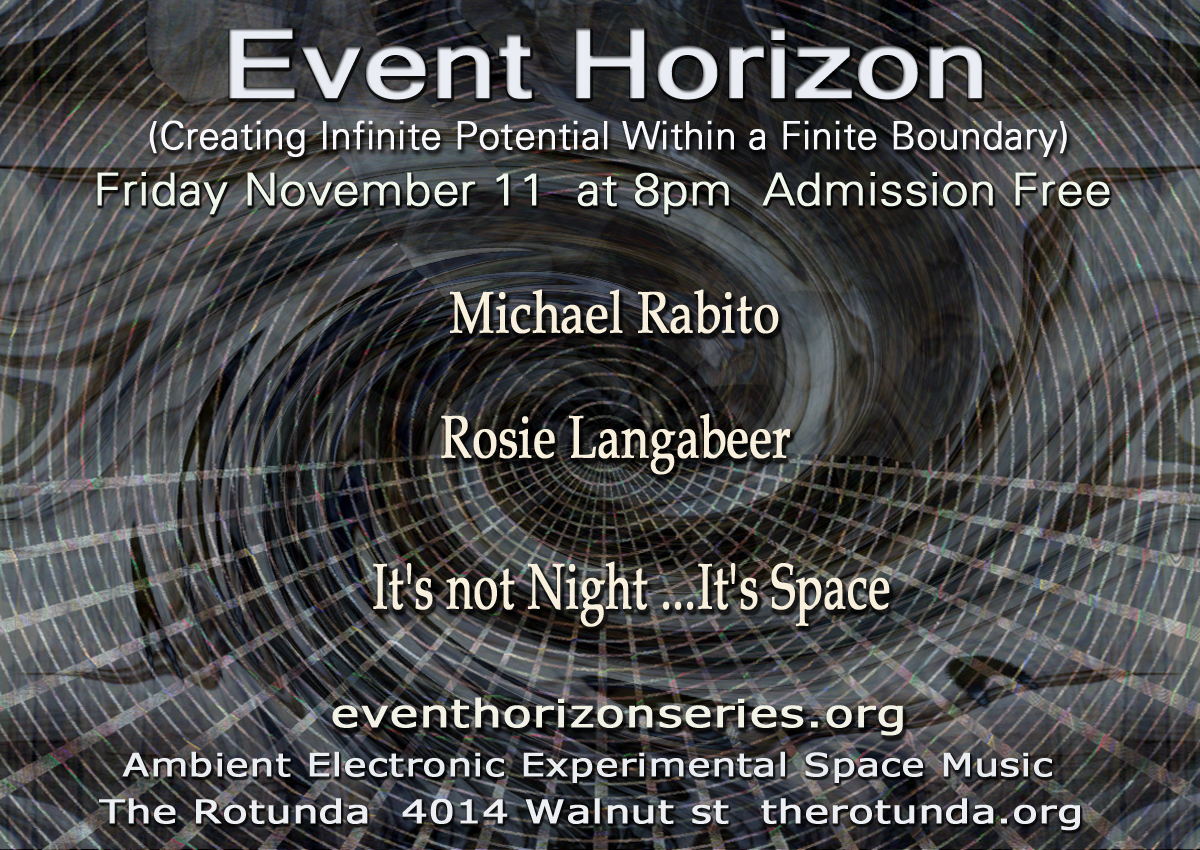 November 11th Michael Rabito, Rosie Langabeer and It's Not Night...It's Space

Michael Rabito is a musician that has been discovering his propensity for the fusion of opposites for many years now. He started taking the electric guitar seriously when he was eleven and was playing out professionally by the time he left for college with his band in Vermont. After a move to Boston the bringing together of the free flow of improvisation and the rigidity of structure increased as he played with a group of Berklee College of Music musicians for about five years. During this time his interest in loops, synthesizers and keyboards began to grow and helped to fuse space, harmony, action and dissonance. This has all culminated with his latest project back in the Princeton area called Manifested; A progressive fusion of funk, rock, dance and ambient music that has brought the group to New York, Boston, Philadelphia and many points between within their first year. They can be heard here with more information at their facebook page. Michael also performs interactive ambient space music with local visual artist Ted Klett. They will be preforming at Art All Night on June 15th -16th and can be heard at on the AutonomicDrone soundcloud page.


Rosie Langabeer - Hailed by the New York Times for her ability to time bend, Rosie Langabeer's sound is more like a transnational emporium of amusements, than music. Using electronic and acoustic instruments ingredients of exotica, science fiction, free jazz and an evolving cast of superfluities combine, resulting in something elusively familiar "…a suspended, surreal condition." NY Times. A regular composer for theatre and dance companies, Langabeer has performed throughout New Zealand and the US and also in Sri Lanka, Japan, Mexico, France and Great Britain, recent festival appearances include Baltimore's High Zero Festival (2016), Jacobs Pillow Dance Festival, (MA, 2016), Borderline Festival, (Auckland, 2016), Joyce Theater Ballet Festival (NY, 2015). Collaborators include Neil Feather, BalletX, Maiko Matsushima, Pig Iron Theatre Company, Andrew Mars/Settled Arrows, Kate Porter, Jeff Henderson and Chris O'Connor.
It's Not Night: It's Space - United as though at the behest of the cosmos itself, the members of It's Not Night: It's Space came together with immediate chemistry early in 2011. By October at that year, their first self-released EP, East of the Sun and West of the Moon, had been released, and the band – founded by guitarist Kevin Halcott and drummer Michael Lutomski, but by then also including bassist Tommy Guerrero – set about honing their interstellar craft over the course of regional gigs around their native quadrant of New Paltz while conducting research with the SETI for what would become their debut long-player, Bowing Not Knowing to What. It was this album that set It's Not Night: It's Space on the path of anti-gravity exploration, the trio of Halcott, Guerrero and Lutomski honing in on natural jams thickened and given orbital pull by dense tones and an ever-expanding wall of fuzz. Feeling that language could only limit the universal nature of their message, INNIS kept their game centered around the guitar, bass and drums, and made first contact with Small Stone Records early in 2013, who immediately offered support for their ongoing investigations. The debut cooperative effort between the two parties is scheduled for launch in the yet-undetermined future known as 2014.
November 15th Chuck van Zyl, Nocturne Blue and Centrozoon
December 3rd Brian John McBrearty, Inception and The Time Merchant
Call for support! Your help is needed...
Friend of The Event Horizon Series (and the Rotunda at large) and the Electro-Music Community, Chef Geoff, is in dire need of our help.
Chef Geoff ahs kindly provided, over the years, food for those attending the Event Horizon Concert Series as well as many other events held at the Rotunda...for no cost to anyone...
The cost and the effort was a gift to the world...out of the kindness of his big heart.
Perhaps you might consider paying that kindess back with a little kindness of your own.
"My recent diagnosis of stage 4 squamous cell carcinoma is a bit unnerving. I'm going to need intensive radiation and chemotherapy. Hopefully , after they shrink my tumor , the doctors can cut out what is left. I'm looking at a 3 month hospital stay and 2 months bed rest at home. All that time, unfortunately won't be able to work. I could sure use some financial, emotional,and physical help. I've fed 1000's of people over the years. Now I need help to be fed. Most sincerely, Chef"
Please visit Chef Geoff's GoFundMe site and consider a generous donation.