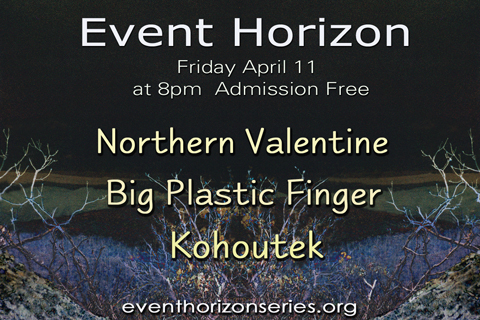 Event Horizon Series
presents

April 11th - Northern Valentine, Big Plastic Finger and Kohoutek
Northern Valentine
Northern Valentine is a Philadelphia, Pennsylvania based ambient/drone act. Coaxing sounds from electric and acoustic sources, they weave meditative drones and soundscapes with "barely there" post-rock instrumentation to create a tapestry that Phil McMullen (
Terrascope Online
) refers to as "minimalist ambiance at its best. Heartfelt, soulful and affecting, like gazing into a scrapbook of memories". collective anchored by husband and wife, Robert and Amy Brown.Their music is largely improvisational and is often set to original films that the collective has created.
Big Plastic Finger - The tumultuous noise of molecules recombining into alarming streaks of shooting stars, the massive force of an ocean gone wild usurping the tension of abandonment and opulence coexisting, reach audible proportions in the music of Big Plastic Finger. Those who come from the perspectives of psychedelia, noise, improvisation, hard core, experimental, and rock will all sense something slightly familiar - but will find themselves in BIG PLASTIC FINGER's adventurous realms, meant only for the bold.Shape shifters of space, BIG PLASTIC FINGER multiply and manipulate energy, transmuting sound into a physical force. Playing together for over 4 years, the core principles are: Bonnie Kane - sax, flute, electronics; Scott Prato - electric guitar, electronics, vocals; and Mark McClemens - drums.
Kohoutek - Improvised Psych with Noise Tendancies and Abstraction

May 9th - Woz, Audio Mace and PYXL8R
Woz
- Paul Woznicki, arrives for his semi self-titled album, WOZ. Woznicki is a film and TV scorer, working on movies such as Fiend in 1980. Oneyear later, 1981, Woznicki released his WOZ LP, a record now some thirty years old and ready to resurface. "Straight Ahead" comes from the world of electronic soundtracks, melodies countering one another in an atmospheric piece. The album has a whimsical quality, harmonies delicately being strung out against a fantastical and sci-fi drenched backdrop. "Tongue Depressor" contains echoes of minimal synth, the movie scorer coiling a spool of sound. "2nd Attempt" has a similar feel to some of Legowelt's more soundtrack based material. There is a sinister and unsettling aspect to Woznicki's sound, an insular and claustrophobic element reflected in the haunting melodies and spiraling synths. "Wozzie's Waltz" is a work of dramatic distortion, chords compressed into a whirling piece before "Zerkon" lifts the listener to loftier levels. "Flashbacks" sees the curtain fall, oscillators cascading over a taciturn tom-tom.
W.T.'s back catalogue contains myriad styles; this latest pair of EP's see that same eccentricity explored. Nao Katafuchi are already turning heads, Yumogeto being a 2012 favourite of Xeno & Oaklander's Liz Wendeblo, with their sleek brand of synth wave. Woznicki comes from a more obscure place, a trailblazing sound of rebounded reverbs and polyphonic perplexities. Undoubtedly even more interesting music will come from the New York imprint in this New Year.
Audio Mace is Chris Wikman and Al Baldwin from Maryland. Audio Mace is the second project forthis duo who previously released "Kadath – The Dream Quest" as XCross, to reviewers acclaim. . Audio Mace was formed to provide a vehicle for exploring the power of sound through "sound-based music" "the art form in which the sound and not the musical note is the basic unit." (Landy, L. (2007) Understanding the Art of Sound Organization. MIT Press.) Born out of recognition of the power and force of sound in our lives, Audio Mace combines electronic instrumentation with exotic instruments (including several unique and "home-made" ones), sound textures, rhythmic elements, and percussion as it seeks to explore new themes and sonic textures. These elements merge to create unique and evocative, often extended, musical journeys. Each piece is crafted to express a specific musical idea/storyline and incorporates a variety of musical styles as the concept and artist intent dictate Drawing from dark ambient, program music, industrial, and space rock, among others, the music creates a powerful and mystical atmosphere, evoking other worlds and dreamscapes for the listener. To hear examples of their work, visit theirsoundcloud page. For CD's visit there CD sales site.
PYXL8R - Ken Palmer uses the name PYXL8R for his solo musical projects when not performing with his instrumental prog band,Brainstatik. Each song begins life as a spontaneous burst of synthesizer-based long-form improvisation around an thematic motif, which is slowly morphed and massaged into a full piece. Ken will once again be accompanied on stage by his son Kyle on synthesizers and iPad, and the PYXL8R duo will debut some new pieces during this performance. Atmospheric, otherworldly, and always dense with unusual sonic textures, all PYXL8R compositions are performed live with no backing tracks. A collection of more than 50 PYXL8R songs can be listened to and downloaded for free at his soundcloud page.
Admission is FREE