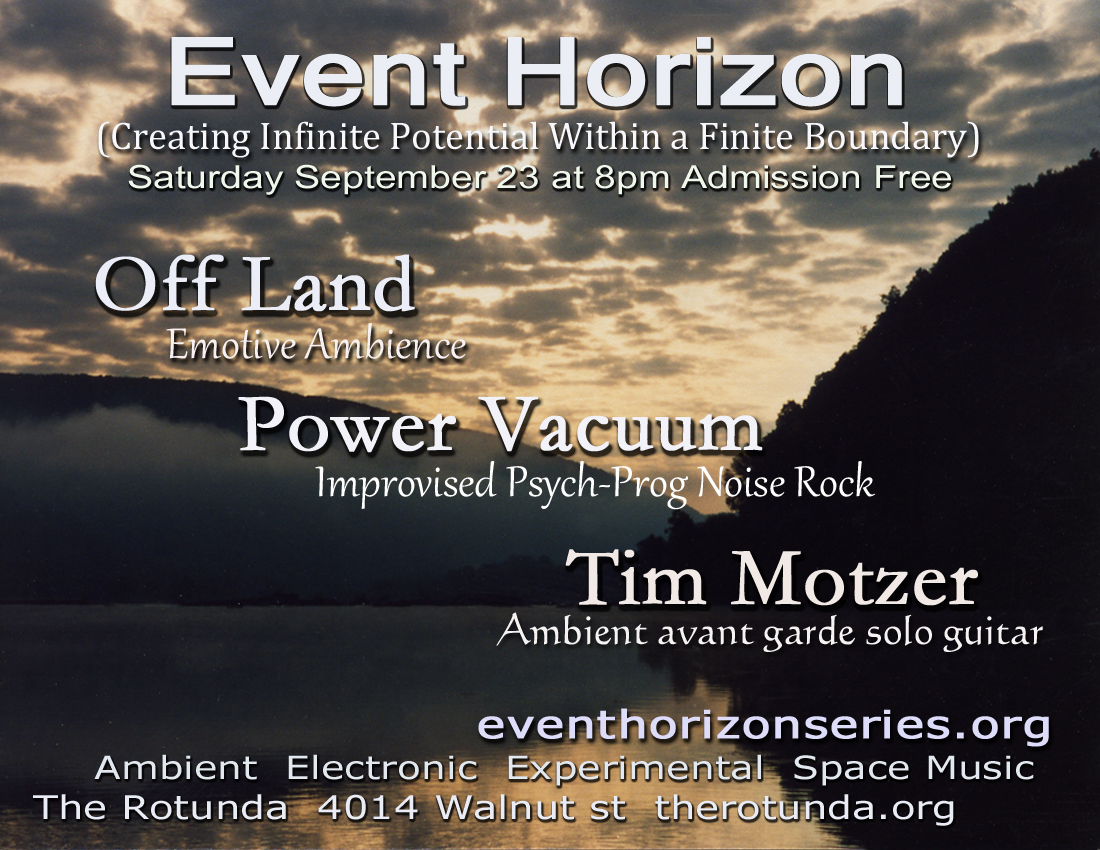 Event Horizon Series
presents
Off Land, Power Vacuum, Tim Motzer

Off Land - Formed in 2004 by Tim Dwyer, an artist and musician from New England. His sound has been influenced by meditative music such as Javanese gamelan and minimal drone, as well as various styles of 1990's electronic music. Dwyer's music is sparse yet texturally intricate, lying in some sort of electro-acoustic limbo between Namlook's more dusty ambient collaborations, literal Phonography and contemporary classical experimentalism. His latest album, 'On Earth', recently released on Stasis Recordings, embraces ambient techno with room to breathe. The album merges tectonic transitions between a tapestry of emotive sound. The seven tracks each act as their own micro-climate, their own continent, emulating the strange and wonderful world we all share.

Tim Motzer - Guitarist/improviser/composer Tim Motzer lives in a technicolor world of music. He is known for his distinct textural guitar voice utilizing looping, bowing, electronics, and prepared techniques. After 20 years of world touring, stunning collaborations, and over 70 albums of credits, this Philadelphia-based guitarist continues to traverse manifold territories in music. In 2016-17, Tim toured the world playing concerts and jazz festivals with Bandit65, an improvising trio he co-leads with guitarist Kurt Rosenwinkel and drummer Gintas Janusonis. He has collaborated with numerous musical luminaries: David Sylvian, Burnt Friedman, Jaki Liebezeit, poet Ursula Rucker, King Britt, Jamaaladeen Tacuma, Markus Reuter, and Pat Mastelotto among others. In the world of modern dance, Motzer composes and performs live solo scores around the world. Most recently he has performed to sold out houses in Tokyo, Japan; Seoul, S. Korea; Oujda, Morocco; and Toronto, Canada. He composes for film and video, and is a composer/accompanist for University of the Arts Dance in Philadelphia. He releases his genre-defying solo work and collaborations on 1k Recordings. As a leader, his projects include Orion Tango, Goldbug, Instant Takemitsu, & Tim Motzer SOLO.
AND ON October 27th - Bonnie Kane, Wormhole Superette, Urban Shaman Attack
The Event Horizon concert series is a Philadelphia-based concert series featuring Ambient, Electronic, Experimental and Space Music.
Admission is FREE