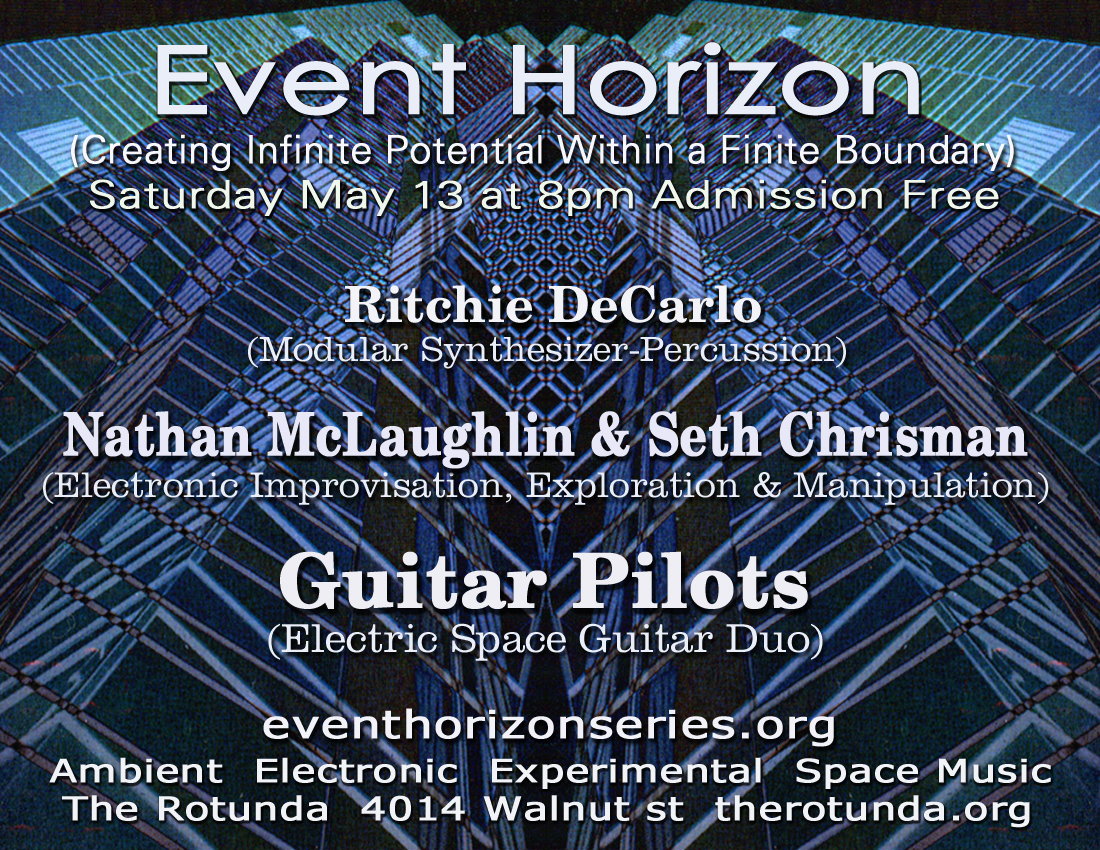 Event Horizon Series
presents
Ritchie DeCarlos, Nathan McLaughlin & Seth Chrisman and Guitar Pilots
Ritchie DeCarlo is a well known drummer in the Philadelphia area. He is currently playing withMichael Bernier, Percy Jones, Scott McGill, Kick It Out & various local acts, also teaching drums. Released the first solo album in 2013 titled WEEK. The album features many guest musicians: David Fiuczynski, Michael Manring, Pat Mastelotto, Michael Bernier, Percy Jones, Markus Reuter & MORE! The past decade his recording engineer hat has been on and working at TTR studios on many projects. In 2009 the modular synthesizer appeared in his studio & this changed his direction immediately. Today Ritchie is incorporating all of his 40 years experience into his solo live performances. Electronic percussion, loops & all types of synthesizers come together in his excursions for your ears.
Seth Chrisman is a musician based in the Hudson Valley, New York. Extended techniques, location recordings, and radio receptions are woven together to create undulating sonic environments. Hudson, NY resident Nathan McLaughlin explores sound with a focus on the stringed instruments and reel to reel, studies are carried out on the philosophical idea of going to the center. Their releases have appeared on Senufo Editions, Scissor Tail, Full Spectrum and Flaming Pines and they have performed around the country at festivals, DIY spaces and everything else in between. Nathan and Seth will premier work from their upcoming release Earth Tones at the Metal Show. These new pieces utilize a variety of time stretching and looping (analog and digital) tools to explore the beauty found when digital wrestles with analog, and have very few notes to win the battle. These stretched textures offer a rich bed of sound, the shifting tide that emerges where digital and analog meet that is at times challenging...and at times very meditative. Improvisational pieces will be interwoven using guitars, amplified surfaces and field recordings.
Guitar Pilots is an electronic spacemusic duo featuring guitarists Art Cohen and Scott Watkins. Their music consists of long structured improvisational pieces which transport the listener to the depths of space while focusing on each precious unfolding moment. Art's sequencer-like echoed guitar figures provide rhythmic propulsion while Scott's synthetic pads and sub-octave rumblings build a foundation for both guitarists to soar in melodic flights. Singing glissando blends seemlessly with plucks and twangs and blasts of interstellar beam. Following the trail blazed by Pink Floyd, The Grateful Dead, and the Berlin School, Guitar Pilots carve out their own unique sonic territory that is both organic as the ground underneath and as far-reaching as a distant pulsar.Art Cohen has been a fixture in the Philadelphia music scene for over 30 years as both a performer and an audio engineer. Fluent in guitar, bass, keyboards and harmonica, he has performed at concert venues and radio studios throughout the Delaware Valley and brought his music to Toronto, New York and other cities in the Northeast. He has released CD's with The Ministry of Inside Things, Delicate Monster, CubiZm, Lessick & Lincoln & Cohen, Waves of Violet, Men from When, and as a solo artist. His music ranges from electronic space to ambient to folk-rock to psychedelic rock to traditional folk to experimental to spoken word and beyond - sometimes within the same performance. Art has cultivated a unique guitar style drawing on influences including Garcia, Gilmour, Hendrix, Gottsching, Fripp, and Pinhas.Scott Watkins is best known as the guitar half of Orbital Decay, the Philadelphia area synth & guitar duo who over the past couple of decades have graced the stages of all the region's important electronic spacemusic venues. He coaxes an extended pallet of sounds from his guitar through the use of synths and modelling processors. He has built many of his own instruments including an other-worldly sounding 12-foot beam. Echoes of Gilmour, Hendrix and Froese can be heard in Scott's textural and melodic playing. You can listen to Guitar Pilots are their soundcloud page.
Admission is FREE
And don't miss the mext Event Horizon events:
June 9th - Ombient with guest Chuck van Zyl, Elkhorn
September 23rd - TBA
October 27th - TBA
December 1st - TBA