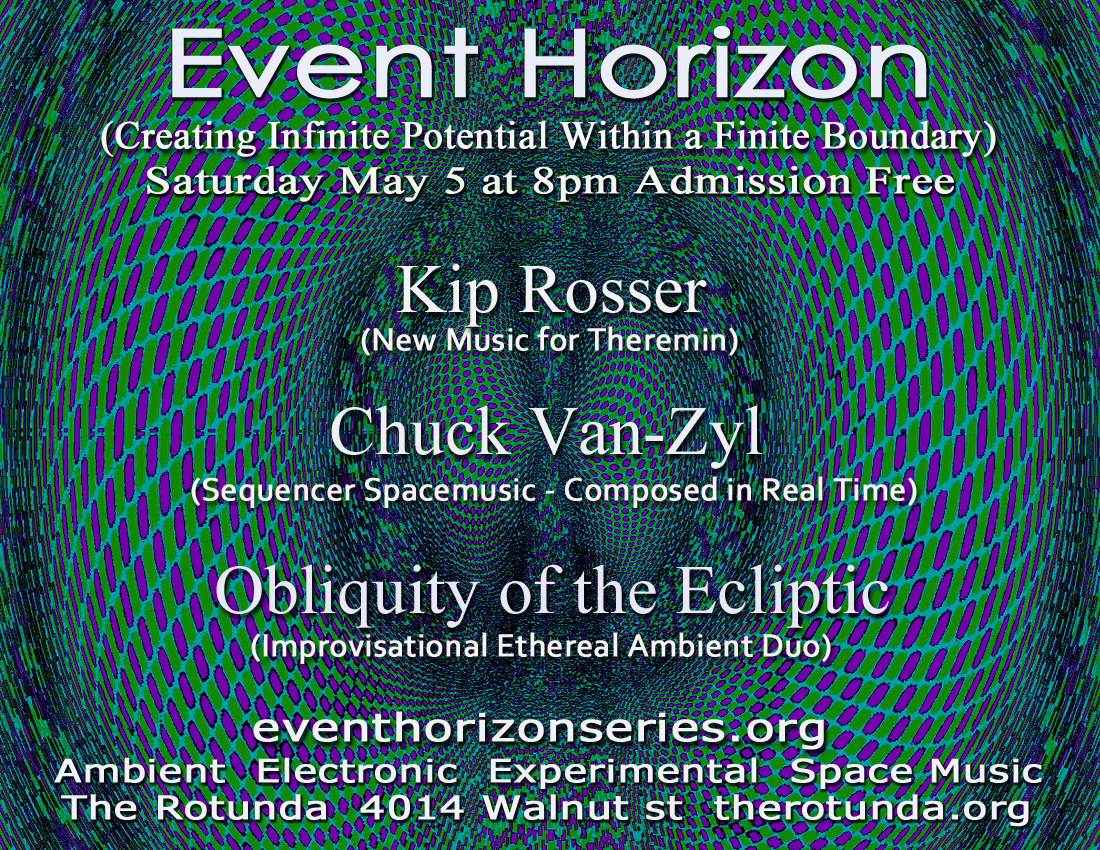 Event Horizon Series
presents

May 5th - Kip Rosser, Chuck van Zyl, Obliquity of the Ecliptic


Kip Rosser - Since 1996, Kip Rosser's solo performances, staged productions, award-winning compositions and industry recognition have earned him a reputation as one of the most accomplished thereminists playing in the world today. Rosser typically moves beyond a standard recital format,making for a unique event that combines music (ranging from classical to jazz to popular) with humor, stories, performance art, animation and video, continually pushing the boundaries of what the theremin can play and do. His many accomplishments span a wide a variety of disciplines. Milestones include presentations on stage, in museums, libraries and arts centers, award-winning original compositions, and the critically acclaimed "Unholy Secrets of the Theremin," presented at the NY International Fringe Festival. After creating full courseware for using the theremin in a therapeutic environment, Rosser was chosen to represent Moog Music, Inc. at the annual convention for the American Music Therapy Association. As a member of MUNY (Music under New York) he regularly plays music in the Manhattan subways. As a teaching artist for Musicopia, he brings his music programs to students of all ages in the Philadelphia school system; also through Musicopia, he started the NJ branch of the Gift ofMusic, collecting and delivering donated musical instruments, free of charge, to students in need. His original music was used for Sabina Ptasnik's short film, Gravity. In 2014 he provided the theremin tracks by composer Dane Walker for the new Toddy Burton film, Scientists in theWoods. In 2016, he composed the theremin soundtrack for Jason Allen's feature film, An Idle Mind is the Devil's Playground. Rosser's latest CD of original ambient compositions for theremin, Lessons from Vinegar Mother, was released in 2016. He is currently working on another album of original compositions.
Chuck van Zyl - Best known as host of Stars End (WXPN's renowned radio program of spacemusic dreamscapes) and as coordinator of The Gatherings (Philadelphia's premiere concert series of innovative music), Chuck van Zyl has also been making his own unique style of electronic music since 1983. Over the course of his musical existence Chuck van Zyl has developed a signature exploratory style. By blending the primitive machine beauty of classics like "Ricochet" with the highly formed values of more recent groups such as Redshift and Arc, his solo studio works are the result of a persistent creativity. With a solid melodic invention, atmospheric modulations and heroic shifts in tonality, van Zyl masterfully realizes the fascinating patterns, riffs and pulses that dominate his live concerts. As the music forms, climbs and sustains, listeners are pulled into a highly distinctive mindscape. Tone patterns weave and collide as go-for-broke keyboard lead lines dance high above - while synthetic strings draw long lines across a cool digital plane. Chuck van Zyl is at home in this endlessly inventive genre, offering ample muscle for the adventurous, archaic modulations for the experimentalist and dreamy floating space for the cloudwalker.
Obliquity Of The Ecliptic is a free improvisational, ambient space duo who create swelling and spacey cinematic drone music. Spacious analog pad synths, ethereal vocal loops, ebow guitar and minimal beats fill the space to create a meditative and magical experience where occasional chaotic walls of sounds will ensue. Every show is special as no two performances are ever the same. Live shows also consist of gorgeous and hypnotic outer space visual projections, smoke and mind-bending music.