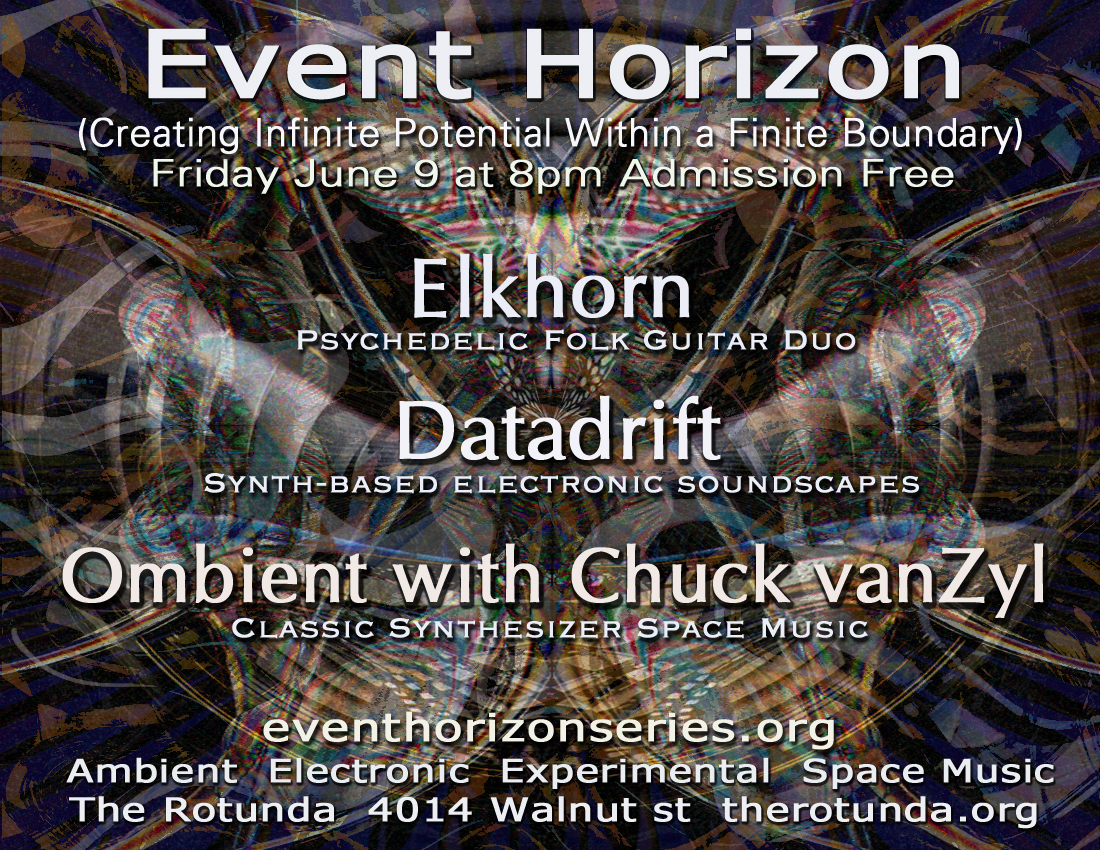 Event Horizon Series
presents
Elkhorn, Datadrift and Ombient with Chuck van Zyl
Ombient is the moniker under which Mike Hunter performs his Ombient is the monikr un which Mike Hunter performs his style of ambient/drone/experimental music.His ambient/drone/electronic music, being of a live and improvisational nature, is representative of the feeling of the moment in which it is performed and of the subtle feedback between the audience and the performer. Ombient users various vintage and contemporary analog synthesizers, a large Synthesizers.com Modular, and occasionally computers running Ableton Live with various synth plug-in's. Most of the older music of Ombient features 6 string guitar and/or 12 string Warr Touch Guitar which is processed and layered using digital looping equipment. Mike is also the host of the radio show Music With Space on WPRB 103.3 FM out of Princeton, NJ
Mike will be joined by multi-instrumentalist, Chuck van Zyl, who is best known as host of Stars End, WXPN's renowned radio program of spacemusic dreamscapes) and as coordinator of The Gatherings (Philadelphia's premiere concert series of innovative music), Chuck van Zyl has also been making his own unique style of electronic music since 1983. Over the course of his musical existence Chuck van Zyl has developed a signature exploratory style. By blending the primitive machine beauty of classics like "Ricochet" with the highly formed values of more recent groups such as Redshift and Arc, his solo studio works are the result of a persistent creativity.
Datadrift is the electronic music project of Guinevere Molly Campbell. Creating soundscapes since 1996, she uses an east-coast, hardware-focused approach, based on her love for the keyboard interface as well as the corralling of machines with unique interfaces and timbres to communicate with one another and find dialog or harmony.
Her principal approach is texture-driven, creating synthesizer patches that resonate with a mood or idea, then working with that sonic palette to create a soundscape that combines improvisation with sequenced aspects.
While predominantly instrumental and ambient, her work includes some forays into indie/experimental pop-driven song structures, including vocals. Her influences include Brian Eno, Jean-Michel Jarre, Tangerine Dream, Dead Can Dance, The Legendary Pink Dots, David Sylvian, Kate Bush, and atmospheric songs and trance-like passages in 60s-80s pop, cold and new wave, and post-punk..
Elkhorn is the electric/acoustic guitar project of Drew Gardner and Jesse Sheppard. The duo cmbines Sheppard's American Primitive-style acoustic finger picking with Gardner's extended improvisational and textural electric playing. The duo grew up together in the deep woods and rotting industrial husks of central New Jersey and have been collaborating on and off since the mid-1980s.

A filmmaker as well as musician, Sheppard directed The Things That We Used To Do (2010) a documentary about Jack Rose and Glenn Jones. He lives in the Brandywine region of Pennsylvania.

Drew Gardner lives in New York City and combines poetry and music in spontaneously conducted ensembles. His CD, Flarf Orchestra, appeared in 2011.
Admission is FREE
future Event Horizon shows
September 23rd - TBA
October 27th - TBA
December 1st - TBA