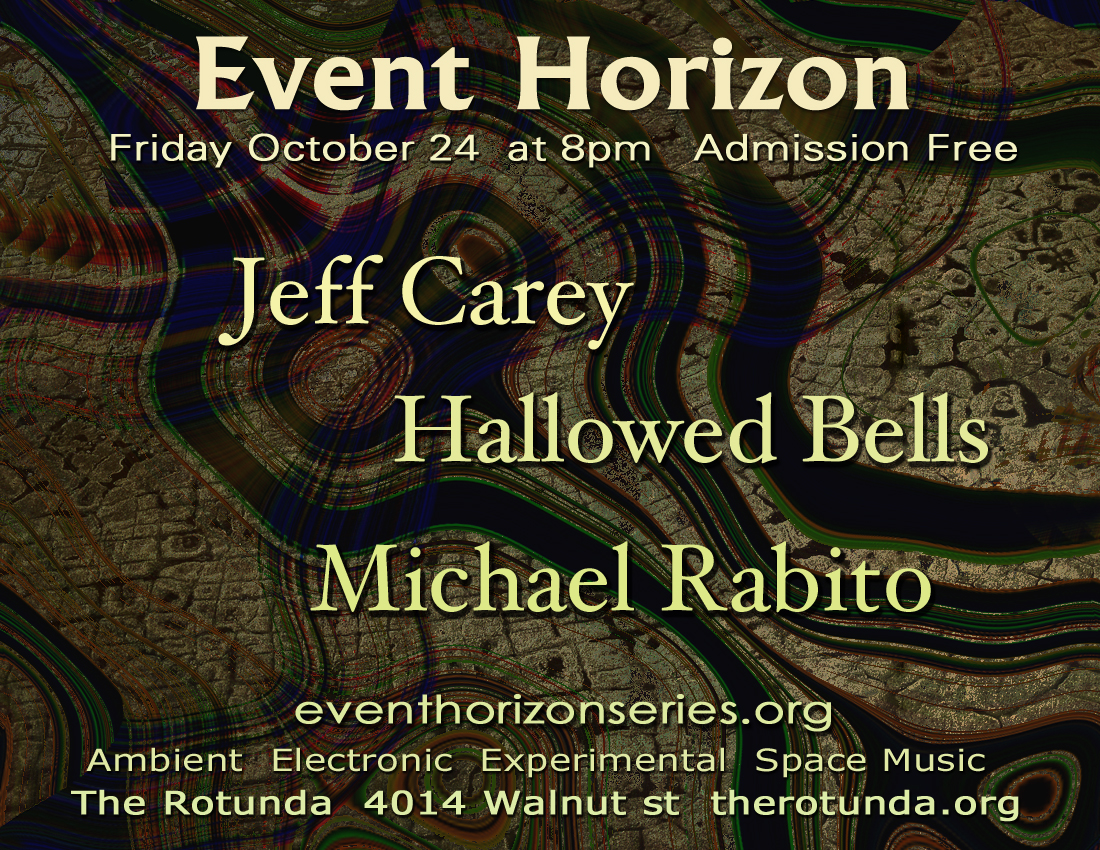 presents
Jeff Carey makes hardcore digital noise music with a joystick a gamer keypad and an array of strobe lights. Computer based synthesis, noise, and improvisation combined with a no-safety-net aspect of gestural control makes his music totally physical and visceral. No overdubs and no backing vocals. "He's acting on raw instinct here - he refuses the clinical approach to programming software or composing music, and strives to throw himself bodily at his machines, replacing all mechanical moving parts with human flesh, blood, and bone. In pursuit of this all-organic goal, virtually everything else is jettisoned, starting with recognisable notes or melody." -- Ed Pinsent, Sound Projector on "Impulse" Carey studied Audio Technology at American University (1994) and computer music at the Institute for Sonology (2002). He as been honored with awards from the Maryland State Arts Council for non-classical music composition and the National Endowment for the Arts via DC Commission for the Arts and Humanities. His acousmatic and electro-acoustic works with the N-Collective have been featured in festivals in the US, Europe, and Scandinavia. He has released a number of CDs and records as 87 central (Staalplaat, JDK Productions, Universal), Office-R(6) (Lampse, +3DB), SKIF++ (Fridgesounds, LINE/12k), under his own name (CWnil, Banned Production, IO Sound) and with MoHa! (Jeff Carey's MoHa! 7" on Rune Gramophone).
Hallowed Bells - Philadelphia-based duo Hallowed Bells is the project of two experienced musicians fully immersing themselves in the world of electronic music for the first time.B When Alison Stout and Darian Scatton began collaborating in 2013, creating detailed compositions suffused with rich dissonances and metrical turns inspired by Modernist music, they found themselves increasingly enchanted by the infinite orchestrational possibilities of electronic sound. They became determined to understand both the synthesis of sounds and the creation of synth circuits and dove headfirst into synthesizing sounds and building synthesizers fro scratch.B Now, they play their richly layered music using an all-hardware setup dominated by analog synths and organs.B Their sound is reminiscent of the synth orchestrators of the 1970s, interspersed with organic beats, improvised noise and fathomless dark ambient textures.
Michael Rabito is a musician that has been discovering his propensity for the fusion of opposites for many years now. He started taking the electric guitar seriously when he was eleven and was playing out professionally by the time he left for college with his band in Vermont. After a move to Boston the bringing together of the free flow of improvisation and the rigidity of structure increased as he played with a group of Berklee College of Music musicians for about five years. During this time his interest in loops, synthesizers and keyboards began to grow and helped to fuse space, harmony, action and dissonance. This has all culminated with his latest project back in the Princeton area called Manifested; A progressive fusion of funk, rock, dance and ambient music that has brought the group to New York, Boston, Philadelphia and many points between and beyond. They can be heardB hereB with more information at their facebook page. Michael also performs interactive ambient space music thatB can be heard on the AutonomicDrone soundcloud page.
Admission is FREE
AND!!! Join us on Saturday November 8 for
Richard Marcus - Richard Marcus has been designing electronic music for personal expression, movement theater and film for many years both locally and abroad. His current structured improvised work is formed using pressure sensitive rubber pads, sampled bowls, gongs, bells, textured synthesizers and melodic percussion, influenced by the expressive nature of Eastern and Asian cultures. Also there is another side, "The Balance". Working with the "Haken Continuum" a three dimensional midi controller, a new fresh approach to synthesis has opened new worlds and ways to get very deep into the dark side of sound and expression.
The Great Quentini - Quentin Davis is The Great Quentini. He is a sculptor and a performance artist who makes his costumes and musical sculptures out of found materials. He has shows in which he wears costumes, plays these musical sculptures, and tells humorous stories; acting out the parts that defy words. These stories are often from his life experience.
Tim Motzer - After 14 years of international touring, stunning collaborations, and over 60 albums of credits—this Philadelphia-based guitarist continues to traverse manifold territories in music and has developed a distinct textural guitar voice utilizing looping, bowing, electronics, and prepared techniques ala Cage. He has worked with David Sylvian, Burnt Friedman, Jaki Liebezeit, Ursula Rucker, Jamaaladeen Tacuma, KIng Britt, Markus Reuter, Anthony Tidd, Ari Hoenig, and Theo Travis to name a few. He releases his music on his 1k Recordings imprint and webcasts sessions from his studio at 1ksessions.com. He also continues to score for the world of modern dance and film.(Live projections by Dejha Ti and Erik Silverson)