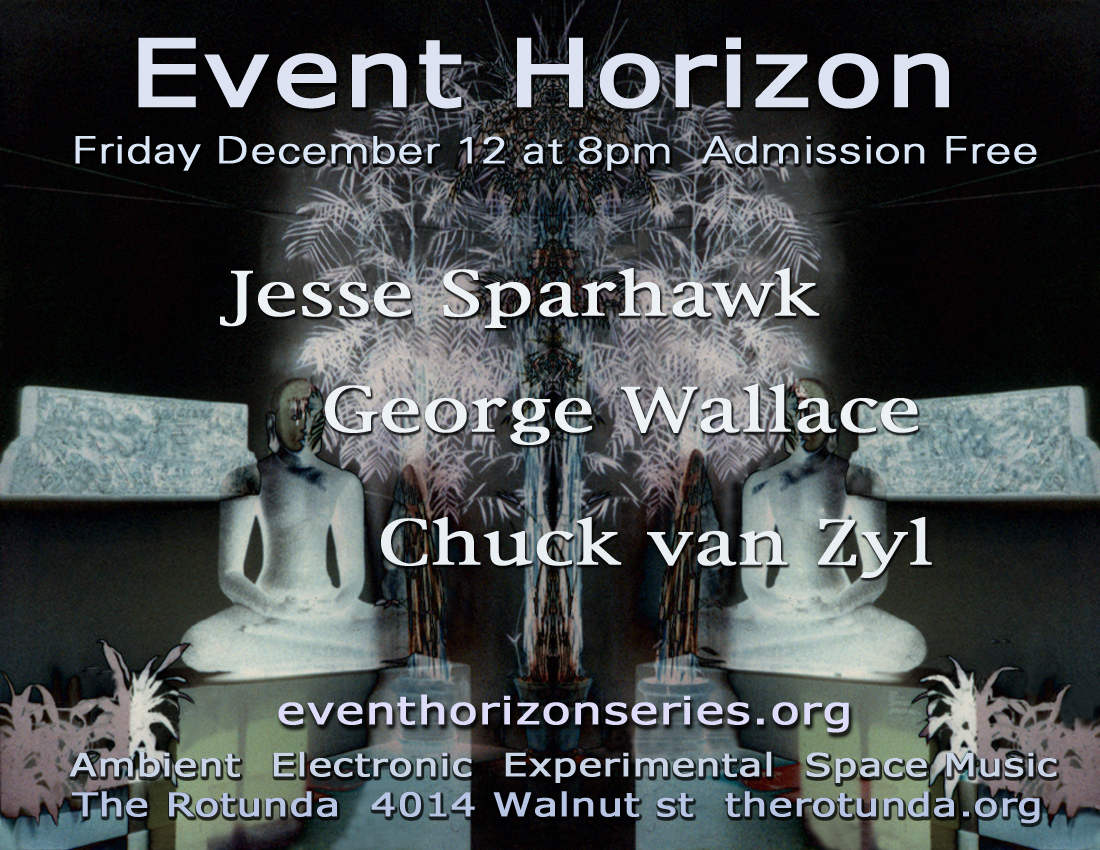 presents
Jesse Sparhawk - Jesse Sparhawk is a multi-instrumentalist, composer, and improviser whose instruments include harp, guitar, and electric bass. He studied harp with principal harpist of the New York Philharmonic, Myor Rosen and Eastman School of Music's Kathleen Bride between the ages of 10 and 17 and performed at New York City's Carnegie Hall at the age of 15. He has over 40 independent recording credits to his name performing various instruments. He has toured the US and Europe as a solo artist, and with several singer-songwriters and bands including Fern Knight, The Valerie Project, Timesbold, Marissa Nadler, and Greg Weeks (of the Philadelphia-based band Espers). Sparhawk has performed at other notable venues including The Museum of Modern Art in New York City, The Castro Theatre in San Francisco, and The Royal Festival Hall in London. He can also be heard performing on the original soundtracks for the independent feature films "Tarnation" (2003), "The King" (2005), and "Home Front" (2006). In 2009, New York-based singer-songwriter Larkin Grimm invited Sparhawk to play harp on her 2012 self-released album "Soul Retrieval" in an ensemble including Tony Visconti (producer / arranger of T. Rex / David Bowie). In late 2010 Jawbone Press released the book Seasons They Change by Jeanette Leech which featured sections about Fern Knight, The Valerie Project, and other artists with whom he has collaborated.
Sparhawk's instrumental guitar composition, titled "Light Cycle / Tetrahedra," was released in 2006 on Tompkins Square Records Imaginational Anthem Volume II compilation. 2011 saw the release of 'or Kestrel', his debut solo instrumental guitar LP and 'Raptor Attention,' a four-song EP.
Sparhawk toured Europe with Philadelphia-based guitarist Eric Carbonara to support the release of 'or Kestrel' and the Spring 2011 vhf records release of their duo album, 'Sixty Strings', just before embarking on the BalletX / Wilma Theater performance of Proliferation of the Imagination, an inter-disciplinary production combining ballet, dialogue and live music, as part of the Philadelphia International Festival of the Arts in April 2011. He performed both with Carbonara and the Duane Pitre Sextet at the Hopscotch Music Festival in Raleigh, NC in September 2011. In January 2012 Sparhawk performed with Brooklyn-based This Ambitious Orchestra and Lady Circus at the grand opening of the Beauty Ballroom in Austin, TX, where the orchestra accompanied Daniel Johnston. Sparhawk played harp on Duane Pitre's Important Records release "Feel Free," which made Wire Magazine's Top 50 releases of 2012. Since 2010, Jesse has performed "Feel Free" in Brooklyn, San Francisco, and London. Jesse finished a collaborative EP with Barcelona singer-songwriter Alberto Montero, and spent 2012 making guest appearances on several local Philadelphia artists upcoming releases. Carbonara and Sparhawk released the follow up to "Sixty Strings," titled "Tributes & Diatribes," in March 2014. Sparhawk released his first recording of solo harp improvisation titled, "Peace Peace Peace," on Psychic Troubles Tapes in the Fall of 2014.


George Wallace - In live performance, multi-instrumentalist George Wallace presents a dazzling array of wondrous, imaginatively crafted soundscapes bound to delight fans of deep ambient, techno-tribal, and spacemusic.George is a seasoned performer, having spent years with bands playing various permutations of rock, jazz, and popular music. But for the past few years he's been on hiatus from playing out, mainly producing studio recordings of his own compositions, with recent forays into making music for film and television.He has recently risen to the challenge of engineering a way to deliver his particular brand of ambient music - inherently layered and complex - in such a way that its live performance is faithful to the sonic dimension and depth of the recorded version. During the course of a given set (anywhere from 30 minutes to two hours, depending) audiences will experience something akin to hypnosis as our senses are immersed in music fed by George's fierce, spontaneous inspiration and tempered with his keen feel for rhythmic and dramatic flow.In addition to the synthesizers he plays onstage, George uses guitars both acoustic and electric, Native American flutes, rainsticks, bells and rattlers, and even a Tibetan singing bowl to round out the sonic palette. His musical program consists of pieces both old and new; a few older favorites culled from his several ambient releases are woven in with newer, as-yet unrecorded pieces, most of which are essentially structured improvisations based on predetermined soundstages, the end result being that no two performances are exactly alike. Naturally this calls up a certain amount of audience engagement (and lots of fun for all) as George often says he likes to read – and get energy from – the audience he's playing for. Adding to the mix is his occasional blending of natural ambiences such as forest sounds, night sounds, wind…and a few which might be best described as unearthly. These aural treats serve as the 'ear candy' which help to put the whole thing over-the-top.Despite his
affable stage demeanor, the intensity of the music itself makes it evident that George likes to play deep. Through his magical musings, we are invited to discover a new access to our true Selves, from the deepest regions of our souls to the ecstatic, sublime worlds of our highest potential. Presented here is wild, enriched sound, simultaneously borrowing from the primal past and the celestial future, creating an inspiring, cleansing, memorable experience of exotic places and times well beyond this one.'…go as deep as you can go…'
Best known as host of STAR'S END (WXPN's renowned radio program of space music dreamscapes) and as coordinator of The Gatherings(Philadelphia's premiere concert series of innovative music), Chuckvan Zyl has also been making his own unique style of electronic music since 1983.
During the mid-90's Centaur Discs of Scotland released CelestialMechanics (1993) and The Relic (1995). These albums compiled many ofvan Zyl's early cassette releases onto compact discs. In autumn of1994 Synkronos Music released "Regeneration Mode" (1994), the famous collaboration between Chuck van Zyl and The Nightcrawlers founder Peter D. Gulch. In 1992, Chuck van Zyl founded the group The Ministry of Inside Things. Along with guitarist Art Cohen, they performed dozens of live concertsin various venues and unique spaces and released three live CDs on the Synkronos Music label: "Everlasting Momen"t (2003), "Contact Point" (2006) and "Ambient Elsewhere" (2008). Recent activity includes a number of live performances both solo andin collaboration with Terry Furber, Mike Hunter and Jeff Coulter, as well as recording and production sessions with Jeff Towne - which resulted in three full-length studio albums. For his 2014 concert at Event Horizon Chuck van Zyl will be joined by synthesist Mike Hunter. Sometimes referred to as "the children of space", Chuck van Zyl's generation of musicians are more than just carrying on an earlier tradition. Seeing creativity as a component of his own personal spirituality, van Zyl's musical realizations are fueled by everythingfrom music technology to a greater cosmic awareness. His musical sensibilities evoke a sense of discovery, with each concert marking anew frontier of sound.
"Rituals" is the forthcoming solo CD by Chuck van Zyl. A follow-up to"MemorySpace" (2010) and "Cenotaph" (2012), "Rituals" (2014) is scheduled to be released by Synkronos Music on 15 November 2014 to coincide with his performance at The Gatherings Concert Series.
Admission is FREE
Addtional Images