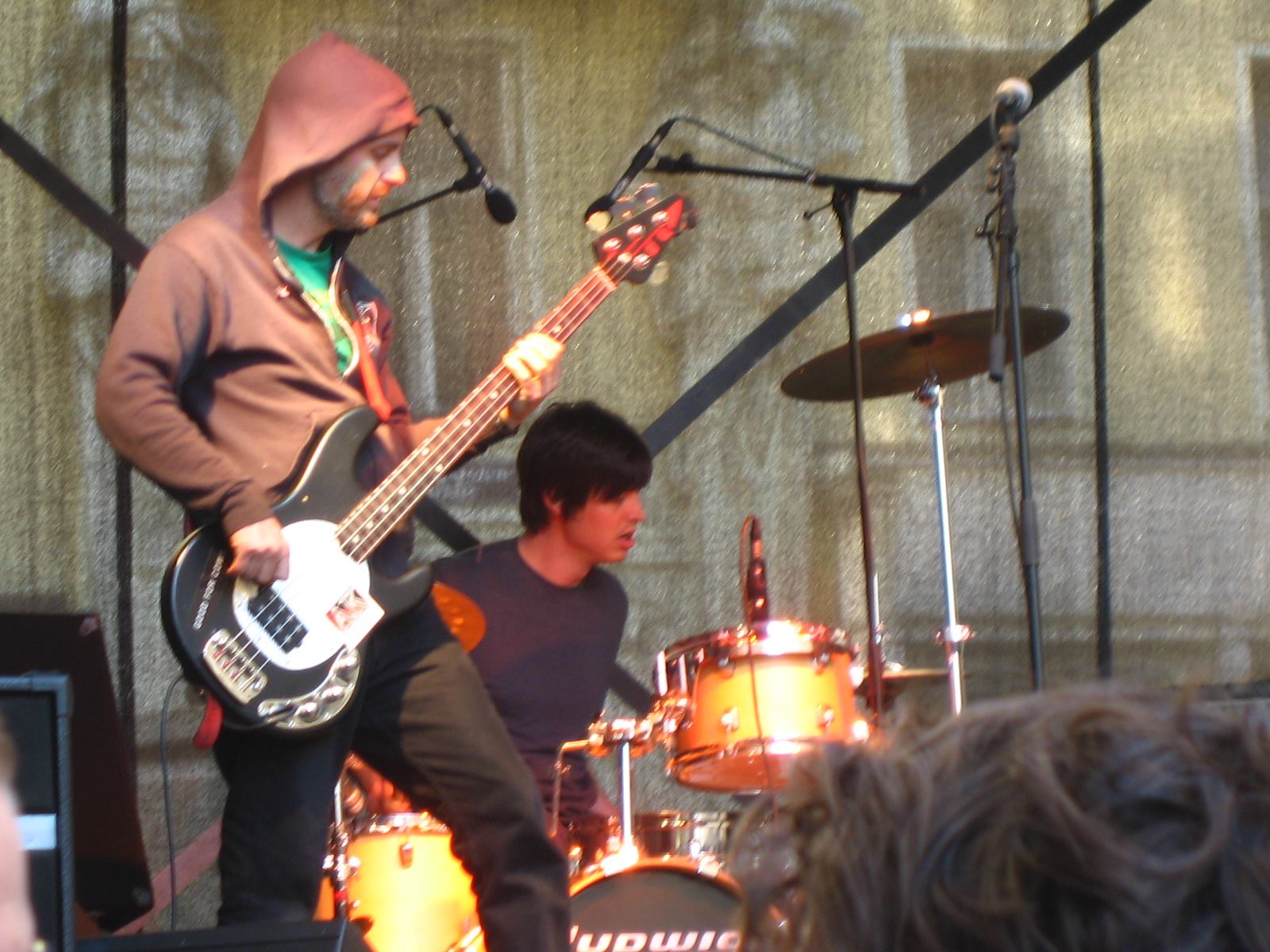 Fire Museum
presents:
Good For Cows (Brooklyn/Philadelphia):
Good for Cows began as a duo in 1999 when Devin Hoff (string bass) and Ches Smith (drums) would meet regularly to work on musical ideas from a rhythm section's perspective. At first the two focused on creative interpretations of jazz compositions, particularly the music of Thelonious Monk, Ornette Coleman, and Charles Mingus. It wasn't long before their shared love of independent rock ('punk') bands such as Black Flag, Minutemen, Minor Threat began to inform the duo's sound in their use of timbre, aggressive energy, and personal voice. Equally important were devices such as multidirectional rhythm, aural cues, and investigations of distinctive sound worlds gleaned from study of contemporary composer/performers Anthony Braxton, Vijay Iyer, Cecil Taylor, Fred Frith, and Wadada Leo Smith. Good for Cows have since written numerous compositions and improvisations, searching for the strengths of the spare bass and drums instrumentation.
Wrest (Chatanooga, Easton & Columbus):
"Wrest-ing never does serious bodily harm but might scare your aunties and inlaws out of the room real quick. Sound and magic tricks on sax, floor percussion, bass. What happened? We don't know what we're doing until we're doing it." The kind of music we play is free improvisation, where the players cannot be counted on to play the same way each time. Wrest is restless; there is no typical Wrest "experience." We are using all our imagination each show to get past what we did the night before. Free Improvisation is an approach to playing by musicians who would be bored representing an image of what they are. That's why we can say, we don't know what we're doing until we do it.
Described twenty years ago as an "undergrounder by design," Jack Wright is happy to inhabit the vast territory below the radar of the professional music world. Since 1979 he has been traveling through the US and Europe in search of interesting partners and playing situations, and open to whatever might happen. Now living in a small Pennsylvania town, at 71 he is still the "Johnny Appleseed of Free Improvisation," as Davey Williams called him back in the 80s. And he is still inspiring players outside music-school careerdom. Whenever he plays today, all that he has traversed is present, from fiery, breathless free jazz to quiet, breath-filled, and often animalistic sounds. A reviewer for the Washington Post said, "In the rarefied, underground world of experimental free improvisation, saxophonist Jack Wright is king".
Evan Lipson has operated as a musician since adolescence. In addition to WREST, he is currently active with the Normal Love and the Shaking Ray Levis Society. Past units include Satanized, Dynamite Club, Psychotic Quartet, and The Weasel Walter Trio. Lipson has performed throughout North America, as well as Brazil, Taiwan, and Japan. His music has been released on several imprints including SKiN GRAFT, UgEXPLODE, High Two, Public Eyesore, Badmaster, and New Atlantis. He currently resides in Chattanooga, Tennessee where he is scheming to actualize an all-in-one dystopian tiki lounge, performance space, mystical grotto, and occult ritual chamber.
Ben Bennett, living most of the time in Columbus Ohio, started playing music as a young child, with an interest in jazz that moved steadily towards the more avant-guarde, then to free jazz, and onward into the world of free-improv. Using extended techniques involving breath and friction, as well as the time-honored tradition of hitting things with sticks, he plays an evolving pile of frame drums, pre-tuned drum heads, metal things, tubes, and other objects that can be combined and recombined to get a variety of sounds. This set-up lends itself greatly towards being crammed in a backpack, strapped to a bike, dragged along the ground, or thrown down the stairs, generally without physical or psycological damage. Recent projects besides Wrestinclude: bst.cr - trio with Ryan Jewell and Wilson Shook, Rotty What - trio with Jack Wright and John M Bennett; Central Ohio War Coalition - with Mike Shiflet, Joe Panzner, and others; duos with Ryan Jewell, Jack Callahan, and Ben Hall; and solo performances.
Admission is FREE; donations requested at the door.
xxxxxxxxxxxxxxxxxxxxxxxxxxxxxxxxxxxxxxxxxx
And on Wednesday June 18, Fire Museum presents Kuupuu, Tsembla, and Tara Burke/Rosie Langabeer Duo. Info: http://www.museumfire.com/events