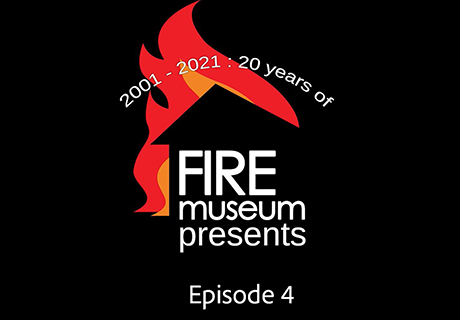 Fire Museum's 20th Anniversary Video Premieres Episode 4: Hindustani Music - Sitar & Sarangi
Donate to Fire Museum Presents:
https://fundraising.fracturedatlas.org/fire-museum-presents
For Episode 4 of the Fire Museum Presents 20th Anniversary Video Premieres we bring you a program of Hindustani ("North Indian Classical") music. Indrajit Roy-Chowdhury & Harsh Narayan have both performed at The Rotunda in the past, a venue we look forward to seeing the insides of again.
First up are Indrajit Roy-Chowdhury on sitar accompanied by Mir Naqibul Islam on tabla (approx 30 minutes) then Harsh Narayan on sarangi accompanied by Aditya Dhekale on tabla (approx 25 minutes).
bios:
Indrajit Roy-Chowdhury:
Indrajit Roy-Chowdhury is a disciple of the sitar maestro Pandit Subroto Roy-Chowdhury. Groomed in the Veen-kar style of the Senia Gharana, which maintains the Dhrupadi origins of Indian Classical music, Indrajit strives to innovate while keeping a firm connection with the past. While completing his undergraduate studies at Duke University, Indrajit received the Bennenson Award for the Arts to further his study of Indian Classical music. Since then he has taken the profession of a full-time sitarist and has performed on stages across the world including such prestigious venues as Gyan Mancha (Kolkata), Hammerstein Ballroom (New York), Kennedy Center (Washington D.C.) and has had his concerts telecast by Doordarshan (Indian National Television). During the 2010 Fall semester Indrajit was a visiting faculty member at the University of Pennsylvania and taught the University's sitar course.
website: https://www.indrositar.com/
instagram: https://www.instagram.com/indrorc/?hl=en
facebook: https://www.facebook.com/Indro-115815610177/
Mir Naqibul Islam:
An avid student of Tabla, Mir has trained in the traditional guru-shisya style of Indian Classical music from Pt. Ashoke Paul, disciple of the great tabla guru Pt. Jnan Prakash Ghosh. Now living and working in New York city, he performs regularly with musicians from a wide variety of other genres, bringing tabla to Jazz, Middle-Eastern music and other contexts. By listening, learning and playing with musicians from around the globe, Mir is developing a unique musical aesthetic bringing together the musical influences of traditional Farukhabad style tabla and 21st century New York. Mir have studied with Pt. Gopal Mishra and Pt. Suresh Talwalkar in past and continuing his talim with the great Farukhabad Mastero Pt Anindo Chatterjee.
instagram: https://www.instagram.com/mir_tabla/?hl=en
facebook: https://www.facebook.com/mir.tabla/
——————————————————————-
Harsh Narayan – Sarangi – Raag Madhuvanti
Location: Live in Mumbai India, February 2021
Sarangi Artist: Harsh Narayan
Tabla Artist: Aditya Dhekale
Video Production: Ankur Jadhav
Length: 23 minutes
Description:
This video explores Raag Madhuvanti.
In traditional fashion, as mentored by his illustrious grandfather the Hindustani Music and Sarangi Maestro Pandit Ram Naryan (Padma Vibhushan, 2005), Harsh Naryan starts the video by playing various Alap phrases.
These Alaps are unhurried, curious, and even meditative passages which articulate and present Raag Madhuvanti to the listener.
Two (2) compositions are also explored first in Vilambit (slow) Teen Taal (16 beat cycle) and then in Drut (fast) Teen Taal.
Throughout the presentation, various improvised, very rapid yet melodic passages (called Taans) weave the tapestry of the Raag itself, moving the listener through the multifaceted musical transitions.
While the speed of the Sarangi playing may capture the immediate senses, upon deeper listening, the tonal quality of this instrument and the clarity of note articulation cannot go unnoticed.
And while there seems to be limited space for the fingers to traverse the standard three (3) octaves of typical Sarangi playing, this artist somehow expands this space … as if infinite.
In expert fashion, he explores the 4th octave, playing it with seeming comfort, expert clarity, and soulful precision, as an homage to his mentor grandfather and the Narayan tradition itself.
Harsh Naryan played for Fire Museum Presents at the Rotunda in Philadelphia (October 2019) and expects to return once International travel normalizes (likely by Spring 2022).
Find Harsh Narayan online at:
WEB: www.HarshNarayan.com
FACEBOOK: https://www.facebook.com/harshnarayansarangi/
TWITTER: https://twitter.com/harshnarayan85
INSTAGRAM: https://www.instagram.com/harshnarayan1/
TO WATCH this event, please go to https://www.youtube.com/watch?v=FfmbFxBwEzg at 8:30pm on April 1.