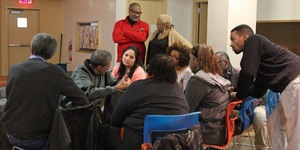 GATHERING: Making Home in the City
University-Community Partnerships in the Arts, Culture, and Humanities
Join participants from around Philadelphia who are engaged in university-community partnerships through the arts, culture, and humanities. Learn more about the work, share promising practices, consider the value and impact of this work, strategize about how to create and sustain partnerships,and enjoy vibrant performances throughout the day.


Date: Friday, October 23, 2015
Time: 9am-6pm
Location: University of Pennsylvania
The Rotunda – 4014 Walnut Street (The portion at this venue ends at 4pm)
Annenberg Center for the Performing Arts – 3680 Walnut Street
*Includes continental breakfast, lunch, and evening reception*
8pm evening performance by Urban Bush Women dance company at Annenberg Center for the Performing Arts tickets available at group rate. Reservation Code TBA.
Please forward widely so that we can convene a diverse group of faculty, students, artists, community members and organizations, that reflects the many different partners coming together to grow the work.
Share this event on Facebook and Twitter

Co Sponsored by: Netter Center for Community Partnerships, University of Pennsylvania; Arts Administration Department, Drexel University; Social & Studio Practices Department, Moore College of Art & Design