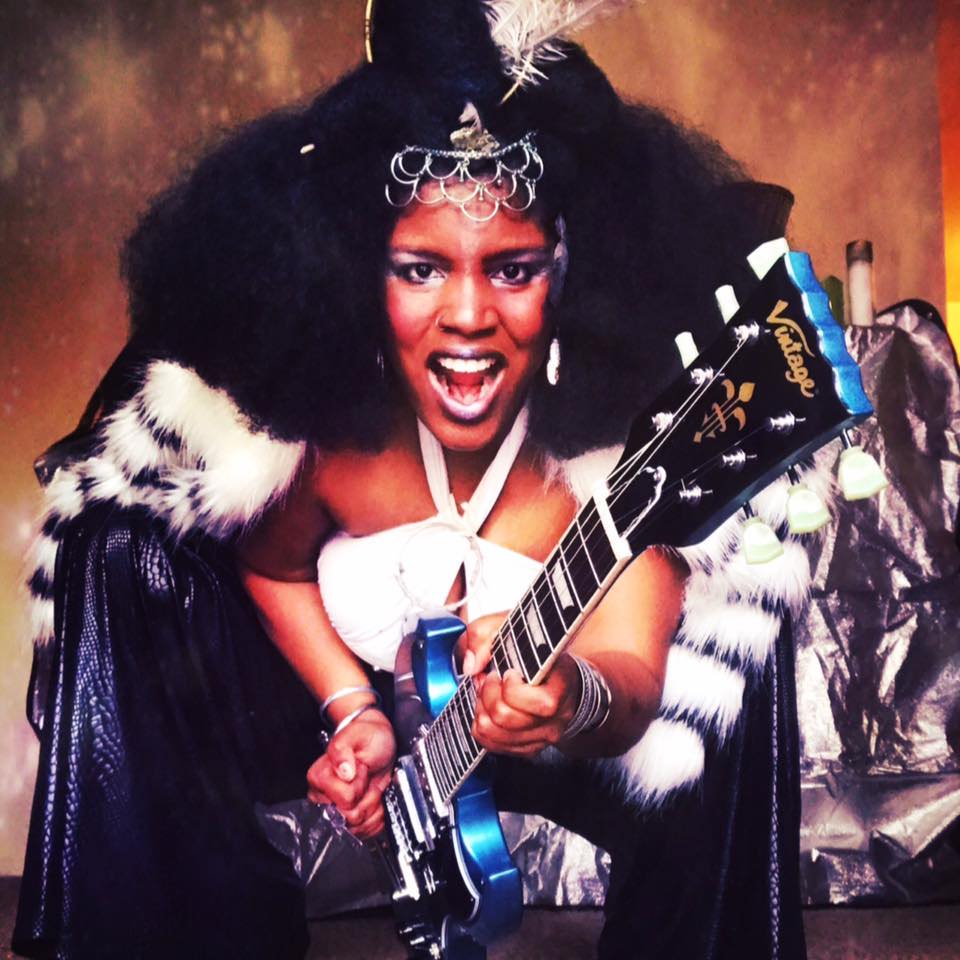 Samantha "GhettoSongBird" Hollins is an independent Rock-n-Roll singer-songwriter-guitarist from North Philadelphia. Since 2001 her cult fanbase has watched her blaze stages non-stop at legendary Rock venues including CBGB's (NYC), The Bitter End (NYC), The Whisky A Go-Go (L.A.), The Troubadour (London), and The Overthrust Winter Mania Metal Fest in (Botswana) with hundreds of shows under her belt. She was also the curator of her own festival Wingdomfest.
GhettoSongBird recorded her "Alley Of The Earth" EP in Los Angles (2002) with the help of her mentor Rosa Lee Brooks (a recording artist in the 60's, who wrote and recorded with Jimi Hendrix). The first single "landed" the Songbird on the classic B.E.T. show 106 & Park and in front of many music executives in a time that young Black women rocking with an aggressive electric guitar was taboo in the mainstream.
Mrs Songbird and her Roxsploitation band (featuring her husband Ronin Ali on drums & her best friend Chris Nelson on keys) has shared stages with some of their heroes including HR (Bad Brains), Angelo (Fishbone), RES, Vernon Reid's (Living Colour) jam-band called the Free Form Funky Freaks (which includes Jamaaladeen Tacuma & G. Calvin Weston), Botswana's metal legends Overthrust, spoken word pioneers The Last Poets, Sonia Sanchez and many veteran musicians. GhettoSongBird's message music (she calls Culture Rock) has made a lingering impact playing throughout the USA, Australia, the U.K., Brazil and Africa, breaking rules along her extraordinary journey.
Catch this fabulous live performance right on The Rotunda's YouTube channel. The direct link for the livestream is https://youtu.be/x5SlN7VQ_Cw