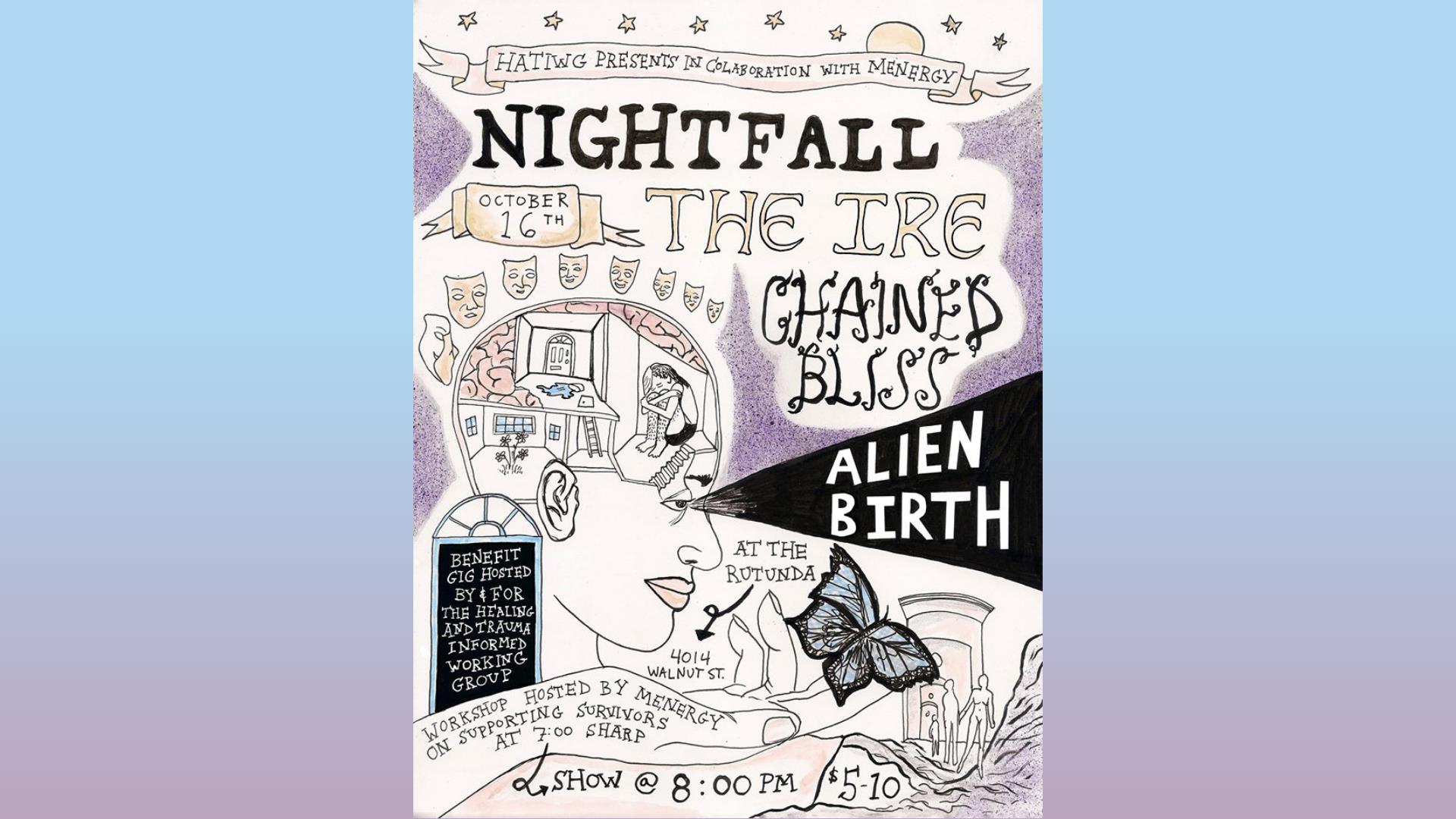 HATIWGxMenergy - Nightfall/The Ire/Chained Bliss/Alien Birth
This is a benefit gig hosted by Healing & Trauma Informed Working Group for the organization Menergy!
Supported by music from:
NIGHTFALL
|https://nightfall.bandcamp.com/|
THE IRE
|https://theire.bandcamp.com/|
CHAINED BLISS
ALIEN BIRTH
https://alienbirth.bandcamp.com
MENERGY will be hosting a workshop at 7pm on how to best support survivors of abuse and assault in our community.
For more information about MENERGY please visit: https://www.menergy.org/about-us-2/
$5-$10 suggested donation
**There will be social workers and members of HATIWG present to provide support during and after the workshop.
**Accessibility info for the Rotunda:
"The general public entrance is on the left side of the building toward the back. Wheelchair/equipment loading is on the right side of the building toward the back. You can usually unload from Chancellor Street - From Walnut Street, make a left onto 41st and then a quick left onto Chancellor and take it until it dead-ends behind our building and then find our public entrance around the bend. You can also unload from Walnut Street, as there is a 20 minute loading zone in front of our next door neighbor (Cinemark movie theatre) and there are often open parking spots right in front of our building. We have no venue parking and you may not remain on Chancellor or in the loading zone on Walnut.
• The venue is equipped with (3) restrooms - a wheelchair accessible unisex restroom within the performance space, as well as a ladies' room on the east side of the basement and a men's room on the west side of the basement
** We will NOT tolerate events that allow racism, colorism, sexism, homophobia, transphobia, bias against nonbinary and gender nonconforming people, prejudice against people with disabilities of any kind, discrimination based on religion/creed/atheism, sizeism, etc. We do not tolerate abusive behavior. If you have any questions or concerns please contact the admin or the door person the day of the event."
Flyer by Nicole Rodrigues / IG: @lost.mirage