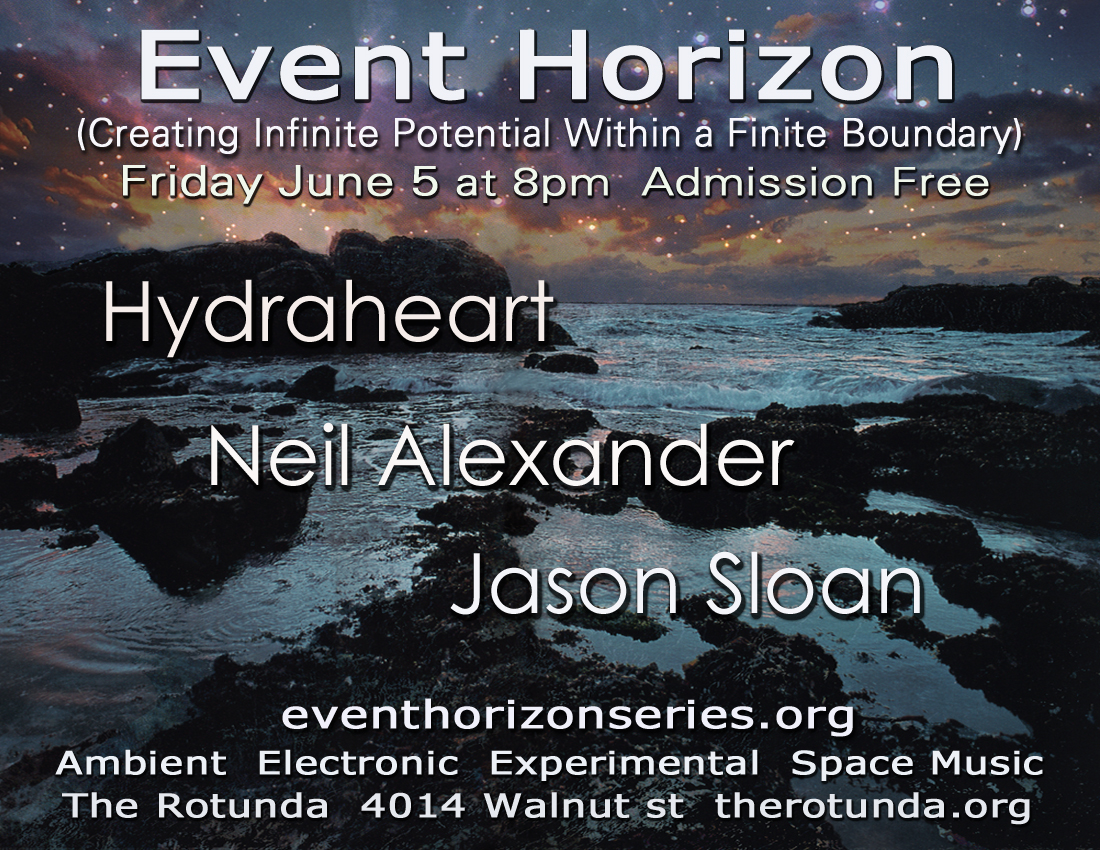 Event Horizon Series
presents
Hydrahart, Neil Alexander, and Jason Sloan


Hydraheart - Hydraheart is the new solo project of Megan Cauley. For 10 years she was the primary songwriter, singer, guitarist and noise maker for Gemini Wolf. She recorded four albums and performed regularly in Philadelphia and New York with Gemini Wolf, along with an east coast and European tour. With this new project, she is reconnecting to the process of weaving songwriting and improvisation together. Melody, hooks, and lyrics are nestled up next to drones and noise.

Neil Alexander - Jazz pianist, synthesist, and composer, Neil Alexander, began performing and composing in 1974. Always the type of musician who thrives on variety, Neil continues involvement with all manner of projects including: acoustic & electric jazz groups, contemporary classical performances, composing for Modern Dance & theater (since 1984), and various Tribute groups including "The Machine" (Pink Floyd Tribute, 1996 - 2006), "The Mahavishnu Project" (since 2008) and most recently, "Mr. Gone", focusing on the music of jazz giants "Weather Report" & Herbie Hancock's "Headhunters". For 15 years, from 1996 - 2011, he performed with his contemporary electric/acoustic jazz ensemble, NAIL, releasing their most recent CD "Tugging At The Infinite" in 2007. This marked Neil's 4th CD as bandleader. In 2013, Neil realized his long-standing dream of recording a solo piano CD, "Darn That Dream: Solo Piano Vol. 1", an artistic and critical success.
An additional aspect of Neil's music is his long-standing relationship with electronic instruments, primarily synthesizers. He acquired his first synth in 1978 and never looked back, making those sounds a part of his extensive musical vocabulary. He frequently performs solo in an all-electronic context, incorporating this into a jazz & classical based improvisational format. In search of better ways to realize music quickly, Neil began using Ableton LIVE software. In 2012, he started the Ableton Hudson Valley Users Group, and teaches workshops at the local Library in Newburgh NY.
Neil realized there is serious interest in this format after attending the 2012 Electro-Music Festival in Huguenot, NY where he crossed paths with dozens of like-minded performers & composers. He returned in 2013 and 2014, performed multiple times at each festival, engaged in various collaborations, and directed a workshop in generative music, illustrating techniques he developed playing for the Modern Dance classes he's been working in since 1982.
Neil continues to search for new connections in music, combining jazz, classical, fusion, ambient, and electronic styles, into very personal hybrid music. He has 2 more CD's slated for release - a Live NAIL CD recorded in NYC in 2007, and his first solo, all electronic CD, entitled "Nailgun". Other current projects include "Le Jazz Electronique", "Thunderhead Organ Trio", and "Scene ReSeen" (live electronic music for Silent Films). Visit his website at http://nailmusic.com to see his performance schedule and to learn more about his various projects.

Jason Sloan - Jason Sloan is an electronic musician, composer, sound and new media artist working from Baltimore, Md. His work explores immateriality and its connection in memory, systems and the virtual world. Through his performances, sound installations, videos, transmission art works and sound recordings, he examines the need for transcendence beyond the body through a vehicle of visual and aural stimulation. With this dialog, Sloan feels an urgency to evoke a collective experience between the viewer, listener and artist that can bridge the gap between physical and non-physical worlds. In 2001 Sloan co-founded SLO.BOR Media with sound artist & web designer Matt Borghi as a vehicle for their individual releases and a platform for other artists. SLO.BOR Media is primarily a record label, but focuses on a variety of media and forms of distribution. SLO.BOR Media is also quite concerned with packaging, design, new media, sound and conceptual art. Sloan received his BFA from Edinboro University and his MFA from Towson University. In addition to being the recipient of multiple Maryland State Arts Council's Individual Artist Awards, Sloan's performances, installations, net.art and video works have been exhibited internationally including Berlin, Copenhagen, Edinburgh, Kiev, Nagoya, Saint-Petersburg, Toulouse, Lisbon, Uden and Vienna. In addition to releasing over a dozen studio albums and E.P.'s over the last decade on various record labels, Sloan has played live all over the US, Canada and Europe including the influential Live Constructions radio program at Columbia University, STEIM in Amsterdam and Philadelphia's The Gatherings concert series, one of the country's oldest continuing ambient and electronic music series. Sloan is a Professor teaching full-time in the Interaction Design and Art [IDA] department along with being the founder and program coordinator for the soundArt concentration at the Maryland Institute College of Art in Baltimore, MD.


Admission is FREE