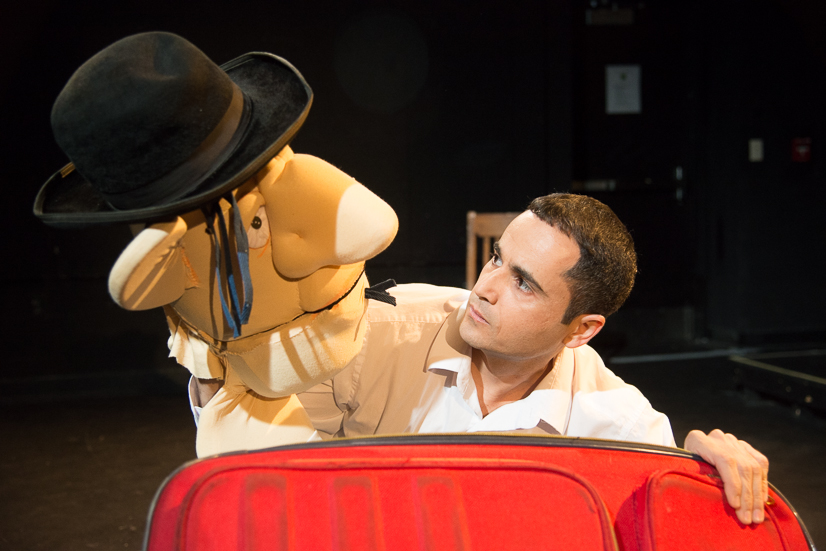 In Between is a semi-autobiographical one man show that portrays the complexities and contradictions inherent in Palestinian-Israeli identity. On the precipice between two cultures stands Ibrahim Miari, son of a Palestinian Muslim father and Jewish Israeli mother. During an interrogation by Israeli airport security, he recalls his childhood in Acco, memories of his Jewish and Palestinian grandmothers, of war. Questions surrounding his identity become even further complicated by his imminent marriage to a Jewish American woman.
Written and performed by Ibrahim Miari

Directed by Elena Araoz
Based on original workshop and staging by Christine Hamel
Music by Ben Shcwedener
Dramaturgy by David Gram
Sponsored by the Joseph Alexander Foundation & the Mackler Family, and co-sponsored by the Penn Jewish Studies Program and the Penn Theater Arts Program. This is the Jewish Studies Program's 29th Annual Joseph Alexander Colloquium.
...HERE WE HAVE A DRAMATIC PIECE THAT MAKES A VALUBLE CONTRIBUTION TO OUR AWARNESS OF THE KIND OF ISSUE WHICH WE ARE SO OFTEN ONLY TOO HAPPY TO INGNORE..." - Jewish Telegraph, Leeds UK
'In Between' An Acting Tour de Force (4 Stars)...Miari is astonishing to watch" - boston events insider

"Ibrahim's "In Between" is educational, riveting and provoking. With deft and charm, he transcends todays political distractions and reminds us of the deeper inner struggles that link all of humanity." - Michelle Nhuch, Director of Public Programs Center for International Studies at M.I.T
Admission is FREE
Addtional Images