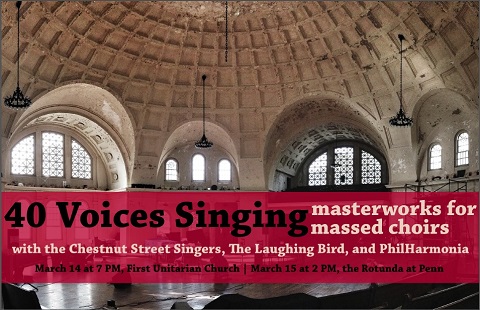 This event is in the sanctuary. Please enter on Walnut Street. Please dress warmly; the sanctuary is not heated.
40 Voices Singing: Masterworks for Massed Choirs
40 Voices Singing features three of Philadelphia's most exciting choral ensembles singing the best repertoire for large choirs, including Thomas Tallis' legendary "Spem in alium," also known as the 40-Voice Motet. It is a rarely performed masterpiece of Renaissance polyphony, with 40 singers each singing their own independent part and standing in a circle around the audience.

Other highlights include Jordan Nobles' "Lux antiqua," folksongs from Lithuania and Iceland, and an eclectic mass in which each mass movement will be drawn from a different choral setting of the liturgy. You'll hear the Chestnut Street Singers, The Laughing Bird, and PhilHarmonia each singing their own movement before the massed ensemble performs Samuel Barber's heart-wrenching "Agnus dei," the choral setting of his "Adagio for Strings," as the grand finale.
What better way to celebrate the Chestnut Street Singers' fifth anniversary season than with this extraordinary concert showcasing the vitality of the Philadelphia choral scene? We can't wait to see you there to join in the fun!
Comprised of four singers from the Philadelphia area, each an established solo, chamber, and choral artist, The Laughing Bird is Philadelphia's premier early music vocal quartet. For more information, see www.laughingbird.us.
PhilHarmonia is a Philadelphia-based 24-voice mixed choir that sings classical and contemporary a cappella choral music. For more information, see www.philharmoniasings.com.


Admission is FREE. Advance registration recommended--click here to register for free now!