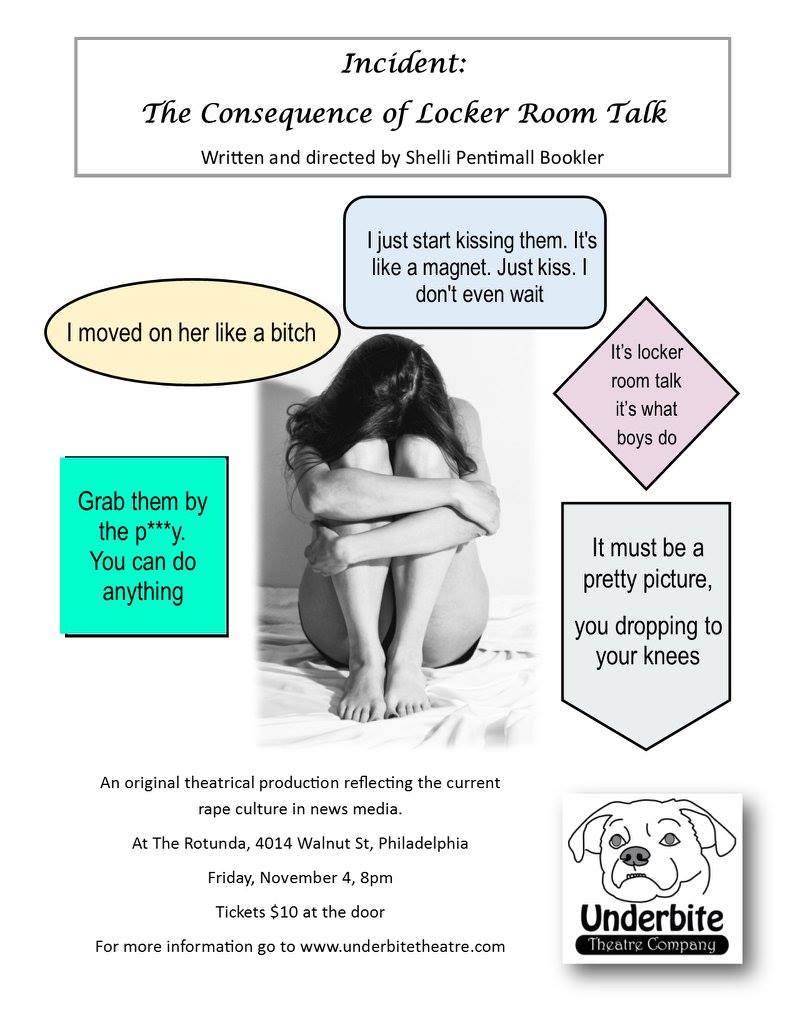 Incident: The Consequence of Locker Room Talk
Plays With A BITE!

For Immediate Release
One night only! November 4 at 8pm at The Rotunda
A bold new play reflecting comments and defense of sexual assault in the news today.
Underbite Theatre Company presents a one night only theatrical script in hand performance of "Incident: The Consequence of Locker Room Talk" directed by Shelli Pentimall Bookler.
"Grab a woman by the p* *y" "You can do anything…when you're a star they let you do it" "It must be a pretty picture…you dropping to your knees" "It's locker room talk… it's what boys do". These statements have been made and defended in the media today, and it is this perspective which creates the dangerous rape culture of our society. This play shows what happens when the comments reflect action, and the lifelong impact of sexual violence from the perspective of both the assailants and the survivor.
This play was performed once at Temple University's Playfest, a staged reading of MFA Playwriting student's work. Underbite Theatre Company decided to create a one night only performance the weenend before the Presidential election to join in the fight against sexual violence and the dismissal of recent derogatory comments in the media as simply "locker room talk."
Incident: The Consequence of Locker Room Talk is being performed for one night only at The Rotunda at 4014 Walnut Street, Philadelphia. Tickets are $10 at the door.
Incident: The Consequence of Locker Room Talk features Philadelphia actors Austin Stanton, Jaron C. Battle, Michael Bee and Joshua McLucas. It is written and directed by Shelli Pentimall Bookler, who received her Master of Fine Arts in Playwriting from Temple University. Matt Bookler is the co-founder of Underbite Theatre Company and the producer. Underbite Theatre Company is a non-profit theatre company dedicated to producing original, edgy, theatrical plays with a social mission.
About the Playwright/Director: Shelli Pentimall Bookler is a Philadelphia based actor, director, choreographer and playwright. She has a Master of Arts degree in Theatre from Eastern Michigan University, a Master of Fine Arts degree in Playwriting from Temple University and studied acting and directing at The Actor's Studio in New York. She's worked with several local theatre companies, including Montgomery Theatre, Plays and Players, Simpatico Theatre, and Facetime Theatre. She co-founded Underbite Theatre Company with her husband, Matt, and currently serves as Artistic Director. This is Underbite Theatre Company's fourth production. The first, Bird in the Window, premiered at the Shubin Theatre in 2013. In 2014 it premiered Snyder v. Phelps, the musical as part of the Philadelphia Fringe Festival, funded in part by the Bucks County Arts Council. Last year they produced John Anastasi's Would You Still Love Me, IF…? At the Walnut Street Studio 5, the story of a woman transitioning into a man and the impact on family and relationships.
For addition information contact Shelli Pentimall Bookler at shelli@underbitetheatre.com or visit the website at www.underbitetheatre.com.
Admission is $10.
Addtional Images