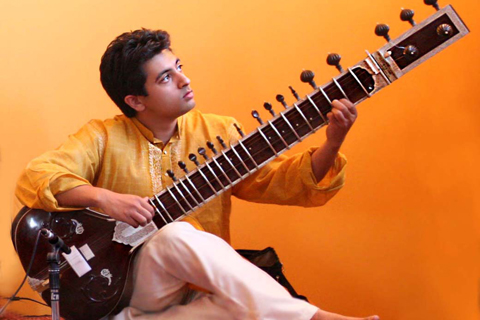 Fire Museum Presents:
Indrajit Roy-Chowdhury - sitar with Sanjib Kumar Pal - tabla

Indrajit Roy-Chowdhury is a disciple of the sitar maestro Pandit Subroto Roy-Chowdhury. Groomed in the Veen-kar style of the Senia Gharana, which maintains the Dhrupadi origins of Indian Classical music, Indrajit strives to innovate while keeping a firm connection with the past. While completing his undergraduate studies at Duke University, Indrajit received the Bennenson Award for the Arts to further his study of Indian Classical music. Since then he has taken the profession of a full-time sitarist and has performed on stages across the world including such prestigious venues as Gyan Mancha (Kolkata), Hammerstein Ballroom (New York), Kennedy Center (Washington D.C.) and has had his concerts telecast by Doordarshan (Indian National Television). During the 2010 Fall semester Indrajit was a visiting faculty member at the University of Pennsylvania and taught the University's sitar course.

Sanjib Kumar Pal is a well-established tabla player based in Calcutta, known for his balanced and clear accompaniment to vocal and instrumental music. Groomed from the age of seven under teachers of his home town, Navadvip Dham, Sunil Kammakan and Hridoy Biswas of the Ustad Keramatulla Khan style of the Farukhabad Gharana, Sanjib showed promise at early age at the youth festival, Nadia district.

In 1988 he became a disciple of legendary tabla maestro Pandit Shankar Gosh, well known for his brilliant accompaniement to Ustad Ali Akhbar Khan, Ustad Vilayet Khan and Pandit Ravi Shankar. From Pandit Gosh he learned intensively the art of tabla playing both as a solo performer and as an enrichment support to the main performer when accompanying. He still continues research and practice under his maestro´s able guidance.
links at http://www.museumfire.com/events
Admission is FREE (donations encouraged)