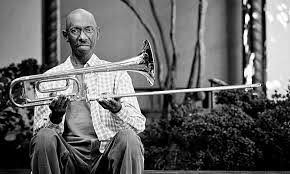 Julian Priester, trombone
David Haney, piano
A RARE CHANCE TO SEE JULIAN PRIESTER IN AN INTIMATE SETTING.
Julian Priester
Born in Chicago on June 29 1935, Julian Priester spent his teenage years performing in Chicago's vibrant RnB scene with artists such as Muddy Waters, Dinah Washington and Bo Diddley. In the mid-50s he joined Sun Ra's groundbreaking avant-garde big band. In 1958 Julian split for New York where he joined Max Roach while Roach was involved in recordings such as Freedom Now Suite, an album that combines jazz improvisation with concert hall composition.
In 1960 Priester made his first recordings as a band leader and then joined the Blue Note label as an in-demand session trombonist. While with Blue Note he recorded with Freddie Hubbard, McCoy Tyner, Sam Rivers, John Coltrane and others. In the early 70s Julian joined Herbie Hancock's legendary Sextet which combined spacey avant jazz with electronics and psychedic studio production. Splitting from Hancock in 73, Priester continued this style of progressive jazz fusion with two recordings of his own on the ECM label.
In the 80s and 90s Priester worked with Sun Ra's band again, as well as Dave Holland, Charlie Haden and others. In the late 90s he began to record under his own name again, and continues to do so to this day.
with
DAVID HANEY
Haney studied composition for six years with Czech composer, Tomas Svoboda and presented works with the Society of Oregon Composers, Haney has worked with such featured artists as Andrew Cyrille, Roswell Rudd, John Tchicai, Bud Shank, Bernard Purdie, Buell Neidlinger, Julian Priester, Han Bennink, Obo Addy, Wilbert de Joode, Gerry Hemingway, Wolter Weirbos, Perry Robinson, and Johannes Bauer. Haney has recorded 14 albums for C.I.M.P. Records and Cadence Jazz Records . David has also collaborated on 14 albums on other labels worldwide. He has received grants and commissions for his creative work from the U.S. State Department; Alberta Film Works; and the Oregon Ballet Theatre. Haney was awarded a travel grant from the U.S. State Department to present the music of composer Herbie Nichols in concerts throughout Argentina and Chile. Haney's piano/trombone work Ota Benga of the Batwa was included in the critics pick for best Jazz Album of 2007 (Coda Magazine). "Conspiracy a go go" and "Clandestine" were both selected Top Ten Jazz Albums of 2009 (Cadence Magazine). David's current release "Solo" received top ten honors in 2014 (Cadence Magazine). The Penguin Guide to Jazz has a half page entry on several David Haney albums.
Admission is FREE
Addtional Images