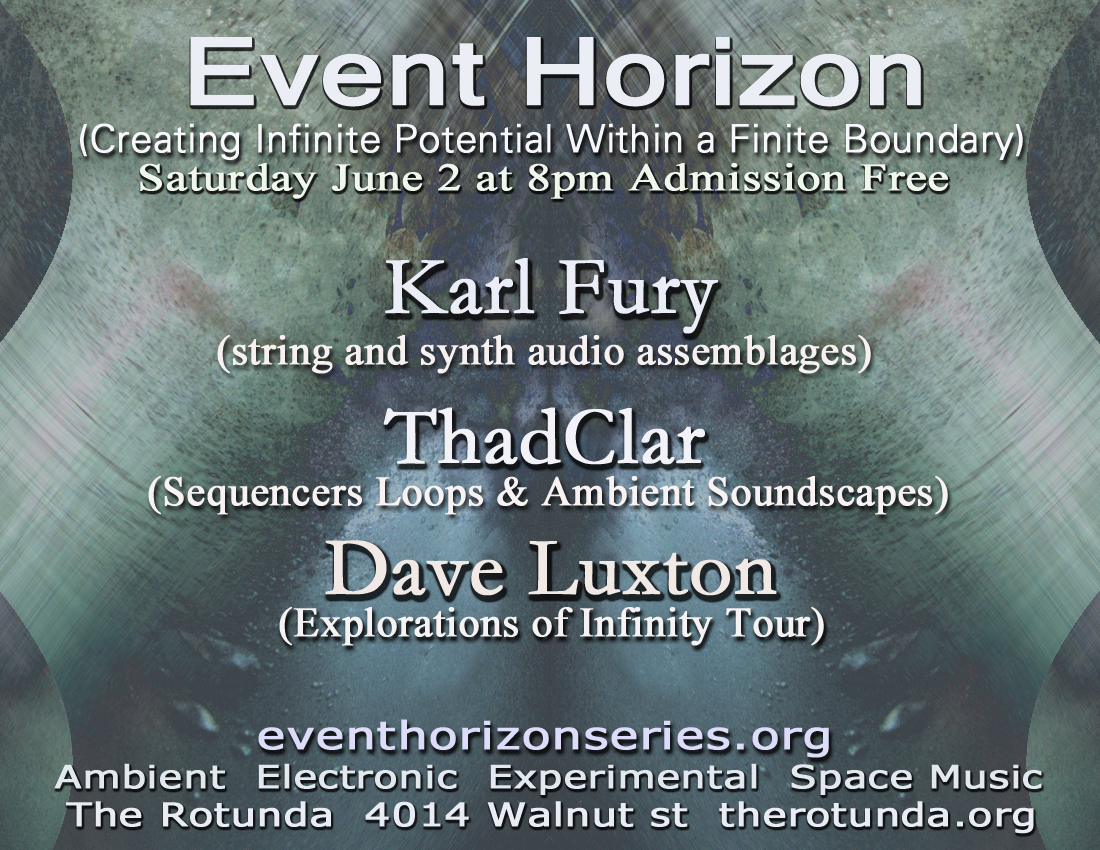 Event Horizon Series
presents
Karl Fury, ThadClar, and Dave Luxton
Karl Fury is a multi-instrumentalist and composer from central New Jersey. His musical background ranges from rock and blues to jazz-rock, world music, ambient, electronic and freeimprovisation. He has performed at numerous venues including the Trenton Avant Garde Festival, Artworks and The Mill Hill Theatre in Trenton, NJ, Columbia University and Princeton University and live radio broadcasts from WPRB, WTSR , WDVR and WLFR. He performed and recorded for several years in the world music duo Near East. He continues to collaborate and record with The Melting Transistor, an improvisational electronic music trio that includes Juan Garces and Floyd Bledsoe and the improvisational trio The Equinox Project with David Berends and Juan Garces. The Melting Transistor have performed at several Electro-Music festivals in New York and North Carolina, the Event Horizon concert series in Philadelphia, the Cosmic Crossings series in New Jersey and on WPRB's Music With Space and WLFR's Digital Dreams. Karl also continues to ecord and perform in collaborations with a number of other musicians and solo.

ThadClar is musician Roycee Martin who has been playing music for over 30 years. Most of that time he was a Bass player playing Blues and Top 40 music. Now days Roycee is very much inspired by ambient soundscapes tonal space music. For his latest project "ThadClad" he draws from elements of analog synthesizers, sequencers and live looping with the Chapman and various filters and effects processing all mixed and tweaked live. The music comes from the space at the edge of consciousness just before a deep sleep. Let the hypnotic sound take you on a relaxing journey through space.
Dave Luxton is a producer, electronic musician, composer and guitarist based in Olympia, WA, USA. He is a classically trained musician whose diverse compositions span multiple genres to include guitar oriented compositions, cinematic filmscores, and Electronica. As a recording artist, he is internationally known for his work in the ambient Spacemusic genre. His albums have been featured on nationally syndicated radio shows such as Hearts of Space, Musical Starstreams, and Star's End. He is also the founder of the Pacific Northwest based Wayfarer Records label and has produced albums for numerous artists including Boreal Taiga and Daren Keck. Dave is also a professor, author, and clinical psychologist.
Admission is FREE