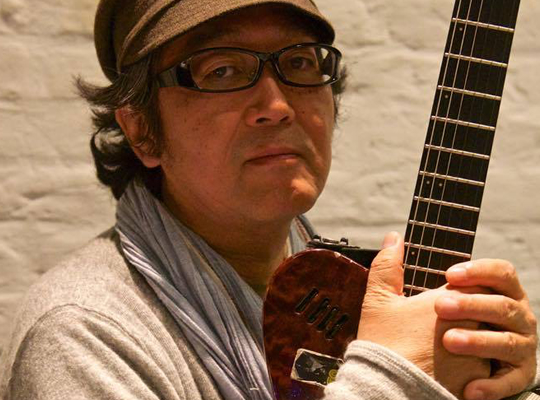 Kazuhisa Uchihashi + Daniel Fishkin
Bowerbird is pleased to present the international collaboration between daxophone masters Daniel Fishkin (Philadelphia) and Kazuhisa Uchihashi (Japan).
The daxophone is a thin hardwood strip played with a bow, created by German improviser/inventor Hans Reichel in 1987. The instrument's sound, somewhere between a cello and a badger, ranges from furtive gurgles to wild screams. In 2005, Daniel Fishkin fell in love with this instrument and built one of his own. Eventually, he built hundreds of daxophones, becoming attuned to the sonic qualities of wood species and carved shapes. After Reichel's death, the fate of this instrument became unclear. Kazuhisa Uchihashi, a creative partner of Reichel, is now a leading proponent of the daxophone. Uchihashi performs on Reichel's instruments, in addition to presenting installations and exhibits about the daxophone. In 2015, Fishkin met Uchihashi in Berlin. They represent different "schools" of daxophone - the new and the old, the postmodern and classical. This is their first public performance.
Kazuhisa Uchihashi (guitar,daxophone)
Born in Osaka, Japan in 1959, Uchihashi plays a huge variety of music, having a distinctive musical voice in rock, jazz and improvised music. He composes widely for film, theatre and dance, including 30 years of work with the Japanese theatre group Ishina. He has worked worldwide with musicians including Hans Reichel, Fred Frith, Zeena Parkins, Han Bennink, Derek Bailey,Shelley Hirsch ,Christian Marclay and hundreds of improvisers.He organized the legendary Japanese power trio Altered States, active for over 27 years, which also worked inside Otomo Yoshihide's Ground Zero in the 1990s. In recent years, he has focused on pan-asian identity in music. Since 2010 he's traveled to Indonesia, Thailand and China to create special collaborative projects with local musicians. Mahanyawa is one of the best collaboration unit with SENYAWA from Indonesia. His special instrument, the daxophone, is a creation of the late guitarist/inventor, Hans Reichel, who was a creative partner of Uchihashi.
Daniel Fishkin (daxophone)
Daniel Fishkin's ears are ringing. Composer, sound artist, and instrument builder. Completely ambivalent about music. Daniel studied with composer Maryanne Amacher and with multi-instrumentalist Mark Stewart. He has performed as a soloist on modular synthesizer with the American Symphony Orchestra, developed sound installations in abandoned concert halls, and played innumerable basement punk shows. Daniel's lifework investigating the aesthetics of hearing damage has received international press (Nature Journal, 2014); as an ally in the search for a cure, he has been awarded the title of "tinnitus ambassador" by the Deutsche Tinnitus-Stiftung. Recent activities include a Project Grant from the Pew Center for Arts & Heritage. Daniel received his MA in Music Composition from Wesleyan University, has taught analog synthesis at Bard College, and, as fate would have it, is now pursuing his PhD at University of California, San Diego.
Admission is FREE