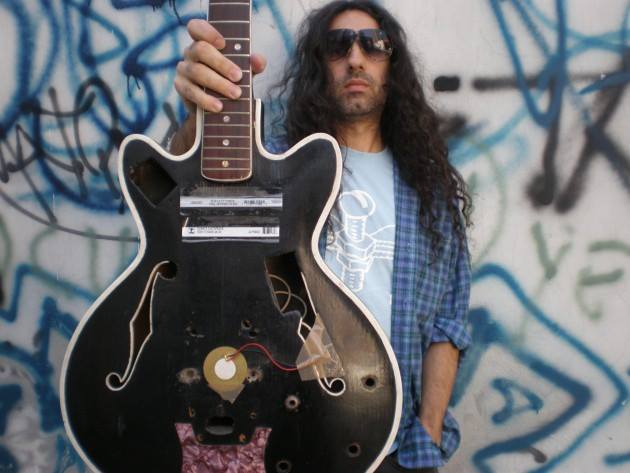 Clavius Productions presents a very special and rare appearance by Alan Courtis of Argentina's legendary sonic mavericks Reynols. Courtis has been pushing the envelope of music and art for close to 25 years. Often conceptual, usually noisy, and always fascinating, he is equally adept at dynamic composition as visceral improvisation. Besides being an integral part of the mighty Reynols, Courtis has collaborated with numerous musical luminaries such as Pauline Oliveros, Phill Niblock, Keiji Haino, Merzbow and Lee Ranaldo. On tour with him is excellent prepared guitarist Cyrus Pireh, currently based in Minneapolis. Kohoutek is extremely pleased to share the stage with them in Philly, DC, and Baltimore, especially at the venerable Rotunda. And to make the night even more enticing, Philly's own Ashley Tini, percussionist extraordinaire, will kick off the festivities with a short solo performance of a Courtis composition.
Kohoutek (Philly/DC)
Alan Courtis (Argentina)
Cyrus Pireh (Minneapolis)
Ashley Tini (Philly)


Kohoutek
http://www.claviusproductions.org/
The comet Kohoutek was first seen near earth by a Czech astronomer in March of 1973. David Berg, founder of religious cult Children of God, predicted its passing would cause armageddon the following year. A more welcoming family, the Sun Ra Arkestra, performed a concert dedicated to Kohoutekon December 12th, just two weeks before it came as close to our globe as it ever would.
All of this could be insignificant trivia surrounding the name that Philly-by-way-of-D.C. band Kohoutek chose for itself. But somewhere in between all those early '70s deductions, interactions, and overreactions might just live the keys to this group's expanding music. Inside their open, winding, slow-burning soundscapes lies the hard-edged reality of cosmic science, the hypnotic magic of mass-mind superstition, and the infinite paths of Saturn-bound outer spaceways.
On Curious Aroma, that solar-seeking mix manifests as two spacious, patiently-developing LP sides. The music has the everything-works spirit of improvisation, but Kohoutek are just as curious about shapes and forms, equally interested in seeing which lines they can color inside and which they can bend and break apart. Guitars pick through the thickly-textured sonic space built by electronics and percussion, unafraid to knot or tangle, yet nimble enough to find gaps where others might blur. The rhythmic curves traced by bass and drums prove as apt for psych-drenched heaviness as they are for cloudier foundations.
One side floats forward and backward and sideways until it wraps around space-time; the other melds sparks of feedback and distortion into metal lumber so hard you can touch it through your speakers. Along the way, Kohoutek conjure the ghost of their daunting live shows, which trek through so much aural territory it's a wonder you can still make out the band by the end.
To call these two fully-realized explorations "journeys" would be fair but insufficient. There are paths here that Kohoutek gradually move through, but that motion has the rare, intangible quality of sounding both spontaneous and guided, both new and determined. In other words, throughout the spaces which they travel on Curious Aroma, Kohoutek might not necessarily know where they're going, but they sure do know how to get there. (Marc Masters, Washington, DC, July 2015)
"What you end up with here is a record of two parts, worldly different, that showcase the broad spectrum of planetary talent that Kohoutek possess. It's both a thinking record and a raucous record that clash but co-exist, symbiotically. Perhaps it shouldn't work but it does and long may Kohoutek continue on whatever space-way they choose to travel along next." (Dave Dingle, When the Horn Blows)
Alan Courtis
http://4gre.org/C/press/AlanCourtis-bio.docx
ALAN COURTIS (aka Anla Courtis) was born in Buenos Aires in 1972. He has been working in the field of sound-art, electro-acoustic music, drone, noise, improvisation and composition. His written music has been played by ensembles from England, Thailand, Switzerland, Wales, Netherlands, Mexico, Canada, United States and South America. He was commissioned by Phoenix Basel Ensemble (Switzerland), Český Rozhlas (Czech Republic) and was artist in residence at EMS (Stockholm), GRM (Paris), Cafe Oto (London), USF (Bergen), etc. He has more than 400 solo releases and collaborations on labels like: Mego, P.S.F., Pogus, SubRosa, RRR, Blossoming Noise, No-Fi, Antifrost, Tonschacht, 267Lattajjaa, Quasipop, Alt.Vinyl, Riot Season, Kning Disk, Beta-Lactam, Prele, Matching Head, 8MM, Public Eyesore, Musica Genera, Porter, Smittekilde, Sedimental, Mikroton, MIE, Monotype, etc. His music has been broadcasted at radios like: BBC (UK), WFMU (USA), SBS (Australia), Resonance-FM (UK), Ö1-ORF (Austria), CJSF (Canada), WDR (Germany), Sveriges Radio (Sweden), Radio France, NRK (Norway), RTVE (Spain), WNUR (USA), Radio Nacional (Argentina), etc. Courtis has toured extensively in Japan, China, Singapore, Malaysia, Thailand, Europe, USA, Australia, NZ & Latin America and has collaborated with musicians like: Pauline Oliveros, Phill Niblock, Keiji Haino, Merzbow, Lee Ranaldo, Nihilist Spasm Band, Jim O'Rourke, Yoshimi, BJ Nilsen, Otomo Yoshihide, Stilluppsteypa. RLW, Zbigniew Karkowski, Eddie Prevost, L.A.F.M.S., Makoto Kawabata, Jojo Hiroshige (Hijokaidan), KK Null, Daniel Menche, Mats Gustafsson, Rick Bishop, Toshimaru Nakamura, Thomas Dimuzio, Rudolf Eb.Er, Kouhei, Seiichi Yamamoto, Tetuzi Akiyama, Lasse Marhaug, Rapoon, Uton, Birchville Cat Motel, The New Blockaders, Kaffe Mathews, Jaap Blonk, Gert-Jan Prins, Jazkamer, Cyrus Pireh, C.Spencer Yeh, Okyung Lee & Kemialliset Ystavat. His music always has a strong experimental sense and is usually based on high-skilled techniques of prepared sound, tape manipulations, processing of field recordings, live electronics, objects, cymbals, synthesizers, computer tools, playing traditional (both acoustic and electric) instruments as well as self-built, strange and unusual instruments (eg. unstringed guitar). Courtis has made music for films/videos by Jaime Davidovich, Claudio Caldini, Greg Pope, Hang Jun Lee, Sergio Subero, Pablo Mazzollo, Guillermo Ueno, etc. He has also coordinated music workshops in Iceland, Sweden, Norway, Switzerland, Belgium, Denmark, Germany, England, Portugal, Argentina, Mexico, Brazil, Peru, Chile, United States, Australia, New Zealand, Malaysia, Thailand, China and Japan.
Cyrus Pireh
http://4gre.org/C/bio.html
CYRUS PIREH was born in Hoffman Estates, Illinois, usa on March 22, 1981. Cyrus studied violin, electric guitar, saxophone, and percussion as well as composition, music theory, electroacoustic music, and electrical theory. Cyrus holds bachelor's and graduate degrees in Music Composition from the University of Illinois Urbana-Champaign. As a composer, Cyrus' works involve sign manipulation with the purpose of keeping the interpretive field open. As a guitarist, Cyrus is interested in the limits of the body and the self: always pushing towards a physical transcendence by working to situate that transcendence in the quotidian-- to live an every-day-life-transcendence. As an anarchist, Cyrus actively works to dismantle hierarchy and to heal the damages done by industry's division of people into performers and audience; producers and consumers. In music, it is not possible to obstruct one sound with another. All sounds combine to create one harmony. Humans in harmony liberate each other.
Admission is FREE (donations strongly suggested)