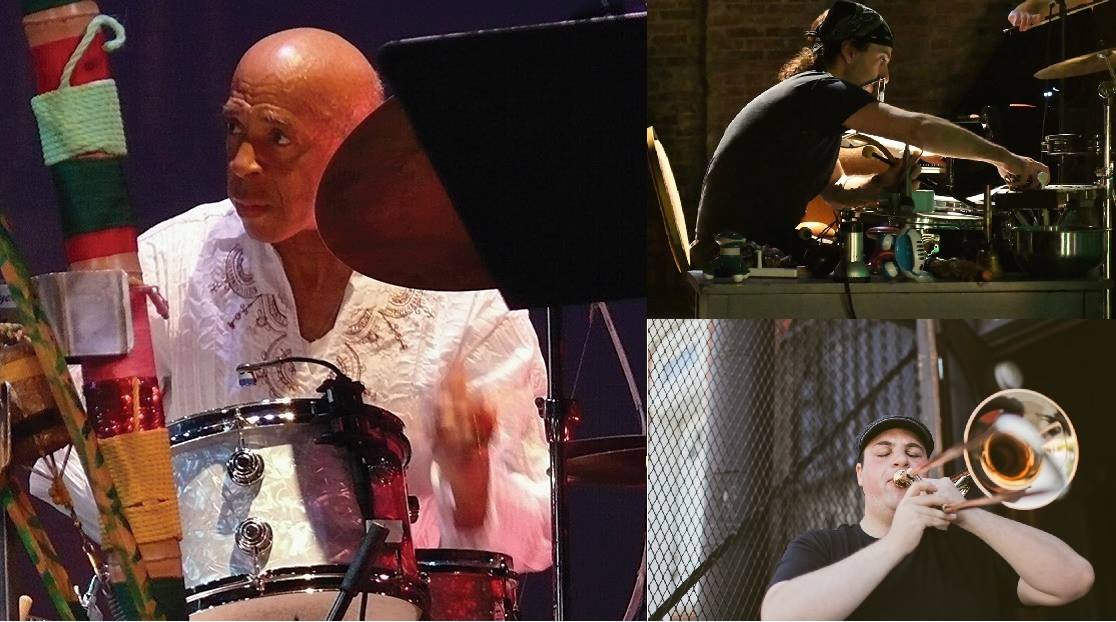 Legendary AACM musician, composer, and professor Thurman Barker returns to The Rotunda on March 22. Joined by Dan Blacksberg and Julius Masri.
Growing up in Chicago in the 1950s, Thurman Barker was exposed to the city's rich musical heritage, regularly hearing R&B, doo-wop, soul, jazz, and blues. Accordingly, he began his professional career at age 17 by anchoring the rhythm section for blues legend Mighty Joe Young. While serving as a percussionist for the city's Shubert Theatre throughout much of the 1960s, Thurman played for numerous national touring productions, including the following: Hair, The Wiz, Grease, One Mo' Time, Ain't Misbehavin'.
A versatile drummer and percussionist, Barker also performed with singers Billy Eckstine, Marvin Gaye, Bette Midler, and Vicki Carr and worked with classical groups like the Chicago Chamber Players and the New York City Opera. Perhaps Thurman Barker's most notable musical experience has been with the Association for the Advancement of Creative Musicians (AACM), an organization founded in the 1960s to promote innovative music and its players. A charter member of the group, Thurman first appeared in AACM productions with Joseph Jarman's pioneering ensemble. He then went on to play with many other members, including Muhal Richard Abrams, Amina Claudine Meyers, Anthony Braxton, Leroy Jenkins, Roscoe Mitchell, and Henry Threadgill. In the 1970s and '80s, after moving to New York, Barker worked with jazz giants Cecil Taylor, Sam Rivers, and Billy Bang, touring with their groups and recording numerous albums with them.
Since 1993, Barker has taught jazz history and performance at Bard College in Annandale-on-Hudson, New York. Through his efforts to develop the program, he was promoted to Full Professor of Jazz Studies in June of 2016.
Dan Blacksberg: Called "A virtuosic technician with abundant creativity" by All About Jazz New York, Dan Blacksberg has become a major voice carving out new paths in both Jewish and experimental music. Primarily through his trombone playing, but also as a composer, educator, concert organizer, and occasional record producer, Dan has excited audiences and empowered musicians in his hometown of Philadelphia, and around the world. From performing and recording with traditional klezmer musicians like Elaine Hoffman Watts and Adrienne Cooper, to experimentalists George Lewis and Anthony Braxton, to performing with his own groups The Dan Blacksberg Trio and Deveykus (the worlds only Hasidic doom-metal band), his work spans from the traditional to the avant-garde and radical spaces in between.
Julius Masri: A Philadelphia based multi instrumentalist and performer/ composer for the city's dance community, Julius Masri was born in Tripoli, Lebanon, and moved to the States in 1990. He began studying percussion with Philadelphia instructors Carl Mottola and Elaine Hoffman-Watts, and continued his education at Bard College with Thurman Barker, Richard Teitelbaum, and Joan Tower. He currently performs in such groups as the metal two piece Night Raids, experimental free jazz groups such as Dromedaries, (trio with Shayna Dulberger and Keir Neuringer), and Sirius Juju. Julius has also performed with Dan Blacksberg in such groups as Superlith (for trombone and circuit modified keyboards), as well as in Hasidic hardcore punk group Electric Simcha.
Admission is FREE