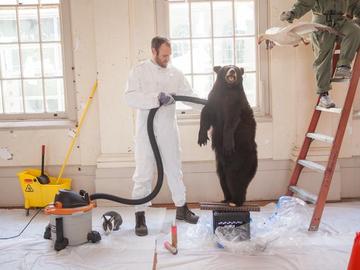 Let the Dog See the Rabbit

THIS IS IN OUR SANCTUARY. PLEASE ENTER ON WALNUT STREET.
"The eyes of an animal when they consider a man are attentive and
wary. Other animals are held by the look. Man becomes aware of himself
returning the look." – John Berger
Let the Dog See the Rabbit is Lightning Rod Special's investigation
into how we look at animals. Steering clear of pink elephants, paper
tigers, early birds and night owls, LDSR refuses to restrict animals to
the metaphorical margins. Instead we gaze unblinking into the animal eye
and reflect what we see there.
This project is directed by LRS Co-Director Mason Rosenthal. The
piece will feature a 13-person human ensemble and will run May 13-21st (no show on May 19) .
Showtimes
:
May
13, 14, 15, 16, 17, 18, 20, 21 at 8pm. Tickets for May 13 are $10.
Tickets for all other shows are $20, with industry and student discounts
available.
Buy advance tickets HERE.