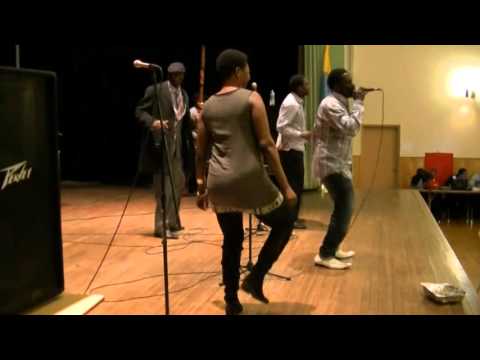 LV Benga Africa brings the unique sound of Kenya's popular benga style to American stages. Benga is a guitar-driven dance music that emerged in the 1960s fusing Kenyan folksongs with the Latin-American rumba. As the only resident band of its kind in the United States, LV Benga Africa provides audiences with a taste of this exciting sound. With their years of experience performing in nightclubs across Kenya, and as veterans of the Nairobi recording scene, they deliver a live show with authenticity and originality.

LV Benga Africa's sound has been forged over several years, having roots in Nairobi. Between 2000 and 2004, its members were performing and recording with various bands around the city, and were joined by American ethnomusicologist Ian Eagleson who was doing research on benga. Vocalist/drummer Steve Omari joined Eagleson in 2006 to play in the critically acclaimed, international touring band Extra Golden. In 2007, Freddy Collela (son of benga pioneer Collela Mazee), Mulumbu Jamarachi and Joseph Ooko arrived in the US as part of Dola Kabarry's Orchestra Super Haki Haki. After establishing a base in Allentown, PA these musicians continued where they had left off in Kenya, becoming in-demand as entertainers for Kenya's vibrant expatriate community in the US.
Since 2008, LV Benga Africa has performed at the Bethlehem Musikfest and at Steel Stacks; they backed the late benga star Musa Juma on his 2010 American tour; recorded a full length album as part of the group DT Unique Kenzi, and have frequently performed throughout the Northeast for Kenyan community dances. They are currently completing their debut album.
With their rich vocal harmonies, intricate guitar interplay, and irresistible rhythms laid down by bass and drums, LV Benga Africa strive to fulfill their mission: to bring people of all ages and backgrounds to their feet to dance to the original sound of Kenya.
webpage: http://firemuseumpresents.com/events/lv-benga-africa/
Admission is FREE/Donations requested at the door