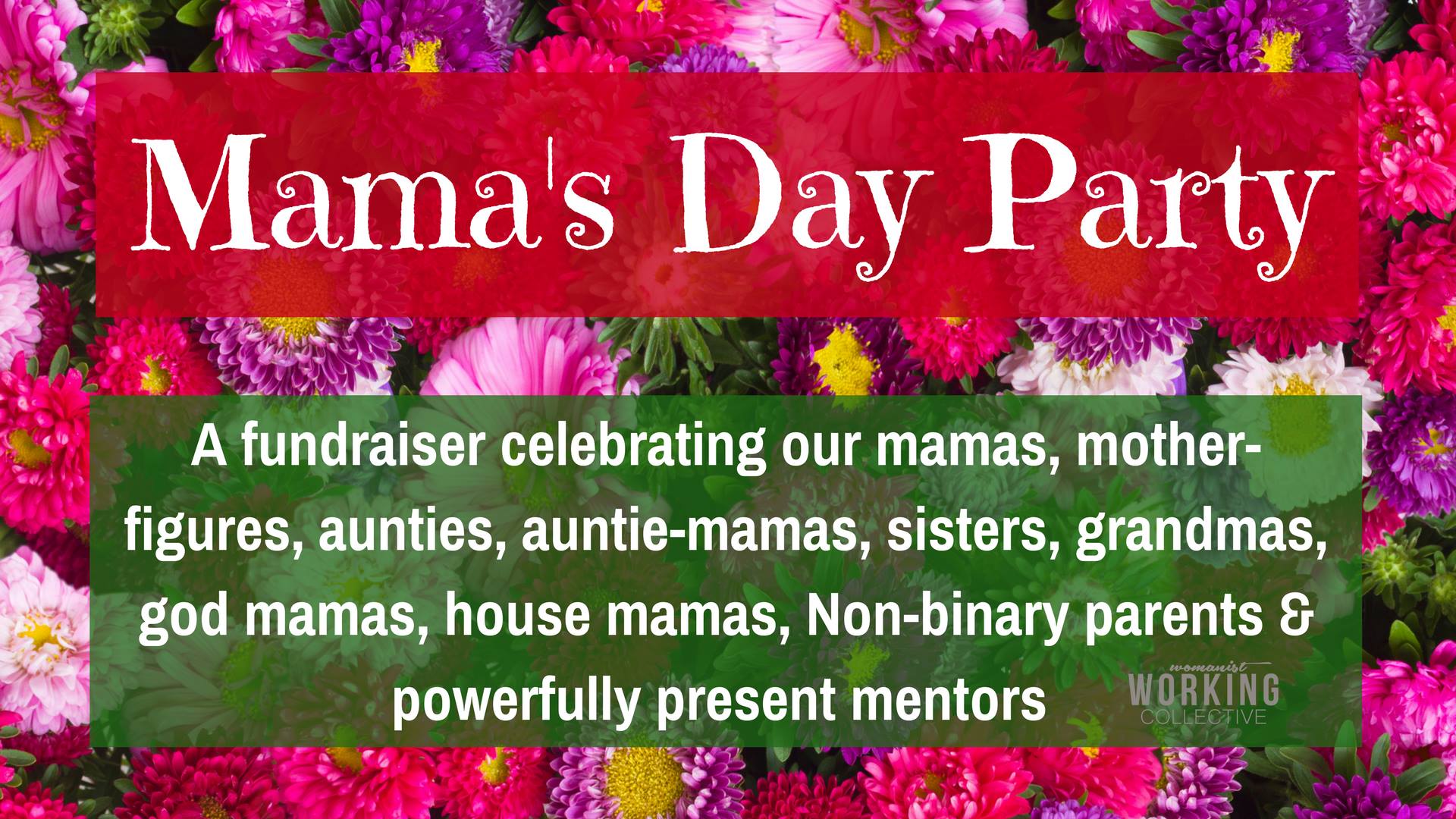 Mama's Day Party (A Community Event)
So what are you doing on Mother's Day Brunch? Nothing? No worries, the fun doesn't have to stop after your eat. Keep the party goin' at our Mama's Day Party!
We've curated an amazing space to celebrate our mamas, mother-figures, auntie-mamas, sisters, grandmas, god mamas, house mamas, Non-binary parents & even the powerfully present mentors who've influenced and supported us along the way.
Music, Poetry, Dancing, Photo Booth, Party Games, Raffles,

Paint & Sip Tea session, Prizes, Arts & Crafts, Dessert Bar & so much more...
Donated Admission/tickets can be purchased individually or as a family/tribe. Other amentities and acitivities at the party are pay-as-you-go, so bring some cash.
Stage Time
Special Tickets must be purchased if you want to get on stage and shower your special guest with love and affection. You'll get about 10 minutes to sing a song, recite a poem, do a dance, share a memory or just freestyle. Please rehearse your material to end at or before your 10 minutes is up. You will be contacted beforehand if you purchase this ticket, so we can coordinate and schedule your stage time.
We'll have a childcare worker at the event if you need some personal time away, but there are also a few Parent & Child activities planned for folks who are interested.
This space is wheelchair accessible with a large-sized bathroom on the same floor.
This is also a LGBTQ-affirmative space and all family types and tribes are encouraged to attend this event.
Have questions? Email us WomanistWorkingCollective@gmail.com or 267-606-0992
Schedule of Events (Tentative)
11 AM - Party Starts! Games, Dancing, Raffles & Prizes happening all day
12 PM - 2 PM: Our guests take center stage for their accolades (If you purchase a ticket with stage time, then this is your moment to shine!)
2 PM - 4 PM Paint & Sip Tea begans (limited seats available, sign-up at event); Simultaneously, we'll have workshops led by our Doula Etecia Brown of Let Them Flourish (Workshop #1 Child Birthing for future parents; Workshop #2 Queer Family Planning)
4 PM - Party is over!
Special Thanks to our community partners, facilitators and vendors: Franny Lou's Porch, Painting with Giovanni Marie, Photography by Aryel Morton, MC by Deanna "Dee" Brown & so many more!
organized by the Womanist Working Collective
"Without community, there is no liberation." ― Audre Lorde
The Womanist Working Collective is a social action and support collective for Black womyn (both cis & trans), femmes & gender variant folks. Our work unapologetically centers our Quality of Life and livelihoods through Community Organizing, Philanthropy and Self-care.
Tickets: https://www.eventbrite.com/e/mamas-day-party-a-community-event-tickets-45114111522?aff=efbeventtix#tickets