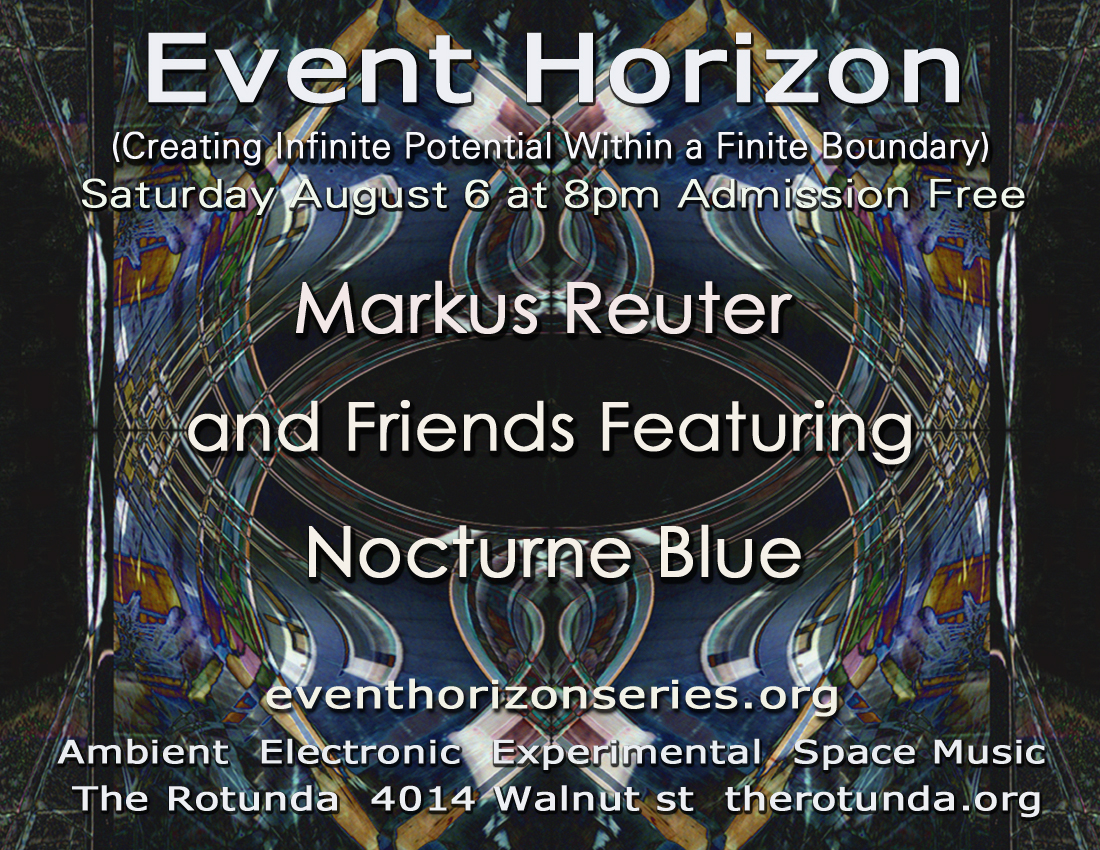 Event Horizon Series SPECIAL EVENT: Markus Reuter.
Markus Reuter + Elliot Sharp and Nocturne Blue - August 6th
PLEASE NOTE! This event is FREE but we are encouraging reservations due to the popularity of the show. Reserving your spot means that you will have an unassigned seat (in other words, sit wherever you like) as long as you redeem your spot between 7:30pm and 7:50pm on August 6. If you do not redeem by 7:50pm, we will give your spot to someone else. Reserve HERE: https://therotunda.ticketleap.com/event-horizon/
Touch Guitarist and composer Markus Reuter:
Markus has spanned the world of music: from his development of "Playnotes", a recursive compositional software tool, to performing with some of progressve rocks icons like Tony Levin, Adrian Belew and Pat Mastelotto as well as recoring with the ambient electronic legends Ian Boddy and Robert Rich. Few players cross genres like Markus, who brings the sensibilities of both worlds together in the best possible way.member of the internationaly renouned group The Stick Men and The Crimson ProjeKCt, will be appearing at a special edition of The Event Horizon Concert Series.


Eliiot Sharp - Sharp is an American multi-instrumentalist, composer, and performer:
A central figure in the avant-garde and experimental music scene in New York City for over 30 years, Elliott Sharp has released over eighty-five recordings ranging from orchestral music to blues, jazz, noise, no wave rock, and techno music. He leads the projects Carbon and Orchestra Carbon, Tectonics, and Terraplane and has pioneered ways of applying fractal geometry, chaos theory, and genetic metaphors to musical composition and interaction.
His collaborators have included Radio-Sinfonie Frankfurt; pop singer Debbie Harry; Ensemble Modern; Qawwali singer Nusrat Fateh Ali Khan; Kronos String Quartet; Ensemble Resonanz; cello innovator Frances Marie Uitti; blues legends Hubert Sumlin and Pops Staples; pipa virtuoso Min-Xiao Feng; jazz greats Jack deJohnette, Oliver Lake, and Sonny Sharrock; multimedia artists Christian Marclay and Pierre Huyghe; and Bachir Attar, leader of the Master Musicians Of Jajouka.
Sharp is a 2014 Guggenheim Fellow, and a 2014 Fellow at Parson's Center for Transformative Media. He received the 2015 Berlin Prize in Musical Composition from the American Academy in Berlin. He has composed scores for feature films and documentaries; created sound-design for interstitials on The Sundance Channel, MTV and Bravo networks; and has presented numerous sound installations in art galleries and museums. He is the subject of a new documentary "Doing The Don't" by filmmaker Bert Shapiro.
Nocturne Blue - Dutch Rall and Markus Reuter


PLEASE NOTE! This event is FREE but we are encouraging reservations due to the popularity of the show. Reserving your spot means that you will have an unassigned seat (in other words, sit wherever you like) as long as you redeem your spot between 7:30pm and 7:50pm on August 6. If you do not redeem by 7:50pm, we will give your spot to someone else. Reserve HERE: https://therotunda.ticketleap.com/event-horizon/

Call for support! You help is needed...
Friend of The Event Horizon Series (and the Rotunda at large) and the Electro-Music Community, Chef Geoff, is in dire need of our help. Chef Geoff has kindly provided, over the years, food for those attending the Event Horizon Concert Series as well as many other events held at the Rotunda...for no cost to anyone... The cost and the effort was a gift to the world...out of the kindness of his big heart. Perhaps you might consider paying that kindness back with a little kindness of your own.
"My recent diagnosis of stage 4 squamous cell carcinoma is a bit unnerving. I'm going to need intensive radiation and chemotherapy. Hopefully , after they shrink my tumor , the doctors can cut out what is left. I'm looking at a 3 month hospital stay and 2 months bed rest at home. All that time, unfortunately won't be able to work. I could sure use some financial, emotional,and physical help. I've fed 1000's of people over the years. Now I need help to be fed. Most sincerely, Chef"
Please visit Chef Geoff's GoFundMe site and consider a generous donation.