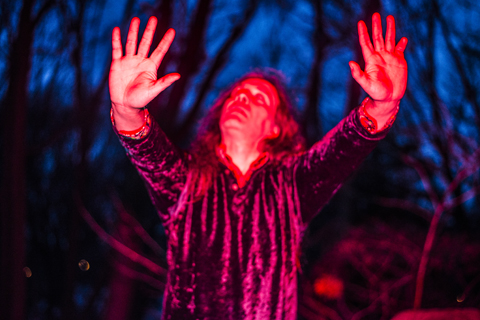 Martin Bisi
The Red Masque
Green Cathedral

MARTIN BISI

*Martin Bisi,* a New York performer and record producer, has been at 
a crossroads of indie, punk, avant garde, noire/cabaret rock, and 
electronic music since the early 80s in New York City.
*At a recording studio he started in 1981 with the help of Brian Eno,
 Martin Bisi has realized albums by Sonic Youth, Swans, Dresden Dolls, Cop
Shoot Cop, John Zorn, Africa Bambaataa, Material/Bill Laswell, Boredoms,
 Herbie Hancock's "Rockit," White Zombie, Foetus, Helmet, Unsane, Serena
Maneesh, US Maple, Jon Spencer's Boss Hog, and countless other indie,
 experimental and post-punk records.* cover photo credit: Nicole Capobianco

THE RED MASQUE
The Red Masque is an original avant rock band from the Philadelphia area. Part art, part alchemy, the group's experimental songwriting style is both angular and eerie, accented by freeform space rock improvisations, intricate acoustics, dark atmospherics and chunky riffs. Unconventional and eccentric in musical form, the sophisticatedly sinister The Red Masque fuses together such disparate musical references as horror movie soundtracks, rock-in-opposition, progressive rock, experimental, heavy rock, gothic, psychedelia, space rock, and kraut rock. The Red Masque's compositions are as intense as they are unique.

Founded in 2001 by bassist/keyboardist Brandon Lord Ross and vocalist Lynnette Shelley, the Red Masque went through several lineup changes over the years but its intent and integrity has always remained the same. The band's goal was, and is, to create original music that pushes the envelope of the listener's expectations.
The Red Masque consists of Brandon Lord Ross on bass and keys, Lynnette Shelley on vocals and percussion, Jim Harris on drums, Glenn Kuchenbeiser on guitars and James Tunnicliffe on violin. They are currently signed to Beta-lactam Ring Records in Portland, Oregon.

GREEN CATHEDRAL
Green Cathedral is a Philadelphia based original Art-Rock band with tangled roots branching deep into post-punk and progressive rock's musical soundscapes.

The band emerged in late 2014 and is playing a series of shows while orchestrating a special multimedia event (tba). The near future will yield recorded music with accompanying video.

Green Cathedral consists of Mark S. Walsh (ex The New Creatures) on bass, Lynnette Shelley (of The Red Masque) on vocals, Dean Zigoris (ex French TV, Onnomon) on guitars, John Seidel on keyboards and electric violin, and Matthew Gambino on drums.



Donations for the bands accepted at the door.









Addtional Images