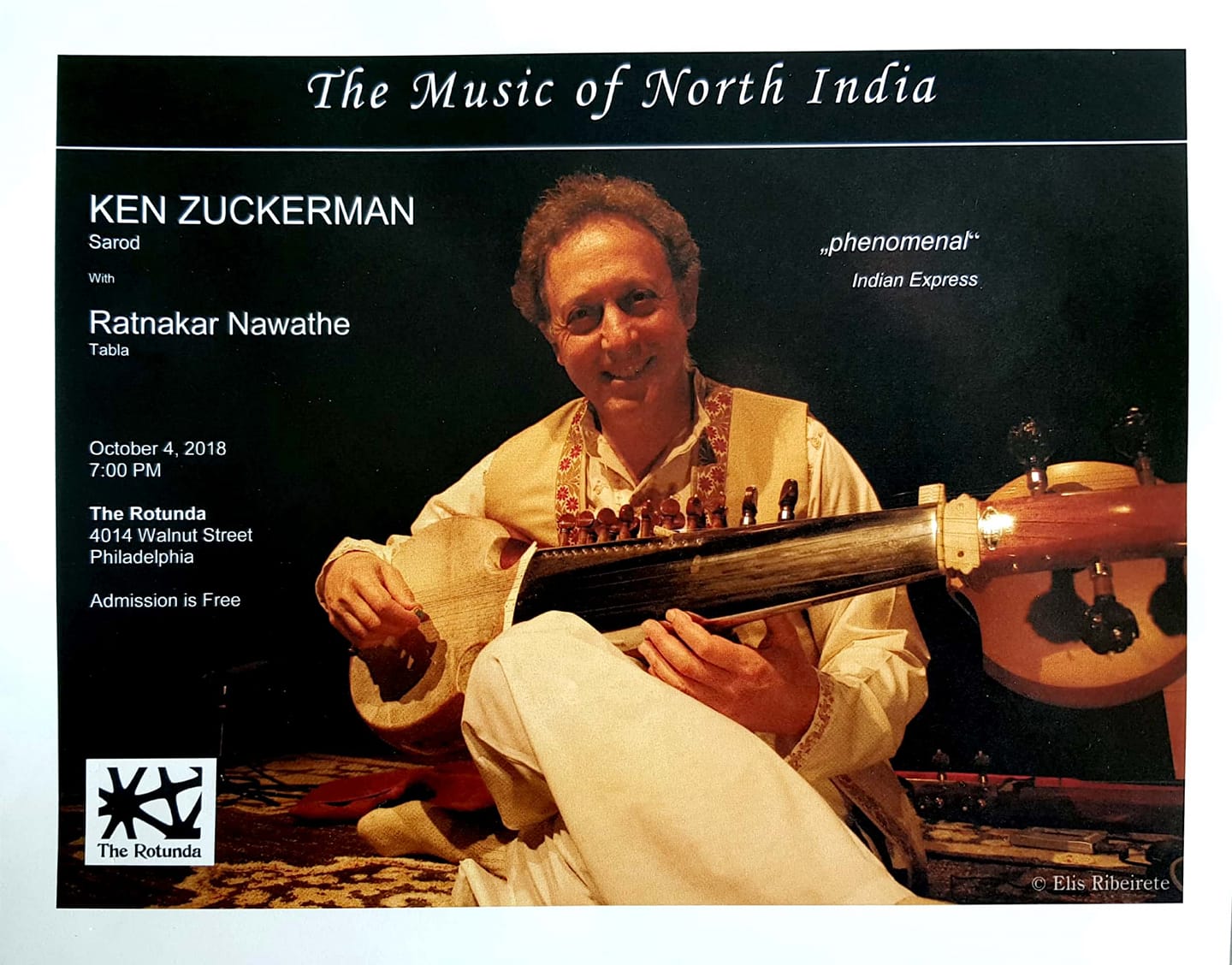 Music of North India
with Ken Zuckerman (sarod) and Ratnakar Nawathe (tabla)


Ken Zuckerman
Ken Zuckerman, internationally acclaimed as one of the finest sarod virtuosos performing today, has also been called "…one of the world's most eclectic masters of improvisation." He completed thirty-seven years of training under the rigorous discipline of India's legendary sarod master Ustad Ali Akbar Khan, up to the maestro's passing in June 2009. He also performed with Maestro Khan in numerous concerts in Europe, India, and the United States.
In addition to his extensive performance schedule, Ken Zuckerman has directed the Ali Akbar College of Music in Switzerland for 33 years and is also a professor at the Music Conservatory of Basel where he conducts courses in both North Indian classical music and the music of the Middle Ages.
"In his hands one can hear the essence of the gharana. Ken Zuckerman has been a disciple of the sarod maestro Ustad Ali Akbar Khan, for the last 24 years. Within that period he has risen from a mere curious foreigner interested in fathoming the secrets of the exotic East and its equally exotic musical fare, to being one of the foremost performers of the art." The Hindustan Times
Ken has assimilated within himself the very soul of Ali Akbar's artistry.
…the music of the maestro flows in his veins…

8-minute video with Ken Zuckerman and Swapan Chaudhuri: https://www.youtube.com/watch?v=f4ItxW_m44Q

Ratnakar Nawathe - Tabla
Ratnakar started his initial training in Tabla under Chandrakant Shirodkar of Bombay. He learnt tabla of Delhi and Farukhabad Gharana. While finishing his doctorate in Electrical Engineering from Drexel University, Ratnakar kept up his tabla training under eminent tabla player Pt. Swapan Chaudhuri, an exponent of Lucknow Gharana here in USA. Ratnakar is equally adept at accompanying Hindustani classical and semi-classical musicians. He has accompanied artists such as classical vocalists Dr. Prabha Atre, Ustad Mashkoor Ali Khan, Laxmi Shankar, Sanjeev Abhyankar, Ramesh Narayan, Meeta Pandit and instrumentalists such as Pt. Satish Vyas, K. Shridhar, Kala Ramnath, Pt. Raghunath Seth, Milind Raikar and Anant Kunte.
Admission is FREE; donations are appreciated!