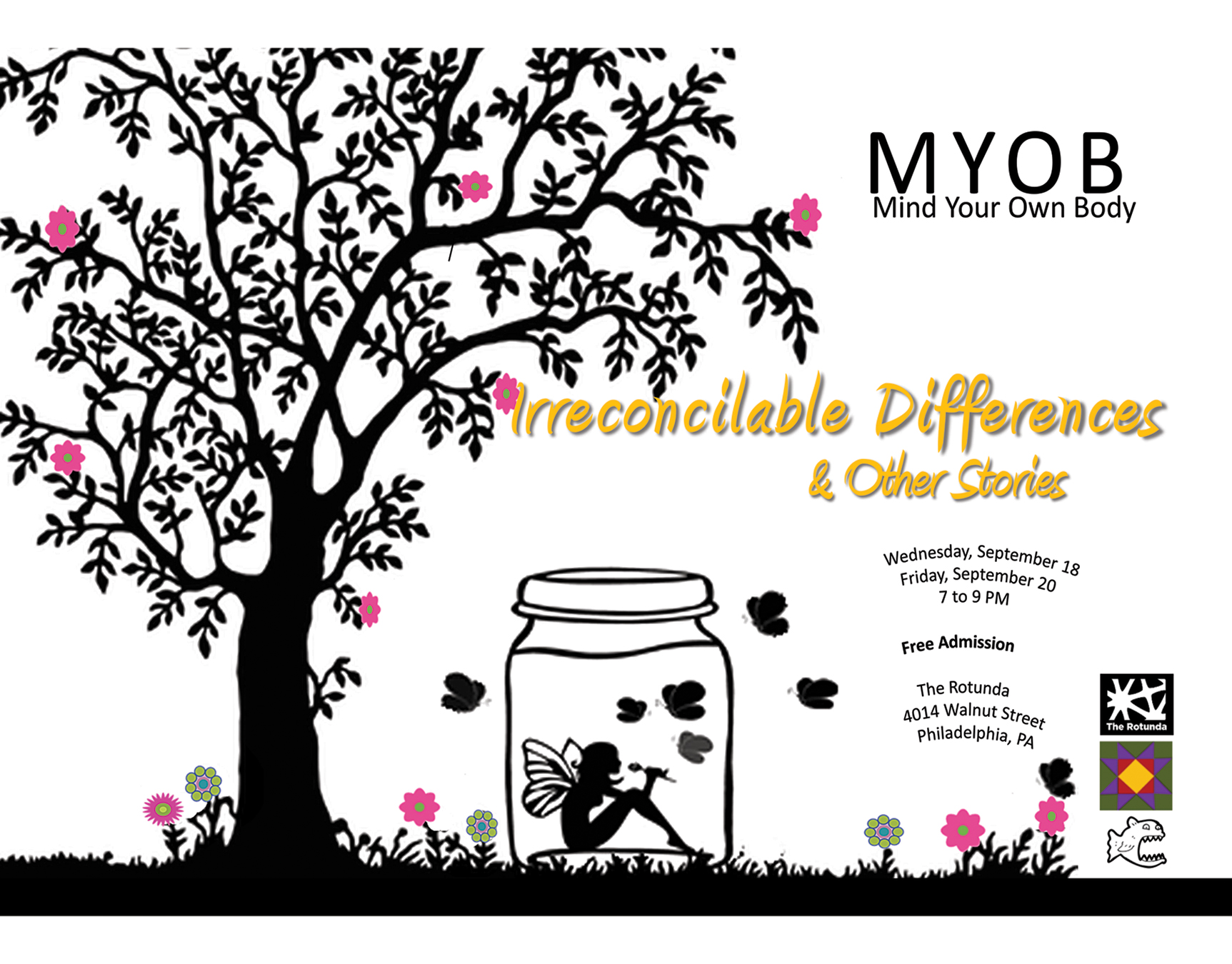 MYOB: Mind Your Own Body: Irreconcilable Differences & Other Stories
Two dates!
Wednesday September 18 at 7pm
Friday September 20 at 7pm
Denise McCormack hits the mark running to spin out true, traditional, and mildly adapted literary tales and shines a light on the little things that move us to action...
This one-woman show spins out true stories alongside mildly adapted literary tales, including The Story of an Hour and A Pair of Silk Stockings by pre-feminist author Kate Chopin, and traditional folktales bearing the winsome Cinderella motif but straying far from the standard path to bring added depth to the human condition and social issues.
Philamandre and The Black Bowl expose complex issues in a carnivalesque style of exposition and plot. While Philamandre delves into family dynamics, The Black Bowl relays a cautionary tale of the perils of objectification as an inherent flaw in our human nature.
The personal stories are true and brief and the product of deep reflection on circumstances, people, and life choices that were often based on trust, rather than due diligence.
Altogether, this cache of great tales shines a light on the little things that have far reaching implications and triggered McCormack's call to action. These stories illustrate shared experience in a subversive culture that we are often blind to, and they can guide us to understanding and change.
Category: Adult, Solo; Performing Arts, Literary, Theater, Storytelling
Bio:
Denise McCormack tells stories with and for a purpose and strives to make a difference by raising awareness and fostering encouragement, especially regarding women's issues. Whether they're personal, folk, fairy, or literary, she offers vantages of the multi-faceted historical and familial contexts that surround and shape them-- and strikes a nerve.
McCormack has been telling professionally for more than a decade, presents programs throughout the tri-state area, and is deeply committed to sharing the benefits of storytelling in a broad spectrum of applications—from education and community to business, health, and well-being.
Among her many roles in storytelling, McCormack is the NJ state liaison for the National Storytelling Network, co-chair of the NJ Storytelling Festival, president of the Patchwork Storytelling Guild in Philadelphia, and an active member of various other local and national organizations wherein storytelling plays an integral role.
McCormack's mantra: There is a story for every time and purpose under heaven. To find out more, go to www.denisemccormack.live
Admission is FREE. Reservations are recommended but not required. https://denisemccormack.ticketleap.com/myob/