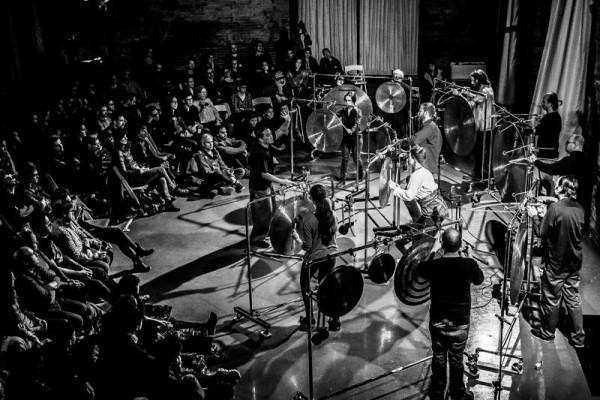 Nakatani Gong Orchestra
A contemporary live art sound project, N.G.O. has toured all over North and Central America. This is an ongoing, growing community engagement project and the only bowed-Gong orchestra in existence in the world today. The rich harmonies produced from multiple layers of bowed gongs are simply magic to anyone, engaging and inspiring the spirits of both the player and all who attend.

For each performance in a given city, gong players are selected by a local curator. Most are new to N.G.O. Nakatani gives a specialized training workshop to selected players in preparation for the performance. Players will also experience Nakatani's own unique point of view regarding Gong techniques, and will experience undiscovered dimensions while immersed in the vibrations and sounds during a training workshop. Nakatani is the composer and conductor for the performance.
Nakatani began germinating ideas for N.G.O. in early 2002, and finally took the project to on the road in April 2011. He had performed 87 concerts with N.G.O. all over the USA and Mexico by December 2015. Notable venues include John F. Kennedy Center for the Performing Arts in Washington D.C., MOCA Cleveland, OH, Tigertail productions presented at Miami Dade County Auditorium in FL, Bemis Contemporary Art Center in Omaha NE, Columbia Museum of Art in SC, and The Issue Project Room in New York City.
At colleges, N.G.O. was a kind of Artist in Residence at Allen Hall/Unit One at University of Illinois at Urbana /Champaign. Smith College in Northampton MA, Ohio State University at Bowling Green and Wesleyan University in CT.
In 2012, an LP entitled "Nakatani Gong Orchestra" was published by Taiga records of Minneapolis MN.
Many listener have said "I have never experienced anything like this before!", along with describing a feeling of cleansing a sort of purification after the event. Today, sound based therapy practices use singing bowls and gongs, which result in similar euphonious waves and energies. The primary purpose of N.G.O. is not for spiritual ceremonial purposes or "gong bathing", but the fact is that with over 14 various gong sizes, ranging in diameters from 10 to 50 inches, one can't avoid some of these amazing secondary results.
Tatsuya Nakatani is originally from Osaka-Japan. He has been residing in the USA for 20 years. He is now based in Easton, PA and performs in New York city, but he is best known as a traveling artist for two decades. He crafts the specialized, has made bows and mallets for use in his N.G.O. – bio
Tatsuya Nakatani
Percussionist Tatsuya Nakatani was born and raised in Osaka-Japan. He currently resides in Truth or Consequences, NM. He is a renowned recognized Percussionist/Drummer creating his own sound. Nakatani performs and tours all over the world for international Creative Music festivals and New Music festivals. He has taught master artist classes, workshops and given lectures, revolving around his unique sound, at a number of universities. His music has been published over sixty CD recordings in the USA and Europe. He has performed SOLO percussion for the majority of his musical career since the late 1990s at a countless number of venues of many sizes.

links at http://www.firemuseumpresents.com/
Admission is FREE (donations appreciated)