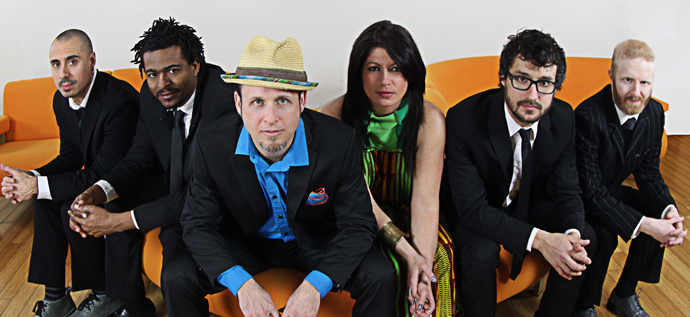 40th Street Summer Series| June 28, July 26, August 30, September 27
THIS EVENT IS OUTDOORS AT THE 40TH STREET FIELD, 40th Street between Walnut and Locust.
IT IS NOT AT THE ROTUNDA!
Rain or Shine.
Each summer UCD, Penn and The Rotunda invite internationally-acclaimed ensembles—such as the Millennial Territory Orchestra and the Sun Ra Arkestra— to play free outdoor concerts that capture the soul of the neighborhood. Since its beginning, the 40th Street Summer Series has enlivened the 40th Street corridor (now home to Distrito, HipCityVeg, RAVE Cinema, Ben & Jerry's, and more) during the typically slow summer months by increasing patronage at nearby retailers and building upon the existing vibrancy of 40th Street, while providing entertaining, enriching and safe outlets for families, visitors and students.
In addition to live music, there is a face painter, balloon artist, human circus acts such as juggling and tight rope walking, fire artists (after the music), and free samples from Ben & Jerry's.

August 30
Nation Beat
The heartbeat of Nation Beat's sound lies in a deliciously original 21st century fusion between thunderous Brazilian maracatu drumming and New Orleans second line rhythms. It is also the vibrant force of their explosive live show, which is frequently known to burst into crowd-wide Carnival-style drumming and singing. Nation Beat's audacious energy seamlessly bridges folkloric Brazilian maracatu with classic NOLA roots music attracting an ever-growing legion of fans from across a wide demographic. Nation Beat plays the best kind of fusion in the world, the kind that doesn't try to fuse anything. An American/Brazilian collective, Nation Beat belongs to both sides of the equator.
The Highwater Preachers
The Highwater Preachers have been raising eyebrows in the burgeoning local bluegrass scene with their fresh takes on classic mountain songs, incorporating precision picking and soulful vocal harmony. Led by the remarkably accomplished Sarah Larsen on fiddle, this troupe of young pickers (featuring members of Sour Mash, the David Wax Museum, and the White Bark Pine) carries the torch of hard-driving traditional bluegrass music.
September 27
Man Man!!!!
- See more at: http://universitycity.org/40th-street-summer-series

Admission is FREE
Addtional Images