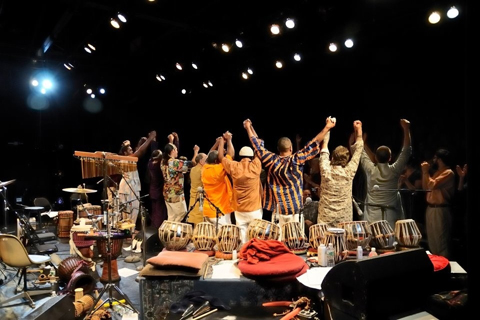 40th Street Summer Series| June 28, July 26, August 30, September 27
THIS EVENT IS OUTDOORS AT THE 40TH STREET FIELD, 40th Street between Walnut and Locust.
Rain or Shine.
Each summer UCD, Penn and The Rotunda invite internationally-acclaimed ensembles—such as the Millennial Territory Orchestra and the Sun Ra Arkestra— to play free outdoor concerts that capture the soul of the neighborhood. Since its beginning, the 40th Street Summer Series has enlivened the 40th Street corridor (now home to Distrito, HipCityVeg, RAVE Cinema, Ben & Jerry's, and more) during the typically slow summer months by increasing patronage at nearby retailers and building upon the existing vibrancy of 40th Street, while providing entertaining, enriching and safe outlets for families, visitors and students.
June 28
Spoken Hand Percussion Orchestra
A high-energy celebration of polyphonic rhythms, Spoken Hand Percussion Orchestra unifies four percussion batteries into one distinct voice: North Indian tabla, Afro Cuban bata, Brazilian samba and West African djembe.
Music Over Matter (MOM)
The music of MOM feeds the souls of children, teens, and adults encouraging the reticent to boldly embark on an adventure in which we call Maha music Soulful Ancestral Beatze Rhythms.
- See more at: http://universitycity.org/40th-street-summer-series#sthash.oSTdZoKb.dpuf
and https://www.facebook.com/events/374221642720615/
Admission is FREE