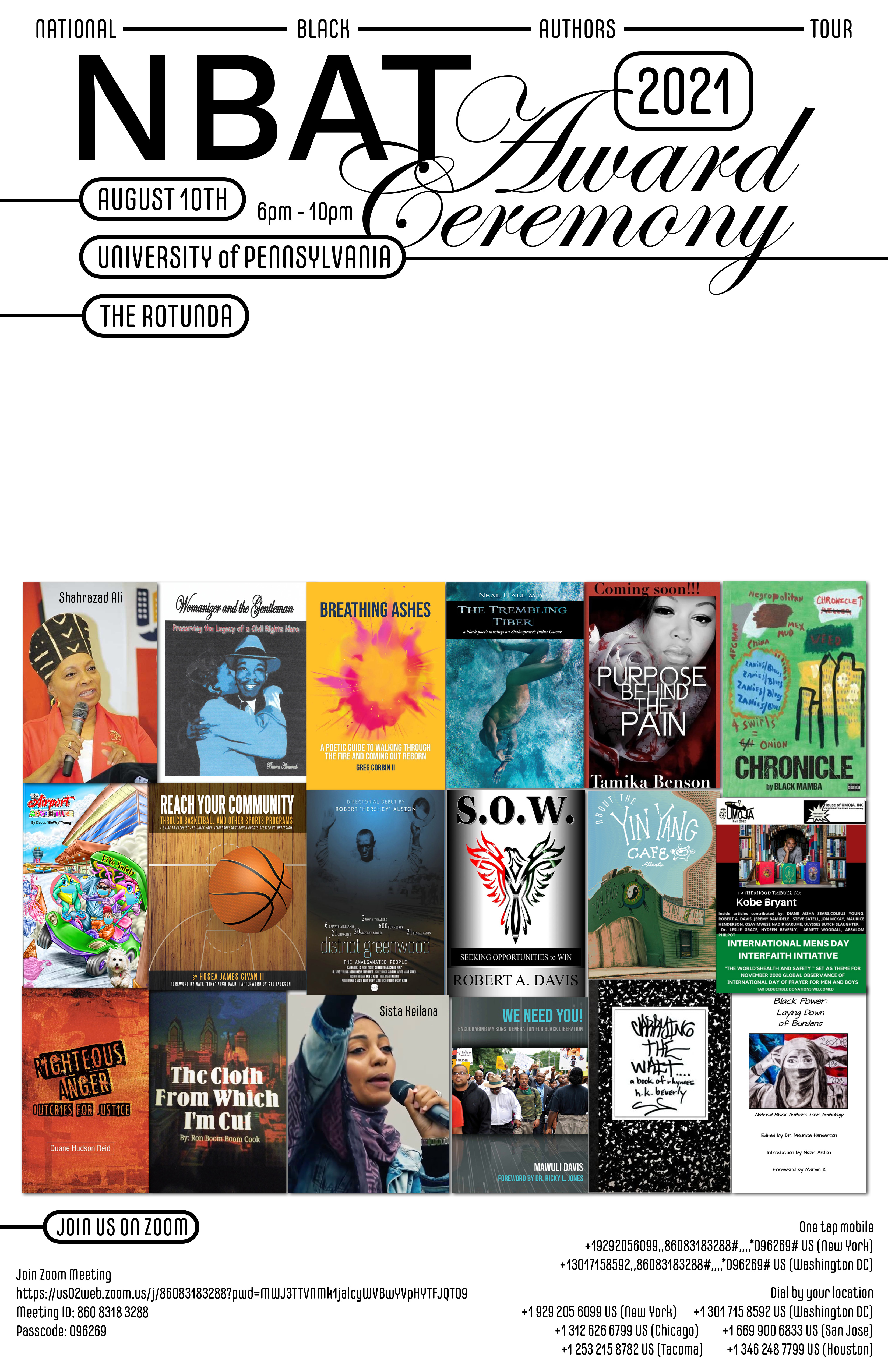 Online! National Black Authors Tour Award Ceremony 2021
From Philly to Worldwide - the NBAT Awards Ceremony to feature Controversial Media and Literary figures Shahrazad Ali, Dr. Neal Hall, Robert/Nazir Alston and other Prominent Writers and Spoken Word Recording Artists
By Maurice Henderson
Philadelphia is well known for its challenges of being the City of Brotherly Love and Sisterly Affection. It has been a long since yesterday bedrock for Black Culture, Arts and Humanities dimension of determination with a legacy that has procured the firsts of Black Churches, Black Newspapers, Museums, Secret Societies, Temple University Phd programs in African-American Studies, the incubation of Soul Music, Hard Core Rap (Schooly D), Nation Conscious Rap (James Spady and Joseph Eure) Spoken Word and Ancient Hip (through Angela Moore and Poetic Ventures founder James Johnson/Osayinwese Nadir Karume). and Neo-Soul as an encompass of the Black Lilly (Jazmine Sullivan, Bilal, Music Soul Child, Stephenee Renee and Jil Scott). There are other best kept secret and hidden agenda that concurs besides the Charles Blockson Collection, W.E.B. Dubious House at Upenn, Marian Anderson House Museum, and the Paul Robeson House Museum, etc.
The Road less traveled and a trip to bountiful has easily been chronicled by Penn Black Librarian Historian Ancil George with his patterning of research regarding the legion, legacy and landmark as a founding fortune of the National Black Authors Tour and its subsidiary of the National Black Arts Spoken Word Tour. So it is the much said inclusiveness of requiem and reclamation indeeded as utmost for the emergency of now that will be seen and heard as an inceptive programming inaugural by the Rotunda Theater located at 4014 Walnut Street and its current Director Gina Renzi hosting on Tuesday, August 10, 2021 from 6pm to 10pm or beyond. This witness and testimony shall become a reminder of the University City and West Philly areas as a harkem and lyceum for the illumination of Black Writing. The jump start was once again recently initiated with WKDU 91.7 FM Radio host Al Knight continuing his broadcast of featured writers Cleous Young and Dr. Neal Hall live from his radio studio at Drexel University. A beacon standard for the ultimate content multi media streaming of literacy licensing has been a continuum to major black cities through the National Black Guide and is now being fostered as visual literary optioning through Temple University alumnus Udochi Onwuka. The National Black Authors Tour Award Ceremony will feature the good and plenty of authors, writers, spoken word recording artists who have appeared for the planning opening or operational ceremonial local hosting of the Black Writers Museum, American Book Awards, the Charles Blockson Literary Society, Upenn's Kelly Writers House, the Community Education Center's hosting of the Celebration of Black Writing
and the Black Writers Institute (auspiciously supported through PEW Fellowship recipients and by K. D. Morris, Dr. Kimmika Williams and Lois Moses) installations at the Paul Robeson House in West Philly, the Alternative Learning Institute in South Philly and Temple University's PASCEP in North Philly.
The outstanding media personalities, celebrity scholars and pop culture phenomenal artists slated to appear is a representation of figurines featured on HBO, CNN, BET, MTV. TV One, Black Family Channel, NBC, CBC, ABC, PBS, etc. They have also been categorized considerations of nominees or awardees for Tony Awards, Grammy Awards, Academy Awards, Emmy Awards. Peabody Awards, OBIE Awards, Audeloco Awards, amongst others. Suggested as controversial, cutting edge and breakthrough, the highlight of appearances shall include the 100 year ceremonial/anniversary Black Wall Street historical filmmakers Robert and Nazir Alston, then from 8pm to 9pm will be Muslim Author Shahrazad Ali and the most current Internationally acclaimed author Dr. Neal Hall. Shahrazad will be fetted by locale Philly pre-eminent figures Khan Mikell of Black Men Unifying Black Men, James Johnson of Brothers in the Struggle, Keith Mungin, the creator of Baby Mama Drama and Kenisha Wilson, a human ecologist for the informed trauma of girls and females. It is suggested that those amongst the grassroot and underground culture should utter as assurance there audience reach connectors, listserves and social media networks to encourage listeners, viewers, readers live event attendees, patrons, theatergoers, followers, subscribers and intake accord of memberships to promote, publicize and market this event, program and activity to a constituency behold of local, state, national and those worthy and accessible for world wide appeal. More information can be ascertained by calling 267-349-5661, 267-230-0317 or email nationalblackuthorstour@yahoo.com or nationalblackartsspokentour@yahoo.com.
Bestselling, award winning, critically acclaimed of those illustrious slated to appear or to be acknowledged or honored include the following (pictured and assembled in order)
Shahrazad Ali, author of the Black Man's Guide to Understanding the Black Woman, Princess Ameenah, Author of Martin Luther King - Womanizer or Gentleman, Greg Corbin, author Breathing Ashes, Dr. Neal Hall, Author of the Trembling Tiger. Tamika Benson, author of Purpose Behind the Pain, Black Mamba, author of Chronicle (first row display)
Cleous Young, author of Airport, Hosea Givan, author of Reach Your Community, Robert and Nazir Alston, filmmakers of Black Wall Street film documentary,
Robert Davis, author of S.O.W (Seeking Opportunities to Win), filmmakers of Ying Yang from Atlanta, the House of Umoja National News Magazine published by Queen Mother Falaka Fattah (second row)
Duane Reid, author of Righteous Anger, Ronald Cook author From the Cloth Which I'm Cut, Sister Keilana, leading Muslim rap recording artist, Mawuli Davis, author of We Need You, H. K. Beverly, author of Carrying the Wait and Distinguished Professor at Oakland University in Michigan, Contributing Writers to the NBAT anthology Black Power - Laying Down of Burdens.
Admission is FREE
Join us on Zoom
Meeting ID: 860 8318 3288
Passcode: 096269
One tap mobile
+19292056099,,86083183288#,,,,*096269# US (New York)
+13017158592,,86083183288#,,,,*096269# US (Washington DC)
Dial by your location
+1 929 205 6099 US (New York)
+1 301 715 8592 US (Washington DC)
+1 312 626 6799 US (Chicago)
+1 669 900 6833 US (San Jose)
+1 253 215 8782 US (Tacoma)
+1 346 248 7799 US (Houston)
Meeting ID: 860 8318 3288
Passcode: 096269
Find your local number: https://us02web.zoom.us/u/kdpZJbCf7X